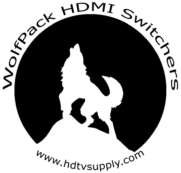 HDTV Supply's WolfPack 4K
4x1 HDMI Switch with Audio Out
switches between any of four DVI or HDMI audio/video sources to one HDTV display supporting 1080p Full HD up to 4K@60Hz UHD plus all 3D formats. Along with the HDMI video it switches multichannel digital audio formats such as Dolby True HD and DTS-HD Master Audio and includes embedded audio extractors that extract the audio and output via L/R and Coaxial.
Newer AV surround sound receivers and TVs have only one HDMI 2.0 and HDCP 2.2 input and output so this HDMI 2.0 switcher will allow you to have up to 4-source devices using HDMI 2.0 and HDCP 2.2 compliancy. Our HDCP 2.2 products can handle 4K video up to 60 frames per second at 4:4:4. Users only need a simply press and the input sources can be switched. It also comes with a remote control. The maximum resolution can up to 4K/60 with smart EDID management. The transmission distance can reach 30 feet with 24 AWG HDMI cables.
This 4x1 HDMI 4K@60Hz Switcher supports HDTV formats up to 4Kx2K@60Hz and all HDMI 3D TV formats. It extracts the HDMI stream audio to separate optical and analog audio output to go to a separate amp.
4x1 HDMI Switch with Audio Out & RS232 Features:
Supports resolutions up to 1080p@60Hz and 4K@60Hz with 36-bit deep color
Switches 4 HDMI sources to 1 output without loss
Compatible with:

4K Sony PS4 Pro
Tivo BOLT
OPPO, Philips, Panasonic & Samsung UHD 4K DVD Player
Roku 4 media player
4K DirecTV Genie receivers
4K Sony FMP-X10 U6HD players
4K NVidia Shield UHD Netflix devices
4K Amazon Fire Players
4K Surround Sound AV Receivers
and more 4K HD HDCP 2.2 devices

Extracts the audio from HDMI source via analog and digital outputs.
Supports PCM audio at 32K, 44.1K, 48K, 88.2K, 96K, 176.4K and 192KHz sample frequency audio decoding
Dolby TrueHD and DTS-HD master audio pass through HDMI output
Advanced EDID management for rapid integration of sources and displays
Front push button, IR, RS232 for switching
LEDs for power-on and inputs indication
Easy installation with small mounting ears (Not rack mountable)
Small compact size
Full 3D pass-through
HDCP 2.2 compliant
Why not buy this 4x1 HDMI Switch with Audio Out today?
4x1 HDMI Switch with Audio Out Specs:
Bandwidth:2.97Gbps per color
Video Input Connectors: 4x HDMI Type A, 19-pin, female
Video Output Connectors: 1x HDMI Type A, 19-pin, female
Audio Output Connectors: 1x RCA ( coaxial), 1x 3.5mm stereo jack
EDID: 1x4-pin DIP switch
Dimensions (W x H x D): 196mm x80mm x 22mm , without feet
Shipping Weight: 0.4kg
Operating Temperature: 32 ˚F to 104 ˚F (0 ˚C to 40 ˚C)
Storage Temperature : -4 ˚F to 140 ˚F (-20 ˚C to 60 ˚C)
Power Supply: 1x5V/1A DC
4x1 HDMI Switch with Audio Out Features:
1 - HDTVST0401NA1
1 - 5V/1A DC Power Supply
1 - Remote Control
1 - IR Receiver Cable
1 - Small mounting Ears (Not rack mountable)
Why not buy this 4x1 HDMI Switch with Audio Out today?
EDID Explained: EDID provides for optimal source-to-screen performance. EDID will optimize the video card output for the capabilities of the end display. The EDID ghost unit enables the copying, emulating, cloning, and "learning" of EDID data from a display. Our EDID Emulator and repeater comes with pre-defined presets, user programmable banks, Sink EDID sniffing bank and more. Our EDID Emulator ensures proper operation, for the best performing HDMI audio and video signal between any source and display Resolves loss of video, intermittent (flashing) video, snow, or color-space (purple or red) issues.
Why not buy this 4x1 HDMI Switch with Audio Out today?