4K HDMI and KVM over IP





4K HDMI and USB over IP network

Windows based management software, using PC for easy setting input/output channels.

Android/iOS APP for channel select and management.

IR remote control

Front panel button for channel select and management.

Includes 1 Transmitter and 1 Receiver
Features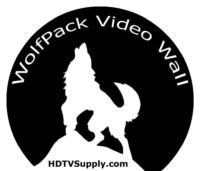 HDTV Supplys WolfPack
HDMI 4K Over IP
Limitless A/V Distribution including one-to-one, one-to-many, many-to-one and many-to-many configuration
Video Wall (up to 8x16)
Video Scaler (like 4K in/1080P out, 1080P in/4K out)
Video Rotation for 180/270 degree
KM over IP (for KVM application)
USB over IP (for all kinds of USB HID devices)
RS232 over IP HDTV Supplys WolfPack Windows based iSwitch software allows UHD/FHD video to be sent over an IP network to create Many To Many matrix switchers as well as TV video walls. You now can connect multiple AV sources with many displays over IP‐Hosts/Clients as well as control them with iSwitch in the IT room.
You can create a 4K HDMI Over IP system built to any size:
HDMI Matrices over IP to dozens of 4K sources and 4K TVs
HDMI Splitters over IP to a 4K source going to dozens of 4K TVs
HDMI Switcher over IP to multiple 4K sources going to a 4K TV
HDMI Video Wall over IP to multiple 4K sources and multiple 4K TVs


Field Expandable: When you add more widescreens or source devices just buy more transmitters and/or receivers, depending upon that size Ethernet switch you purchased above.
4K HDMI Over IP Matrix Features:
4K HDMI and USB over IP network
Windows based management software, using PC for easy setting input/output channels.
Android/iOS APP for channel select and management.
IR remote control
Front panel button for channel select and management.
Includes 1 Transmitter and 1 Receiver
PC controlled via a Web GUI
Compliant with HDCP 1.4
Compliant with HDMI 12.2
Uses the above gigabit IP switches for extension and distribution.
Extends 1080p HDMI signals up to ~350 feet over a single UTP Cat5e/6 cable.
Video Wall Support:

Up to 8x16 displays
Image rotate (180/270 degree)
Accurate frame gap compensation
Tearing free in single host mode



Do you have multiple switches in your setup this product will work for you






Ask a Question
Questions & Answers

Ask a question about the 4K HDMI and KVM over IP or Call 800-841-9238


4K HDMI and KVM over IP
Recently Viewed Items