4K WolfPack 4x2 HDMI 2.0a Matrix Switch w/4K@60 Hz 4:4:4 & 18 GBPS




WolfPack 4K 4x2 HDMI 2.0a Matrix Switch

Supports 4K2K@60 4:4:4 8bits and HDR

Both HDCP 2.2 and 1.4 compliant with 8-EDID Modes

Software control through RS-232 port or Ethernet port via a WEB GUI

5 Year U.S. Warranty & Free Lifetime U.S. Telephone Tech Support
Features
HDTV Supplys Professional Quality 4K Wolfpack
4K 4x2 HDMI Matrix Switch
routes high definition video sources plus multi-channel (up to 7.1-channel) digital audio from any of the four HDMI sources to the 2-displays at the same time. The matix supports HDR which is 4K2K@60 4:2:0 10bits. The video bandwidth of 4K2K@60 4:2:0 10 bits (HDR) is 384MHz and the 4K2K@ 60 4:4:4 8bits is 594M. The matrix is also HDCP 1.4 and HDCP 2.2 compliant.
NOTE:
This product has been discontinued. See the above SIMILAR Tab for equivalent products or, if not there, call us at 800-841-9238 right now to discuss your needs.
The EDID learning function of the Wolfpack 4x2 HDMI Matrix Switch is to resolve audio and video playing issues at HDMI output port. Because the HDMI source devices and displays may have various level of capability in playing audio and video, the general principle is that the source device will output the lowest standards in audio format and video resolutions to be commonly acceptable among all HDMI displays. In this case, a 720p stereo HDMI signal output would be probably the safest choice. Nevertheless, the user can force the matrix to learn the EDID of the lowest capable HDMI display among others to make sure all displays are capable of playing the HDMI signals normally.
WolfPack 4K 4x2 HDMI 2.0a Matrix Switch Features:
HDMI 2.0a compliant
Supports 4K2K@60 4:4:4 8bits
Supports HDR*, which is 4K2K@60 4:2:0 10bits**
HDCP 2.2 and 1.4 compliant
Wide frequency range: 25MHz~600MHz
Video bandwidth: 18Gbps
Supports xvYCC, x.v.Color & Deep Color
Supports Dolby Digital(+), DTS-HD and Dolby TrueHD audio
Allows any source to be displayed on multiple displays at the same time
Allows any HDMI display to view any HDMI source at any time
Supports default HDMI EDID and learns the EDID from displays
The matrix master can switch every output channel to any HDMI input by IR remote control, RS-232 control, IP control and web interface (Cloud).
Easy installation with rack-mounting and wall-mounting designs for master and receiver respectively
Compatible with:

OPPO, Panasonic, Philips, Samsung, etc UHD 4K DVD Player compliant
All Roku 4 media players
4K DirecTV Genie receivers
4K Sony FMP-X10 UHD players
4K NVidia Shield UHD Netflix devices
4K Amazon Fire Players
4K Surround Sound AV Receivers
and more 4K HD HDCP 2.2 devices
Why not buy this 4K 4x2 HDMI Matrix Switch today?
Specs
WolfPack 4K 4x2 HDMI 2.0a Matrix Switch Specs:
True 4x2 matrix
HDMI compliance: 3D & 4K2K@60Hz
HDCP compliance: Yes
Video bandwidth: Single link 594MHz [18 Gbps]
Video support: Up to HDR 4K2K@60 (4:2:0 10bits) / 4K2K@60 (4:4:4 8bits)
Audio support: Surround sound (up to 7.1ch) or stereo digital audio
ESD protection Human body model

15 kV [air - gap discharge] & 8 kV [contact discharge]
Input 4x
HDMI / 1x RS - 232 / 1x Ethernet
Output 2x HDMI / 2x SPDIF / 2x RCA
IR remote control Electro - optical characteristics: π = 25 / Carrier frequency: 38 kHz
HDMI conne ctor Type A [ 19 - pin female ]
RJ - 45 connector WE/SS 8 P8C with 2 LED indicator
RS - 232 connector DE - 9 [ 9 - pin D - sub female ]
Why not buy this 4K 4x2 HDMI 2.0a Matrix Switch today?
Accessories
WOLFPACK 4K HDMI CABLES



4K WolfPack HDMI 2.0 to CAT5 Extender w/HDCP 2.2 via HDBaseT 2.0 & USB

Price: $799.95

Today's price:

$399.95

(You Save: 50%)
Similar
WolfPack 4x4 HDMI 2.0 Matrix Switch with 4K@60Hz YUV4:4:4, 18GBPS & HDR

Price: $749.95

Today's price:

$349.95

(You Save: 53%)

4K WolfPack 4x4 HDMI Matrix Switcher with HDMI 2.0 & HDCP 2.2 & 4-SPDIF Audio Outs

$999.99
3D

HDTV Supply is a leader in supplying 3D equipment for this new, fast growing 3DTV market. Our test lab includes the latest equipment for designing, testing and supporting 3D video equipment. The chips sets we use support many of our 4K, HDMI 1.3 and HDMI 1.4 compliant devices. The 3D viewing results were awesome in our lab and did not have any picture or audio degradation. The normal and standard (2D) results equally exhibited a superb picture quality.
We not only test this device with lab equipment we also test many of our 3D devices with 3D products you are likely to use. The products used for the test are:
Sony PS3 with the 3D 3.41 firmware
Samsung model PN50C7000YF 3DTV
Samsung model BD-C6900 3D Blu-ray player FORCED to 1080p
Samsung model SSG-P2100T 3D glasses
DirecTV models HR21-100 and the HR24 high definition receiver.
It works with all HDMI devices including the new 3D units.
Why not buy this product that supports 3D today?
Q/A
Q: Can every TV work with the 4K 4x2 HDMI Matrix Switch?
A: Basically, the answer is YES. But if your TV can not support 4K, please refer the EDID LEARNING section to learn EDID from your TV.
Q: What is EDID? Why do I need to learn EDID?
A: EDID contains the whole information of the display such as the resolution and audio setting which this display can support. Therefore, based on the EDID information, media player will pick up the most suitable resolution and audio setting to the display. In order to faithfully transmit the EDID information from display to the media player, learning EDID from display to this device is necessary.
Q: What should I do to learn EDID for the matrix?
A: Due to the limitation of HDMI, the source device can only output one format of video and audio. In other words, the source device cannot output 720p and 1080p video at the same time, or output stereo and surround sound at the same time. Therefore, you may need to manually setup each HDMI input for desirable audio/video output format. The mechanism of EDID Learning is to pick up the HDMI display with the lowest capability among the ones you would use for this input source. For example, if user would like to play the Input-2 upon output-2, output-3 and output-4, and only output - 3 cannot support 1080p [support up to 720p only], please learn the EDID from the display connected to the output - 3 at the Input - 2 port. Of course, if output - 3 would get the HDMI signals from every HDMI input, please learn EDID information from output3 to all four HDMI inputs.
Q: My TV can support 1080p, but why there is no audio?
A: The factory default EDID of this device is 1080p & 2ch audio. However, there would be a problem after you change to use 1080p & 7.1ch if the TV cannot support 7.1ch audio. Please use the default EDID, 1080p & 2ch audio.
Q: When I set an audio amplifier (AV receiver) between TV and the matrix to extract 7.1ch audio, but why there is still no audio?
A: Basically, the default EDID of the chosen input can support 7.1ch audio, but the problem is that the EDID of the amplifier still cannot match the default setting. Therefore, the best method is to learn EDID from the amplifier directly. Please refer to EDID LEARNING section and follow the steps to learn the EDID. When learning EDID from the amplifier, user just needs to connect the matrix and amplifier. Please don't connect HDMI cable between amplifier and TV when the EDID learning is proceeding.
Q: When I play the same content upon multi-displays, why only the TV equipped with amplifier can have 7.1ch audio, and the others don't have 7.1ch audio even no stereo?
A: Due to the limitation of HDMI, the source only can choose one video and one audio format to play, which can be either 1080p and 7.1ch or 1080p and stereo audio. It means when the user sets the matrix at 1080p and 7.1ch, the source will only play the content under this format. Therefore, if the TV cannot decode 7.1ch audio, there is no audio.
Warranty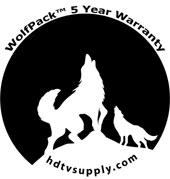 HDTV Supply
includes a 5 Year U.S. Limited Extended Warranty on this 4K 4x2 HDMI Matrix Switch. There are two bundled parts to this 5 year warranty. The 5 year warranty is only for the main device you purchased and does not include any product options or additional products you purchased at the same time.
FIRST YEAR:
The first year is direct with with HDTV Supply at 800-841-9238. The warranty states that the 4K 4x2 HDMI Matrix Switch will perform substantially in accordance with the supplied written materials and Product information located on this Product web site page for a period of 1 year from the date of shipment of the Product and that the Product will be free from defects in materials & workmanship under normal use & service for a period of 1 year from date of shipment.
In order to get a warranty replacement for a defective 4K 4x2 HDMI Matrix Switch within the first year call HDTV Supplys Tech Support Team with your order number at 800-841-9238 and they will verify the product is eligible for a warranty repair. An RMA number will then be issued via email. Shipped replacements will be in like new condition, tested and all components included. Please read
HDTV Supplys Warranty Terms and Conditions
for more.
2ND THROUGH 5TH YEAR:
The 2nd through 5th year are direct with
Consumer Priority Extended Warranty Service (CPS)
as they are HDTV Supplys extended warranty provider. They are a large 3rd party repair company with facilities throughout the U.S. and offer our U.S. customers unparalleled product coverage and repairs. If after calling HDTV Supply, at 800-841-9238, we find we can't fix the issue over the phone, and you need a 4K 4x2 HDMI Matrix Switch repair, you will henceforth deal directly with CPS for the repairs via their toll free phone number (800) 905-0443 Option 3 during the 2nd through 5th year.
You can also
email CPS
and
email HDTV Supply
as well as call us a 800-841-9238 if you have any questions with this 5 year bundled warranty.
Ask a Question
Questions & Answers

Ask a question about the 4K WolfPack 4x2 HDMI 2.0a Matrix Switch w/4K@60 Hz 4:4:4 & 18 GBPS or Call 800-841-9238


4K WolfPack 4x2 HDMI 2.0a Matrix Switch w/4K@60 Hz 4:4:4 & 18 GBPS
Recently Viewed Items