1x22 HDMI Splitter Over CAT5 to 300 Feet with IR Control




1x22 Distribution Amp over CAT5 cables

TCPIP LAN Based Allow ~300 Foot Distances

Includes 1-Transmitter, 22-Receivers & an Ethernet Switch

Expandable to 100s of Widescreens

Free Lifetime Telephone, CHAT, TEXT, FAX & Email Tech Support
Features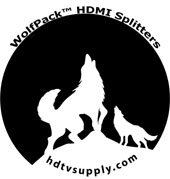 HDTV Supplys
1x22 HDMI Splitter Over CAT5
is a unique device that allows connecting any HDMI digital video source such as a DVD player, Camera, AppleTV, Satellite, Cable Box, PC, Xbox, PS4 and more with an HDMI output to up to 22 digital displays upwards of 300 feet away.
The 1x22 HDMI distribution amplifier splits an HDMI signal into 22 mirrored (the same) outputs without signal loss upwards of 300 feet. It uses HDTV Supplys new TCPIP moving JPEG technology.
The WolfPack 1x22 HDMI Splitters audio chip-set includes chips to makes sure the sound & the video are always in sync without any delays occur between them.
What Sets Our 1x22 HDMI Splitter Over CAT5 Apart From Our Competition:
It sends one HDMI source to 22-widescreens over a single CAT5e/6 cable to each widescreen or projector
Those CAT5e/6 cables can be up to 300 feet long
It uses an inexpensive 16-port Ethernet switch that is supplied)
The 1x22 HDMI Splitter Over CAT5 comes with:

One HDMI transmitter plus its AC adapter
22 - HDMI Receivers plus their AC adapters
A 24 port Ethernet switch is required and supplied

It supports both HDMI video and audio
It uses HDTV Supplys new TCPIP technology
it can be field upgraded by buying more receivers and a bigger Ethernet switch
It doesn′t require software, buttons nor any set up
It is plug and play...no documentation is needed nor supplied
1x22 HDMI Splitter Over CAT5 Features:
Input HDMI resolution: 480i@60Hz; 480p@60Hz; 576i@50Hz; 576p@50Hz; 720p@50/60Hz; 1080i@50/60Hz; 1080p@50/60Hz;
Output HDMI resolution: 480p@60Hz; 576p@50Hz; 720p@50/60Hz; 1080p@50/60Hz
Supported Video Color Formats: 24 Bit/Deep color; 30 Bit/Deep color; 36 Bit Deep Color
Supported audio format: DTS-HD/Dolby-true HD/LPCM7.1/DTS/Dolby-AC3/DSD
Supports HDMI 1.3, HDCP 1.1 and DVI1.1 compliantcy.
Supports Deep Color up to 12 bits/color.
Supports IR re-transmitting.
Uses one CAT5E/6 cable for each data/DDC transmission.
Equalizes and recovers the incoming ™DS data before re-transmitting it in optimal quality regardless of the incoming signal quality.
Cable testing showed that with 1080p resolution the HDMI input source can be 20 feet away using 24 AWG cabling.
When transmitting a signal in 1080p resolution the CAT6 operating distance is 100 meters or 330 feet.
Supported Resolution: 480p, 720p, 1080i, 1080p, 1920 x 1200
Bandwidth: 1.65Gbps
Transmission Range:
CAT5e/6 UTP 24AWG - 1080p at ~300 feet
Both UTP (Unshielded Twisted Pair) and STP (Shielded Twisted Pair) cables can be used (UTP is recommended)
Supported HDMI cable length:
HDMI cable lenght from source (e.g. DVD) to Sender - 20 feet max with 24 AWG HDMI cable
Receiver to Unit (e.g. LCD TV) -- 6 feet with 28 AWG HDMI cable
HDCP compliant
Why not buy this 1x22 HDMI Splitter Over CAT5 w/Remote IR today?
Specs
The base unit of which this 1x22 HDMI Splitter Over CAT5 is created is at
HDMI to CAT5 Distribution to 300 Feet
.
The HDMI transmitter has a static IP address and can pair with multiple receivers (up to 253).
1x22 HDMI Splitter Over CAT5 Specs:
Frequency Bandwidth 2.25Gbps (single link)
HDMI Transmitter Input/ Output Ports 1x HDMI Female port/1 x CAT6
HDMI Receiver Input/ Output Ports 1 x HDMI Female port/1 x CAT6
Power Supply DC 5V~12V
ESD Protection Human Body Model: 8kV (air-gap discharge) 4kV (contact discharge)
Dimensions (mm) 65(W) X 100 (D) X 25 (H)
Operating Temperature 0˚C ~ 40˚C / 32˚F ~ 104˚F
Storage Temperature -20˚C ~ 60˚C / -4˚F ~ 140˚F
Relative Humidity 20~90% RH (non-condensing)
1x22 HDMI Splitter Over CAT5 Contents:
1 - HDMI Over CAT5 Sender with an AC Adapter
22 - HDMI Over CAT5 Receivers with AC Adapters
1 - 24-port Ethernet switch with an AC adapter
Why not buy this 1x22 HDMI Splitter Over CAT5 today?
Accessories
True HDMI High Speed Cables - All Lengths

$9.95

HDMI Over Cat5 Transmitter & Receiver to 300' w/Remote IR

Price: $399.95

Today's price:

$149.95

(You Save: 63%)

CAT5E Shielded Cable for HDTV Installs - All Lengths

Price: $24.95

Today's price:

$19.95

(You Save: 20%)

Solid CAT6 Cables - 23 Gauge for HDBaseT POE Support

$39.95

Shielded CAT6 Cables

$24.95

Bulk Cat6 Gray Ethernet Cable 500 feet

Price: $124.95

Today's price:

$99.95

(You Save: 20%)
Compatibility
This 1x22 HDMI Splitter Over CAT5 Works with:
Any high definition Dish Network and DirecTV receiver with HDMI outputs
High definition TiVo's with HDMI outputs
Any high definition cable receiver with HDMI outputs
Canadian Rogers, Shaw, Bell ExpressVu and Star Choice receivers with HDMI out, or DVI out with a converter
Any "Over The Air" (OTA) high definition receiver with HDMI outputs
Sony PS3, HD DVD and Blu-ray DVD players
Any Xbox360 with HDMI outputs
Any upconverting DVD player with HDMI outputs
Any DVHS VCR with HDMI outputs
An APPLE TV with HDMI outputs
A VuDu with HDMI outputs
Any PC video card with HDMI outputs
Any high definition camcorder with an optional type C to standard HDMI cable
Many A/V surround sound receivers with HDMI switching that include the proper chip set. Call your AV receiver supplier to discuss your application or us.
Any HDCP compliant HDTV, monitor and projector. If the source is HDCP compliant and your TV is not, you will not get a picture. Please check your TV manual or the manufacturers web site.
and other similar devices.
Why not buy this 1x22 HDMI Splitter Over CAT5 today?
Similar
HDMI to CAT5 Distribution to 300 Feet & Many TVs - You Design It

$100.00

1x9 HDMI Splitter Over Coax to 1,500 Feet

Price: $1,299.95

Today's price:

$999.95

(You Save: 23%)
Q/A
Q: What are the IP addresses of the transmitter and receiver?
A:
Here are the IP addresses for the HDMI distribution set(s)...
192.168.168.55 - Transmitter
192.168.168.56 - Receiver
Q: Can I add my wireless router to this Ethernet switch?
A:
It is not recommended as any bandwidth stolen from the HDMI video and audio portion of it could add video sparkles or maybe cause no picture at all.
Q: Are all ports capable of 1080p HDMI?
A:
Yes, even at 300 feet.
Q: Sometimes we see a message on the screen "Searching for TX", what is that?
A:
That usually happens when the source is turned off or in a standby mode with the HDMI connector not outputting any signal. The (TX) transmitter is looking for a hot HDMI signal on its input.
Q: What technology is used in this HDMI splitter?
A:
HDTV Supplys new moving jpeg technology using HDMI via TCPIP transmitters and receivers and a Ethernet switch. M-JPEG is a compression technique for moving the HDMI images to each frame of a moving picture sequence. The picture and audio quality is superb even at 250 feet CAT5e/6 cable lengths.
Warranty

HDTV Supply
includes a 1 Year Limited Warranty on this 1x22 HDMI Splitter Over CAT5. The warranty states that (a) its products will perform substantially in accordance with the2 accompanying written materials for a period of 1 year from the date of receipt and (b) that the 1x22 HDMI Splitter Over CAT5 will be free from defects in materials & workmanship under normal use & service for a period of 1 year. In order to get a warranty replacement for a defective item, HDTV Supplys Support Team will verify the product is eligible for warranty. An RMA number will then be issued. Shipped replacements will be in like new conditions, tested and all components included.
HDTV Supply
also sells a 3 and 5 Year Extended Warranty for this 1x22 HDMI Splitter Over CAT5. Please go to
Extended Warranties
or see the above Options to purchase it.
Why not buy this 1x22 HDMI Splitter Over CAT5 today?
Ask a Question
Questions & Answers

Ask a question about the 1x22 HDMI Splitter Over CAT5 to 300 Feet with IR Control or Call 800-841-9238


FAQ
The below is your installation procedure. The unit is plug and play so no users manual comes with this simple HDMI splitter set.
PLEASE PRINT THIS OUT AS PREPARATION FOR THE INSTALL.

INSTALLATION PROCEDURE:
Make sure all the devices are turned OFF or unplugged for the wall before you start.
1. Plug the supplied HDMI TRANSMITTER (TX) into an HDMI cable.
2. Plug the other end of the HDMI cable into your video and audio source like a DVD player, cable box, etc.
3. Plug the TRANSMITTERS RJ45 connector into a CAT5e/6 cable.
4. Plug the other end of the CAT5e/6 cable into any of the inputs on the supplied Ethernet switch.
The above takes care of sending the HDMI signal to the Ethernet switch. The below now shows how to connect the multiple TVs to the Ethernet switch.
1. Connect the CAT5e/6 cables from the TVs to any of the connectors on the Ethernet switch.
2. Connect the HDMI RECEIVERS (RX) to the TVs with a short HDMI cable.
3. Plug the CAT5e/6 cables into the RECEIVERS.
4. Plug all of your devices into the wall AC outlets and turn them ON. You should now see the source device on all of your widescreens.
That is all there is to it. We suggest, if possible, that you use different colored CAT5e/6 cables so you will know what signal goes where.
If you need further help just call our tech support team at 800-841-9238 or email us at support@hdtvsupply.com
1x22 HDMI Splitter Over CAT5 to 300 Feet with IR Control
Recently Viewed Items