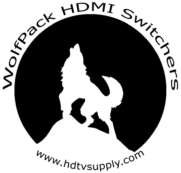 HDTV Supplys Wolfpack 1x10 Network HDMI Matrix Switcher is an easy to use HDMI video switching and distribution system that allows the design of multi-source to multi-video display systems using standard Ethernet cables. Because it is a matrix switcher, it allows any input to be routed to any output; or the same input to be routed to all outputs, or any combination. It is controlled by a PC or MAC via its LAN port with the supplied Browser Based WEB GUI and optionally via a WEB GUI on a cascaded wireless Router.
HDTV Supplys Wolfpack HDMI over IP products, like this one, lets you create 1080p HDMI matrix systems using a dedicated Gigabit network and CAT-5e/6 cabling. Many combinations of HDMI inputs and HDMI outputs is possible that can be easily expanded for additional HDMI sources and HDMI TVs and projectors given ports are available on the supplied 24-port Gigabit Ethernet switch.
Our Wolfpack 1x10 Network HDMI Matrix Switch is a preconfigured matrix switch using 1 - Transmitters and 10 - Receivers and our 24 - port Ethernet Switch. It uses CAT 5e/6 cables and a Gigabit Ethernet LAN switch with MJPEG techniques and an industry standard IP protocol to deliver 1080p video from sources that are 300 feet away from the Ethernet switch and another 300 feet away to the TVs. It also allows the system to grow in the field as its design allows you the flexibility of adding more video sources or more displays to the system based upon the number of unused Ethernet ports available.
1x10 Network HDMI Matrix Switcher Configuration:
1 - Transmitters with their AC adapters
10 - Receivers with their AC adapters
1 - 24-port Gigabit Ethernet switch
1x10 Network HDMI Matrix Switcher Features:
Supports 720p and 1080p HDMI video plus 2-channel audio
Plug-and-play operation - no programming or setup required
Extends 1080p HDMI signals up to ~300 feet over a single Cat5e/6 cable
Traffic can be unicast, multicast or broadcast for different applications
Allows Wideband IR remote control of sources devices
Control from a Browser Based GUI
Compliant with HDCP 1.2
Uses our Gigabit IP switches for extension and distribution
Extends 1080p HDMI signals up to 300 feet over a single UTP Cat5e/6 cable
Flexible and scalable 1080p HDMI broadcasting via an included Gigabit Ethernet switch (LAN)
Multicasting and broadcasting architecture, adding more displays without adding LAN bandwidth loading .
Supports Point-to-Point, Point-to-Many and Many-to-Many network configurations.
CAUTION: This HDMI Matrix Switcher Over a LAN system requires a dedicated HDMI video system using the supplied Ethernet switch and not attached to any existing LAN system due to the unknown bandwidth impact on the HDMI video from that network. A single, dedicated, LAN must be used to keep it from interfering with the rest of an existing LAN or vice versa. With all devices in a single LAN, switching sources involves modifying the IP of the Receiver rather than actively manipulating the LAN configuration of the managed switch. The design needs to meet these specs:
One Dedicated LAN
No other network appliances in the LAN
Unique subnet
No other network appliances in the subnet
NOTE: This Network Matrix comes with HDMI Transmitters and HDMI Receivers and each of them needs the IP address to be setup based upon your needs. The MAC address also needs to be setup based upon your unique system configuration. Please see the above VIDEOS on how to do it.
Why not buy this 1x10 Network HDMI Matrix Switcher today?
1x10 Network HDMI Matrix Switcher Specs:
Supports default configuration which can be restored to overwrite the current configuration which is working on via Web GUI and Reset button of the switch.
Supports user management and limits one user to login.
8K MAC addresses.
Full-duplex flow control (IEEE802.3x) and half-duplex backpressure.
Supports Unknown Unicast / Broadcast / Multicast Storm Control.
Input Video Signal: 0.5-1.0 Volts P-P
Input DDC Signal: 5 volts p-p (TTL)
Support Video Format DTV/HDTV: 480i/576i/480p/576p/720p/1080i/1080p
Video: HDMI
Transmission Distance: 1080p 8-bit 120m (Maximum) via Single CAT5e/6 24AWG/Solid
Power Consumption: TX: 3watts; RX: 3 watts (Maximum)
IR Wavelength: 940nm
Operating Temperature Range: -5degree +35degreeC (+23 to 95degree F)
Operating Humidity Range: 5 to 90% RH (No Condensation)
Dimension (LxWxH): 103.5*93.5*24.6mm
Net Weight: Receiver: 220g Transmitter: 220g
The base model of this 1x10 Network HDMI Matrix Switch is at
WolfPack Network HDMI Matrix Switchers
.
Why not buy this 1x10 Network HDMI Matrix Switcher today?
Q: I don't see a picture, what do I do?
A:
Did you change the MAC addresses of the transmitters and receivers? Also in the switch do you have the ports setup to inputs and outputs?
Q: I cannot get logged into the matrix switch. I've assigned an IP address as described in the instructions but cannot get the GUI to load on the browser.
A: We have found Firefox works best to get to the GUI.
Q: Does a HDMI Over IP Network Matrix come with a remote control or front panel switches?
A: No, it is controlled by a PC or a MAC only via its LAN port or optionally wirelessly via the above Wireless WEB GUI Control option.
Q: How do I wire it?
A: Here are the steps:
Connect the HDMI signal sources (Such as DVD, STB etc) to the HDMI Transmitter
Connect CAT5e or 6 cables to both the Ethernet of the transmitter and Ethernet port of the Receiver. (The cables must follow the standard of EIA-TIA 568B).
Connect the HDMI output (Such as HD-LCD, HD-DLP) into the Receiver
Plug in all the power supplies
Connect the IR TX receiving cables into IR TX port on the back panel and affix the emitter onto the source IR windows.
Connect IR-RX cable into IR-RX port on the receiver and affix the IR receiver in direct line of site with the handheld remote control. It is recommended to affix the receiver on the display frame /bezel or the display stand