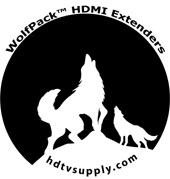 Part of HDTV Supply popular WolfPack family of products the WolfPack
HDMI over CAT5e Extender
allows up to 1080p HDMI video & audio to be wired up to ~700 feet using only one low cost CAT6 cable or ~500 feet using only one CAT5e cable. It comes with both a transmitter and a receiver, 1-AC adapter (as it has POE) and has 38-KHz bidirectional IR to control a source device as well as the TV. It also supports Point-to-Point and Point-to-Many. (See below for distances with different types of cables).
It supports resolutions up to 1080P@60Hz when wired with an Ethernet switch to distribute & extend HDMI signal long distances with a very low bandwidth consumption (10Mbps/RX) minimizing the impact to Internet surfing. H.264 technology provides vivid high-definition output image quality.
The HDMI over CAT5e Extender includes two boxes - one HDMI transmitter (TX) & one HDMI receiver (RX). The transmitter connects to a HDMI source with an HDMI cable. The HDMI receiver connects to a display in the same way. Between the two modules, one low cost CAT5e or 6 cable is used to send the HDMI video & audio signal as well as the IR signal. The HDMI Loopout sends the HDMI signal from the TX to local TV.
For optimal video performance use our WolfPack HDMI 2.0b and HDCP 2.2 cables with this product.
WolfPack HDMI over CAT5e Extender Features:
WolfPack Transmission Distance Tests with Different CATx cables:



1080p to ~725 feet over a single solid UTP CAT7 cable
1080p to ~700 feet over a single solid UTP CAT6 cable
1080p to ~600 feet over a single solid UTP CAT5e cable
1080p to ~475 feet over a single solid UTP CAT5e cable
1080p to ~660 feet over a single stranded UTP CAT6 cable
1080p to ~500 feet over a single stranded UTP CAT5e cable
1080p to ~400 feet over a single stranded UTP CAT5e cable



Latency: 200 ms
Compression type: H.264
HDMI 1.3 version
HDCP 1.2 version
Supports video resolutions up to 1080p @ 60Hz
Supports POE power function allowing the power adapter to connect to either the TX or RX
Supports IR signal transmission
High compatibility as it can auto-match the source and display device
Built-in automatic adjustment system makes the image smooth, clear and stable
Built-in ESD protection system
Simple to install - plug and play
Built-in automatic adjustment system makes the image smooth, clear and stable
Built-in ESD protection system
660 feet with a CAT6 cable over H.264 technology
Full HD support: 1080p@60Hz
Extends HDMI signals distances of up to 660M using one CAT5e/6 Cables (not included)
Can be used with mixed devices e.g. an HDMI DVD player and an HDCP enabled DVI-D display
Long distance HDMI signal transmission using CAT5e or CAT6 cable
Cost effective solution minimizes the use of an expensive HDMI cable versus an expensive fiber cable
Supported resolutions: HDMI - 480i/480p, 576i/576p, 720P@50/60Hz, 1080i@50/60Hz, 1080p@50/60Hz
Supports High Definition audio, Dolby Digital True HD and DTS-HD
Pure hardware solution, no software required
Easy to install and use
1 year warranty
Features 38-Khz Bi-Directional IR:
Over the same CAT5e/6/7 cable you can send commands from a control system to the TV as well as simultaneously control DVD players, cable boxes and other source equipment from the TV location. The IR works in only stand alone applications with one source and one TV. The supplied AC adapter may need to be put on the Receiver, not the Transmitter, if you are using the IR function and some remote controls.
NOTE: We recommend strongly that you use good CAT5 / 6 cables with any CAT5 / 6 converting products like this one. Most of our "no picture" support calls are due to poor quality and cheap or poorly made cables. Since it is high definition video we only recommend CAT5/6 cables with specs like our CAT-5 /6 cables either bought from us or another high quality supplier. We also recommend, if possible, pre-made cables that are factory tested vs. field made cables due to the advanced testing methods used.
Why not this WolfPack HDMI over CAT5e Extender set today?
HDMI over CAT5e Extender Technical Specs:
Standards: HDMI 1.3 and HDCP 1.2
Maximum pixel clock: 165MHz
Maximum data rate: 6.75Gbps
Resolution: Up to 1080p@60Hz
Connector: HDMI-A
Impedance: 100Ω
Interface: RJ45
Transmission distance: UTP CAT6 up to 200M & UTP CAT5E up to 150M
Power supply: DC 9~15V/2A
Power dissipation: MAX 8W
Temperature Operating: -5℃ ~ +70℃
Humidity Operating: 5% ~ 90%
Dimension: 94*71*25mm
1 year warranty
Support HDMI resolution : 1080P/1080i/720P/576P/576i/480P/480i
Output cable distance: No longer than 15 feet 24 AWG HDMI cable
Input cable distance: No longer than 15 feet 24 AWG HDMI cable
Data transfer speed: 6.75Gbps-10.2Gbps
Extends HDMI signals over distances of up to 660 via only one CAT6 UTP/STP cables
Supports HDMI signals including HDCP, audio and remote control
Extension limit: 200M with CAT6
IR Specs:
Interface: 3.5mm earphone seat
Signal direction: Unidirectional
Signal type: Digital
IR frequency: 38kHz
HDMI over CAT5e Extender Technical Specs:
1 - HDMI transmitter
1 - HDMI receiver
1 - IR TX/RX terminal
1 - Power adapter
1 - User manual
This HDMI over CAT5e Extender Can Be Used With:
Any high definition Dish Network and DirecTV receiver with HDMI outputs
High definition TiVo's with HDMI outputs
Any high definition cable receiver with HDMI outputs
Canadian Rogers, Shaw, Bell ExpressVu and Star Choice receivers with HDMI out, or DVI out with a converter
Any "Over The Air" (OTA) high definition receiver with HDMI outputs
Sony PS3, HD DVD and Blu-ray DVD players
Any Xbox360 with HDMI outputs
Any upconverting DVD player with HDMI outputs
Any DVHS VCR with HDMI outputs
An APPLE TV with HDMI outputs
A Roku with HDMI outputs
A Vudu with HDMI outputs
Many PC video card with HDMI outputs
Any high definition camcorder with an optional type C to standard HDMI cable
Many A/V surround sound receivers with HDMI switching that include the proper chip set. Call your AV receiver supplier to discuss your application or us.
Any 2D or 3D HDCP compliant HDTV, monitor and projector. If the source is HDCP compliant and your TV is not, you will not get a picture. Please check your TV manual or the manufacturers web site.
All HDMI 1.4 compliant devices as well as with older 1.0, 1.1, 1.2 and 1.3 versions
and other similar devices.
Q: Does the remote IR work with a HDMI matrix switch or HDMI splitter?
A: These HDMI extenders will send both HDMI video and audio from a matrix or splitter, etc but the remote IR is designed to be used with only one source, like a cable box, to one widescreen. There would be too many IR cables to attach on the sources IR window. See our HDMI switchers and splitters that have it integrated.

HDTV Supply
includes a 1 Year Limited U.S. Warranty on this HDMI over CAT5e Extender. The U.S. warranty states that (a) its products will perform substantially in accordance with the accompanying written materials for a period of 1 year from the date of receipt and (b) that the HDMI over CAT5e Extender will be free from defects in materials & workmanship under normal use & service for a period of 1 year. In order to get a warranty replacement for a defective item, HDTV Supplys Support Team will verify the product is eligible for warranty. An RMA number will then be issued. Shipped replacements will be in like new conditions, tested and all components included. A 30-day RETURN also comes with this warranty as well as Free Lifetime Tech Support.
HDTV Supply
also sells a 3 and 5 Year Extended U.S. Warranty for this HDMI over CAT5e Extender. Please go to
Extended Warranties
or see the above Options to purchase it.