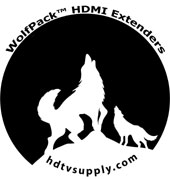 HDTV Supplys WolfPack HDMI 4K
EDID Emulator
is designed for 1080p and 4K2K HDMI signal sources as well as enables you to capture and store EDID (Extended Display Identification Data) information when connected to a display. Our EDID Emulator can be powered directly from the HDMI source or with an optional external power supply. The EDID Emulator allows you to switch or relocate HDTV or computer video displays while "tricking" the source devices into continuously reading the display information - maintaining smooth video operations throughout the process.
EDID information contains important display settings such as maximum image size, color characteristics, factory pre-set timings, frequency range limits, etc., and since most video extender systems don't offer EDID communication between the source and remote display, the HDMI EDID Emulator is a perfect workaround for ensuring the optimum signal is provided to the display to help prolong the life of your displays.
WolfPack 4K EDID Emulator Features:
Supports 4 different EDID functions: read, write, emulate, and bypass
Allows the source device to read the selected EDID information from the unit default or learned EDID memory
Built in rotary switch that supports up to 12 sets default EDID settings
Allows you to save 3 sets of custom EDID
Built in USB port to allow user to write EDID
Built in Equalizer for reliable signal quality performance.
Supports HDMI 1.4a
HDCP 1.4 compliant
Support 4K2K@30Hz 4:2:0 and 3D capable.
Resolution support up to 4K x 2K (3840 x 2160@24、25、30Hz or 4096 x 2160@24Hz)
Able to prevent PC from deactivating inactive HDMI/DVI ports
Supports HDMI Deep Color & is 3D / DVI 1.1 compliant
Able to read and store the EDID of displays (monitors or projectors), to overwrite the EDID into the EDID Reader/Writer/Re-timer or the HDMI displays
Built-in default EDID
Able to maintain HDMI/DVI video resolutions
Re-synthesizes input HDMI data stream and maintains or improves signal integrity.
EDID Explained:
EDID provides for optimal source-to-screen performance. EDID will optimize the video card output for the capabilities of the end display. The EDID ghost unit enables the copying, emulating, cloning, and "learning" of EDID data from a display. Our EDID Emulator and repeater comes with predefined presets, user programmable banks, Sink EDID sniffing bank and more. Our EDID Emulator ensures proper operation, for the best performing HDMI audio and video signal between any source and display Resolves loss of video, intermittent (flashing) video, snow, or color-space (purple or red) issues.
WolfPack 4K EDID Emulator Rotary Switch Settings:
0: Bypass mode
1: Custom EDID #1
2: Custom EDID #2
3: Custom EDID #3
4: 720p@60Hz,LPCM 2 channel
5: 1080i@50Hz,LPCM 2 channel
6: 1080i@60Hz,LPCM 2 channel
7: 1080p@24Hz,LPCM 2 channel
8: 1080p@25Hz,LPCM 2 channel
9: 1080p@50Hz,LPCM 2 channel
A: 1080p@60Hz,LPCM 2 channel
B: 1080p@24 Hz,LPCM 5.1 channel
C: 1080p@50 Hz,LPCM 5.1 channel
D: 1080p@60 Hz,LPCM 5.1 channel
E: 1080p@60 Hz,LPCM 7.1 channel
F: 3840 x 2160@30 Hz (4K x 2K),LPCM 2 channel
Why not buy this 4K EDID Emulator today?