Features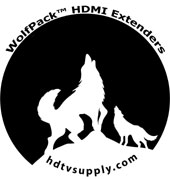 HDTV Supplys WolfPack HDMI 4K
EDID Emulator
is designed for 1080p and 4K2K HDMI signal sources as well as enables you to capture and store EDID (Extended Display Identification Data) information when connected to a display. Our EDID Emulator can be powered directly from the HDMI source or with an optional external power supply. The EDID Emulator allows you to switch or relocate HDTV or computer video displays while "tricking" the source devices into continuously reading the display information - maintaining smooth video operations throughout the process.
EDID information contains important display settings such as maximum image size, color characteristics, factory pre-set timings, frequency range limits, etc., and since most video extender systems don't offer EDID communication between the source and remote display, the HDMI EDID Emulator is a perfect workaround for ensuring the optimum signal is provided to the display to help prolong the life of your displays.
WolfPack 4K EDID Emulator Features:
Supports 4 different EDID functions: read, write, emulate, and bypass
Allows the source device to read the selected EDID information from the unit default or learned EDID memory
Built in rotary switch that supports up to 12 sets default EDID settings
Allows you to save 3 sets of custom EDID
Built in USB port to allow user to write EDID
Built in Equalizer for reliable signal quality performance.
Supports HDMI 1.4a
HDCP 1.4 compliant
Support 4K2K@30Hz 4:2:0 and 3D capable.
Resolution support up to 4K x 2K (3840 x 2160@24、25、30Hz or 4096 x 2160@24Hz)
Able to prevent PC from deactivating inactive HDMI/DVI ports
Supports HDMI Deep Color & is 3D / DVI 1.1 compliant
Able to read and store the EDID of displays (monitors or projectors), to overwrite the EDID into the EDID Reader/Writer/Re-timer or the HDMI displays
Built-in default EDID
Able to maintain HDMI/DVI video resolutions
Re-synthesizes input HDMI data stream and maintains or improves signal integrity.
EDID Explained:
EDID provides for optimal source-to-screen performance. EDID will optimize the video card output for the capabilities of the end display. The EDID ghost unit enables the copying, emulating, cloning, and "learning" of EDID data from a display. Our EDID Emulator and repeater comes with predefined presets, user programmable banks, Sink EDID sniffing bank and more. Our EDID Emulator ensures proper operation, for the best performing HDMI audio and video signal between any source and display Resolves loss of video, intermittent (flashing) video, snow, or color-space (purple or red) issues.
WolfPack 4K EDID Emulator Rotary Switch Settings:
0: Bypass mode
1: Custom EDID #1
2: Custom EDID #2
3: Custom EDID #3
4: 720p@60Hz,LPCM 2 channel
5: 1080i@50Hz,LPCM 2 channel
6: 1080i@60Hz,LPCM 2 channel
7: 1080p@24Hz,LPCM 2 channel
8: 1080p@25Hz,LPCM 2 channel
9: 1080p@50Hz,LPCM 2 channel
A: 1080p@60Hz,LPCM 2 channel
B: 1080p@24 Hz,LPCM 5.1 channel
C: 1080p@50 Hz,LPCM 5.1 channel
D: 1080p@60 Hz,LPCM 5.1 channel
E: 1080p@60 Hz,LPCM 7.1 channel
F: 3840 x 2160@30 Hz (4K x 2K),LPCM 2 channel
Why not buy this 4K EDID Emulator today?
Specs
When a video source is connected to a display, EDID information is shared between devices to ensure optimal video performance. However, if you are using a third party device, such as a video switcher, matrix switch or extender, between your source and display, the EDID information may not pass through correctly.
Our EDID Emulator lets you clone or emulate the EDID settings from your display and deliver it to your video source to ensure proper signaling between your devices.
EDID Emulator Operation:
By Pass Mode: Rotary switch turn to 0, connect source and monitor, the DDC will connect directly.
Manual Learning EDID Mode: Rotary switch turn to 1~3: Press SET button 3 seconds to learn and write the EDID. Press SET button 0.5 second to select learned EDID
Default Mode: Rotary switch turn to 4~F, press SET button 0.5 second to select default EDID.
WolfPack EDID Emulator Contents:
1 - EDID Emulator
1 - CD
1 - Micro USB to DC jack cable
Why not buy this 4K EDID Emulator today?
Q/A
Q: What does the EDID Emulator do?
A:
The EDID Emulator is designed to allow the adjustment of HDMI EDID information that is provided to a source device by a connected display so that it may output the correct video/audio signal. Aiming to simplify the technical complications involved in video/audio system integration, home theater installation, video/audio equipment testing and experimentation, the unit's learning function allows the user to Read and Write the video/audio EDID to the system. It also supports EDID Emulation and Bypass modes.
Why not buy this 4K EDID Emulator today?
FAQ
Note:
if your video source provides enough power through the HDMI port, it isn't necessary to reconnect a USB power source once the emulator is connected to the source. However, if the EDID Emulator does not power up when it's connected to the source, you must connect the EDID emulator to a USB power source using the included USB power cable.
Why not buy this 4K EDID Emulator today?
Government
This product may be eligible to be purchased through the United States Governments SEWP program, similar to their GSA program.
The NASA SEWP (Solutions for Enterprise-Wide Procurement) provides the latest in Information and Communications Technology (ICT) and Audio-Visual (AV) products and services for all Federal Agencies and their approved contractors.
If you are a government agency and want to see whether HDTV Supply has this product in the SEWP database go to our
our SEWP Contract Holder RedHawk IT Solutions, LLC
to allow you to maybe order this product from the United States Governments SEWP program. It is very easy to place your order, go to the link above and enter HDTV Supply and there you will see a list of part numbers of what we currently have. If you do not see it than give us a call at 833-WOLFPACK (833-965-3722) and we may be able to enter it.
Our SEWP Contract Holder RedHawk IT Solutions partner has the following credentials:
DUNS: 801957023
TIN: 260452583
CAGE: 4TBM6
Their SEWP Federal Contracts are:
SEWP Contract Number: NNG15SD38B
Group: Group B_SDVOSB
NAICS: 541519
and
SEWP Contract Number: NNG15SD88B
Group: Group C
NAICS: 541519
The SEWP Program Office manages a suite of government-wide IT products and services contracts that enable NASA and all Federal Agencies to achieve their missions and strategic initiatives by providing streamlined access to critical technologies and solutions. The Program provides best value for the Federal Government and American taxpayer through innovative procurement processes, premier customer service and outreach, acquisition insight, and partnership with Government entities and Industry.
For a complete listing of HDTV Supply products from us, or our other vendors, call 833-WOLFPACK (833-965-3722).