HDTV Supply's 4K WolfPack 8x8 HDMI Matrix Router is a fixed 4K 8x8 HDMI Matrix Router with EDID management to work with HDMI sources and HDMI displays.
WolfPack 8x8 HDMI Matrix Router Features:
HDMI V1.4 supports 4K @ 30Hz with 4:2:0 Colorspace
48/36/30/24-bit Deep Color support
Supports LPCM 7.1CH, Dolby True HD, Dolby Digital Plus and DTS-HD Master Audio transmission
Allows any source to be displayed on multiple displays at the same time
Allows any HDMI display to view any HDMI source at any time
Optional Control4 drivers
Supports RS-232, remote control, on-panel control and TCP/IP Control
The 8x8 HDMI Matrix Router can work with Blu-Ray players, Set-Top boxes, Home Theater PCs, and game consoles which connect to HDMI displays. The WolfPack 4K 8x8 HDMI Matrix Router includes and supports RS-232 & TCP/IP software and has front buttons control and an IR remote control along with Control4 Drivers.
More WolfPack 8x8 HDMI Matrix Router Features:
Front-panel LCD display for status feedback
Fast-switching circuitry of up to eight HDMI/DVI sources to eight displays
Supports bandwidth up to 10.2 Gbps
Built-in EDID & HDCP internal management
HDCP 1.4 complaint
Supports 3D pass-through
Supports High Speed HDMI Specifications (Deep Color, Lip Sync, and HD lossless audio formats)
Supports full HD 1080p (1920x1080@60Hz)
Computer resolutions up to WUXGA (1920x1200@60Hz)
Supports DDC transmission
Supports Dolby digital-true HD, DTS-HD
CEC protocol pass-through.
Front-panel LEDs for input/output signal presence
Control through, IR, RS-232 and front-panel buttons
Full RS-232 software control - perfect for incorporating third party control systems (not supplied)
1U rack mountable aluminum enclosure
Backed by HDTV Supply′s 1-year full parts & labor warranty

Because it is a matrix switcher, it allows any input to be routed to any output; or the same input to be routed to all outputs, or any combination. Our WolfPack 8x8 HDMI Matrix Router is very light, weighing only five and a half pounds and it 1U high. It can route HDMI signals from eight video inputs and eight video outputs and supports Dolby Digital-True HD and DTS-HD. It is compliant with High-bandwidth Digital Content Protection (HDCP), which uses DVI and HDMI 1.4 standards. The 8x8 HDMI Matrix Router also has the added benefit of front-panel buttons for anyone that likes the accessibility of having them visible. Nobody likes to reach around behind their electronics searching for the right button. It becomes even more difficult if the switcher is placed in a location that does not allow access to the back of it. Not sure where to put it? The Matrix Switcher has a 1U rack mountable aluminum enclosure in order to place it in a safe and convenient spot.
HDTV Supplys 8x8 HDMI Matrix Router supports resolutions up to 4K/30, 1920 x 1200, 1080p or 4K, supporting full cross point switching. It also supports built-in EDID management for recognizing multiple display formats and sources. Fully controllable via IR remote, front panel and RS232 software control.Fully controllable with an IR remote and front-panel buttons, this switcher includes global presets for I/O configurations which allows saving and recalling via the front-panel, IR or through serial control at any time. This 8x8 HDMI Matrix Router supports high speed HDMI specifications which allow lip sync, deep color, and HD audio formats.The 8x8 HDMI Matrix Router is an ultra-high performance, digital matrix router engineered to route HDMI signals from 8 inputs to 8 outputs. The 8x8 HDMI Matrix Router provides full HDCP internal management for todays integration in commercial A/V market, ensuring HDCP key authentication, and administering the handshake internally.
Why not buy this 8x8 HDMI Matrix Router today?
This WolfPack 4K 8x8 HDMI Matrix Router is an 8x8 HDMI Matrix Switcher that supports the HDMI1.4 standard with a maximum resolution of 4K@60Hz (4:2:0). It allows any of the 8 Input HDMI Channels to be routed to any of the 8 Output HDMI Channels in any combination. Switching can be controlled by IR Remote Control, Front Panel Buttons, PC software and RS232.
WolfPack 4K 8x8 HDMI Matrix Router Features:
1U standard chassis
Easy installation.
Supports HDMI 1.4
HDCP 1.4 Compliant
Reads and saves EDID from the displays function
Automatic EQ and amplification capabilities
Signal recovery enhancements capabilities
On-site switching memory protection function
Enhanced ESD electrostatic protection and special lightning protection circuit
The front panel LCD screen can display the switching status,which is clear and intuitive.
Controlled by an IR Remote, Front Panel Buttons, PC Software and RS232.
Resolution ratio Supports: 480i, 576i, 480p, 576p, 720p, 1080i, 1080p@24/30/50/60Hz, 1080P@60Hz and 4K@30Hz.
Input ports: 8xHDMI, 1xRS-232(control), 1xRJ-45(control)
Output ports: 8xHDMI
Input cable distance: ~25 feet AWG24 HDMI 1.4 high speed cable
Output cable distance: ~35 feet AWG24 HDMI 1.4 high speed cable
ESD Protection: Human-body Model: ± 8kV (Air-gap discharge) ± 4kV (Air-gap discharge)
ESD Protection: 12 V/3 A DC (US/EU standards, CE/FCC/UL certified)
Controlling: Supports remote control, front buttons control, RS232, LAN control
Input voltage: 100VAC ~ 260VAC, 50/60 Hz, the adaptive power supply: 23 W (Max)/ 0.5w (stand by)
Dimension(mm): 480 mm (W)x252 mm (D)x44 mm (H)
Weight: 8 pounds
4K 8x8 HDMI Matrix Router Contents:
1 - Power Adapter
1 - User Manual
1 - 4K 8x8 HDMI Matrix Router
1 - Remote control
Why not buy this 8x8 HDMI Matrix Router today?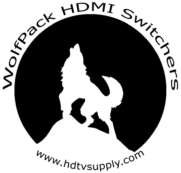 HDTV Supply created our unique line of
WolfPack line of products
which are born from a hungry, circling pack of high performance video and audio HDMI that surround our competition to devour them. The WolfPack family is sleek, unique & swift & even the smallest configuration wolf can adapt himself to many hostile environments.
The Wolfpack family can roam long distances even some up to 300 feet over HDBaseT trails and howl 4K whereas those who try to trap the WolfPack fails & runs away to the older devices.
You can only get this one-of-a-kind WolfPack product from HDTV Supply.


Reasons To Buy an HDTV Supply WolfPack Product:
All WolfPack products have FREE HDTV Supply U.S. based Live Telephone Lifetime Tech support
HDTV Supply has a dedicated TEXT support line at 805-409-0208 to support you
HDTV Supply has a dedicated Product Manager for WolfPack products to assist with any special needs
If there is a WolfPack firmware update for your product you will find it at our site
Many times we will list lower refurbished WolfPack products at our site
All WolfPack products are usualy in stock and ship the same week day if the order comes in by 12PM PST
You can buy WolfPack products from us with most any credit card, your Amazon account and PayPal
HDTV Supply has many videos to show the features of WolfPack products
You will find all WolfPack User Manuals and other manuals at our site
From time-to-time HDTV Supply runs Factory Authorized sales on WolfPack products
All WolfPack products bought from HDTV Supply are brand new and in unopened boxes.
All WolfPack products bought from HDTV Supply are shipped in double carton boxing.
All WolfPack products bought from HDTV Supply have full value shipping insurance
All WolfPack products bought from HDTV Supply have a 30-day No-Hassle returns
All WolfPack products bought from HDTV Supply can be shipped blind to your customer
HDTV Supply has shipped >1,000 WolfPack products throughout the world
HDTV Supply ships all WolfPack products from here in the U.S.
HDTV Supply stocks extra WolfPack accessories in case you misplace your remote or other unit
HDTV pride ourselves on confidentiality and any personal information that you may share with us is kept absolutely private.
Why not buy one of HDTV Supplys WolfPack products today?
These 8x8 HDMI Matrix Switch can usually be integrated with many third party control systems using the RS232 port on the back of the matrix.
For experienced hardware & software professionals who want to write their own drivers for 3rd party control systems from:
AMX™
Control4™
Creston™
RTI™
DTVGameControl™
Elan g!™
Media switcher™
OnControls™
Savant™
SimpleControl™
SwitchItUp™
SAVI Control™
URC Control™
...we have created a simple and very easy to use RS232 script to write your own drivers.
EXAMPLE: If you want to switch input 1 to output 2, the RS232 command would be 01V02. and see the RS232 section in the above WolfPack Wireless Matrix Switch User Manual if you want to write your own drivers.
How to use the info:
END USER: If you are an end user and want to have a whole-house control system from any of the above 3rd party control houses but your budget can't support the price you were quoted, do the following:
Call us for a quote
Once you get our quote call a 3rd party control reseller or installer in your area and tell them "Here is the hardware I want to use, please give me a quote on writing the software and installing all of the hardware at my location." You usually can save $1,000s on larger systems.
CAVEAT: We are not certified by any of the above 3rd party control systems companies nor have the necessary hardware to verify, troubleshoot and support the 3rd party writing of the code. We do warranty, though, that the RS232 script in the above RS232 Users Manual has and will work to control the matrix directly.
Why not buy this WolfPack 8x8 HDMI Matrix Switch today?
Q: Does the 8x8 HDMI Matrix Router support a WEB GUI i.e. browser based control?
A:
No, but see our
WolfPack™ 8x8 Matrix HDMI Switch w/WEB GUI
that does.
Q: Does this HDMI Matrix Switch have an IR window and come with a remote control?
A: Yes.
Q: I see the the HDMI extenders come with 2-remote IR cables, will the remote IR work with this matrix?
A: No, the cables are used when the application has one source and one widescreen. They can't be used with this matrix and need to be set aside and not used.
Q: Can I use unpowered HDMI over CAT5/6 extenders with this matrix?
A: We don't recommend them with our matrices, or anyone else's, due to them consuming power from the matrix and the matrices are not designed to power many external devices.
Consider the example of 9 - HDMI balun transmitters that need 0.5a amp each to power it times 9 or 4.5 amps the matrix would have to supply. The power supply of this matrix is rated at 12v at 3 amp so in that example the matrix would probably break down and your warranty may be voided. See the companion powered HDMI extenders in the above OPTIONS that have 2-AC adapters.
HDMI cables with built-in boosters also consume power also and we don't recommend more than 2, if at all. You must use our low power ones, also.
Q: Do the optional HDMI extenders support Remote IR?
A: They send perfect audio and video but the remote IR doesn't support this device as it only works with with 1-source & 1-TV.
HDTV Supply's WolfPack Family of Matrix Switchers can be created however you wish. Just SCROLL DOWN and fill out the below and press SUBMIT and we will send you a quotation based upon your needs within an hour.
If it doesn't meet your needs just call us right now at 833-WOLFPACK or 833-965-3722 or email us at support@hdtvsupply.com