4K 4x2 HDMI Matrix with Dual ARC & Coax Audio Outs




WolfPack 4x2 HDMI Matrix with Dual ARC & RS232

Supports ARC and coax audio on each output

4K and CEC Compliant & has 4x2 wide band IR switching

5 Year Warranty & Free Lifetime U.S. Telephone Tech Support
Features
HDTV Supplys Professional Quality 4K Wolfpack
4x2 HDMI Matrix with Dual ARC
has four HDMI inputs & two outputs and allows any source (Blue-Ray player, HD DVD player, satellite receiver, game system, etc.) to be shown on the any of the two displays in any combination. and supports 4Kx2K, 3D, 12-bit Deep Color. With its 3Gbps bandwidth and the additional features of the latest HDMI standards you can be sure of great HDMI distribution. It support dual ARC and wide band IR extend function also.
Our WolfPack 4x2 HDMI Matrix with Dual ARC unit is a 4x2 HDMI Switch Matrix that supports ARC, 3D and 4Kx2K, which can easily switch between four HD Sources and two HD Displays. This matrix supports the ARC function that can return audio back from the TV to the AV receiver. The 4x2 HDMI Matrix with Dual ARC offer solutions for noise, space, security concerns, data center control, information distribution, conference room presentations, schools, and corporate training environments.
What Sets This Wolfpack 4x2 HDMI Matrix with Dual ARC Apart From Others:
4K compliant with HDMI 1.4
Supports ARC on HDMI on both output ports
This latest HDCP 1.4 compatibility
Integral 4x2 IR matrix
CEC compliant
Includes coax audio outputs to send to 2 - amps
Wolfpack 4x2 HDMI Matrix with Dual ARC Features:
Compliant with HDMI 1.4 and HDCP 1.4
Supports multiplexed HDMI 4-input and 2-output
Supports video format up to 4k2k@30Hz with 24bit RGB/YcbCR 4:4:4/YCBCR 4:2:2,and up to 4k2k@60Hz with 12bit YCBCR 4:2:0
Deep Color support 48/36/30/24-bit
Supports reception of any audio data conforming to the HDMI specification such PCM at up to 192kHz,compressed audio(IEC 61937),DSD,DST,DTS and HBR
Supports Dual ARC control
Super wideband IR control system, IR transport channel can be forward or backward
Supports front panel buttons, IR and RS232
Why not buy this 4x2 HDMI Matrix with Dual ARC today?
Specs
4x2 HDMI Matrix with Dual ARC Specs:
Video Bandwidth 297MHz/2.97 Gbps
Input Ports 4 HDMI (Female type)
Output Ports 2 HDMI (Female type)
Output Resolution 480i ~1080p50/60, 4Kx2K@24/30, VGA~UXGA
HDMI Cable In 1080p/12bits (15m)
HDMI Cable Out 1080p/12bits (15m)
ESD Protection Human Body model: 8 kV (air-gap discharge) 4 kV (contact discharge)
Power Supply 5 V/1A DC (US/EU standards, CE/FCC/UL certified)
Dimensions 113 mm (W) 260 mm (D) 26 mm (H)
Weight 750 g
Chassis Material Metal
Silkscreen Color Black
Operating Temperature 0 蚓~40 蚓/ 32 蚌~104 蚌
Storage Temperature −20 èš" ~ 60 èš"/−4 蚌 ~140 蚌 Relative Humidity 20~90
HDMI Matrix Router Package Includes:
1 - HDMI 4x2 matrix
1 - DC 5V 1A adapter
1 - IR remote control
4 - IR extension transmitter cables (1.5m)
2 - IR extension receiver cables (9m)
1 - User manual
Why not buy this 4x2 HDMI Matrix with Dual ARC today?
Accessories
Optical or Coax to Stereo Audio Converter

Price: $74.95

Today's price:

$39.95

(You Save: 47%)

4K WolfPack HDMI over CAT5 with HDMI ARC - HDBaseT

Price: $699.95

Today's price:

$249.95

(You Save: 64%)

4K WolfPack HDMI HDBaseT Over CAT5 with POE & Audio Deembedding to 220 feet

$225.00

WolfPack™ SlimLine 3/4" HDMI Extender to 150 Feet w/Bi-directional IR

Price: $249.95

Today's price:

$99.95

(You Save: 60%)
Q/A
Q: Do I need special HDMI cables for ARC?
A:
Yes, you need HDMI 1.4 or above HDMI cables that support internal Ethernet and ARC. See our above OPTIONS.
Q: What is ARC?
A:
The (ARC) Audio Return Channel in HDMI 1.4 enables a TV, via a single HDMI cable, to send audio data upstream to an A/V receiver or surround audio controller, increasing user flexibility and eliminating the need for any separate S/PDIF audio connection.
TVs have always been able to receive multi-channel audio through an HDMI connection, and this is still a typical use-case, with the TV positioned downstream from content sources and any connected audio equipment. However, if a user had a TV with a built-in tuner or DVD player, and wanted to send content upstream from the TV back to the audio system, a separate connection had to be installed, typically an S/PDIF cable.
Warranty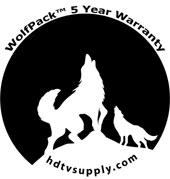 HDTV Supply
includes a 5 Year U.S. Limited Extended Warranty on this product. There are two bundled parts to this 5 year warranty. The 5 year warranty is only for the main device you purchased and does not include any product options or additional products you purchased at the same time.
FIRST YEAR:
The first year is direct with with HDTV Supply at 800-841-9238. The warranty states that the Product will perform substantially in accordance with the supplied written materials and Product information located on this Product web site page for a period of 1 year from the date of shipment of the Product and that the Product will be free from defects in materials & workmanship under normal use & service for a period of 1 year from date of shipment.
In order to get a warranty replacement for a defective item within the first year call HDTV Supplys Tech Support Team with your order number at 800-841-9238 and they will verify the product is eligible for a warranty repair. An RMA number will then be issued via email. Shipped replacements will be in like new condition, tested and all components included. Please read
HDTV Supplys Warranty Terms and Conditions
for more.
2ND THROUGH 5TH YEAR:
The 2nd through 5th year are direct with
Consumer Priority Extended Warranty Service (CPS)
as they are HDTV Supplys extended warranty provider. They are a large 3rd party repair company with facilities throughout the U.S. and offer our U.S. customers unparalleled product coverage and repairs. If after calling HDTV Supply, at 800-841-9238, we find we can't fix the issue over the phone, and you need a repair, you will henceforth deal directly with CPS for the repairs via their toll free phone number (800) 905-0443 Option 3 during the 2nd through 5th year.
You can also
email CPS
and
email HDTV Supply
as well as call us a 800-841-9238 if you have any questions with this 5 year bundled warranty.
Ask a Question
Questions & Answers

Ask a question about the 4K 4x2 HDMI Matrix with Dual ARC & Coax Audio Outs or Call 800-841-9238


FAQ
Q: Does the 4x2 HDMI Matrix with Dual ARC implement ARC to my devices?
A:
Yes.
Q: My picture is jumpy, what do I do?
A:
Try these
Set the source device resolution to the same resolution of the TV, like 1280x720p to 720p.
Set any EDID to it default.
Makes the CAT5e/6 cable per the above manual.
Use Cat5e/6 home runs and do not use internet hubs, wall plates and couplers.
See the above Q/A Tab.
Q: ARC doesn't seem to be working, can you help?
A:
Try this:
Make sure you are installing HDMI 1.4 cables that include ARC, see our specs at HDMI cables with ARC
The TV must support ARC and it must be turned ON ARC ON
The unique TVs HDMI input must say it supports ARC
Set the AV receivers or other device to ARC ON
Make sure CAT5e/6 STP connectors are put on "B"
Turn CEC ON
Leave EDID at its default.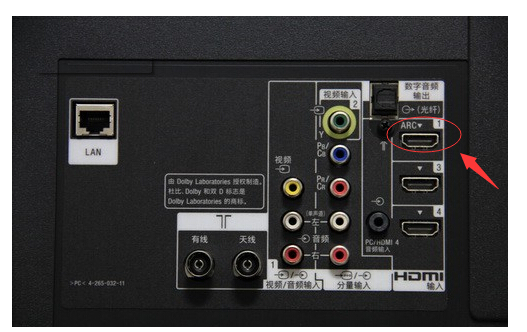 4K 4x2 HDMI Matrix with Dual ARC & Coax Audio Outs
Recently Viewed Items