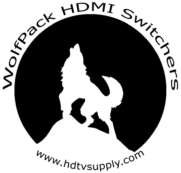 HDTV Supplys WolfPack™
4K 8x8 Matrix HDMI Switch
provides the most flexible and cost effective solution in the 4K matrix market to route high definition 4K video sources plus multi-channel (up to 7.1-channel) digital audio from any of the eight HDMI source devices to the remote displays. Because it is a 4K 8x8 Matrix HDMI Switch, it allows any input to be routed to any output; or the same input to be routed to all outputs, or any combination. Even use the TCP/ IP controls to manage the unit from a web browser. The 8x8 HDMI Matrix Switch supports advanced digital audio formats such as Dolby True HD and DTS-HD Master Audio.
This WolfPack 4K 8x8 HDMI Matrix Switch offers flexibility with reliable signal distribution and is designed as a functional and integrated control system built for residential, commercial and conference center settings Our 4K WolfPack™ 8x8 Matrix HDMI Switch can be controlled via the furnished remote control, front panel buttons, the LAN & the RS232 serial port and by many 3rd party control systems. We do have user donated not-supported ELAN drivers. Software is also provided on a CD to control the matrix.


4K 8x8 Matrix HDMI Switch Features:
4K with HDMI 1.4 compliant
HDCP 1.4 compliant
Supports 4K and 1080p TV's at 24/30/60/100/200 Hz
Allows any source to be displayed on multiple displays at the same time
Allows any HDMI display to view any HDMI source at any time
User donated ELAN drivers
Supports 7.1 channel digital audio
Supports default HDMI EDID and learns the EDID of displays
The matrix switch master can switch every output channel to any HDMI input by push button, IR remote control or RS-232 control
Easy installation with rack-mounting design
Many applications of the 4K 8x8 Matrix HDMI Switch are used in server rooms & similar due to:
The OFF/ON is on the back of the matrix so no one can turn it off
There is a LOCK OFF/ON switch on the front to lock out the panel switches so no one can change them
The matrix is operated via a remote control, front panel buttons, LAN & RS232 Control
In a Bar or Restaurant where the units sits behind the bar for control
In applications where budgets are tight
Why not buy this 4K 8x8 Matrix HDMI Switch today?
4K 8x8 Matrix HDMI Switch Specs:
Interface HDMI-A
Input cable distance: ~25 feet AWG22 HDMI 1.4 high speed cable
Output cable distance: ~35 feet AWG22 HDMI 1.4 high speed cable
HDMI version HDMI 1.3
Bandwidth 300MHz
Resolution Up to 1920x1080p@60Hz, 3D
Clock Jitter <0.15 Tbit (1080p@60)
RiseTime <0.3Tbit (20%--80%)
RiseTime <0.3Tbit (20%--80%)
Transmission Delay 5ns
Amplitude T.M.D.S +/- 0.4Vpp
Differential impedance 100 +/- 15ohm
RS232 control
Baud rate and protocol Baud rate:9600,data bit:8, stop bit:1,No parity checking
Max Consumption 20W
Adapter 12V/3A
Matrix Mechanical dimensions Size(mm) 430(L)X220(W)X44 (H)
Weight 3Kg
4K 8x8 Matrix HDMI Switch Specs:
1 - Power Adapter 12V/3A
1 - CD
1 - User Manual
1 - 4K 8x8 Matrix HDMI Switch
1 - Remote control
Why not buy this 4K 8x8 Matrix HDMI Switch today?
To ensure 3D or 4K content routing through the Matrix, High Speed HDMI cables must be used and any connected non-3D or non-4K compatible display must not have an "active" HDMI output (i.e. powered off or in standby mode). The 4K or 3D source player must not be able to "see" a 2D or non-4K only display connected to the Matrix. Read more at
WHAT I NEED TO KNOW ABOUT EDID
NEED HELP...See our POPULAR LARGER HDMI MATRIX COMPARISON SHEET to help you make a decision. Need more help? Just call our tech support at 800-841-9238 to discuss your application.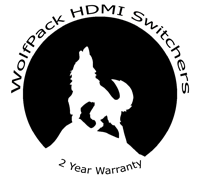 HDTV Supply created our unique line of
WolfPack™ line of products
which are born from a hungry, circling pack of high performance video and audio HDMI that surround our competition to devour them. The WolfPack family is sleek, unique & swift & even the smallest configuration wolf can adapt himself to many hostile environments.
The Wolfpack™ family can roam long distances even some up to 300 feet over HDBaseT trails and howl 4K whereas those who try to trap the WolfPack fails & runs away to the older devices.
You can only get this one-of-a-kind WolfPack 4K UHD 8x8 Matrix HDMI Switch from HDTV Supply.


Reasons To Buy an HDTV Supply WolfPack 4K UHD 8x8 Matrix HDMI Switch:
All WolfPack products have FREE HDTV Supply U.S. based Live Telephone Lifetime Tech support
HDTV Supply has a dedicated TEXT support line at 805-409-0208 to support you
HDTV Supply has a dedicated Product Manager for WolfPack products to assist with any special needs
If there is a WolfPack firmware update for your product you will find it at our site
Many times we will list lower refurbished WolfPack products at our site
All WolfPack products are usualy in stock and ship the same week day if the order comes in by 12PM PST
You can buy WolfPack products from us with most any credit card, your Amazon account and PayPal
HDTV Supply has many videos to show the features of WolfPack products
You will find all WolfPack User Manuals and other manuals at our site
From time-to-time HDTV Supply runs Factory Authorized sales on WolfPack products
All WolfPack products bought from HDTV Supply are brand new and in unopened boxes.
All WolfPack products bought from HDTV Supply are shipped in double carton boxing.
All WolfPack products bought from HDTV Supply have full value shipping insurance
All WolfPack products bought from HDTV Supply have a 30-day No-Hassle returns
All WolfPack products bought from HDTV Supply can be shipped blind to your customer
HDTV Supply has shipped >1,000 WolfPack products throughout the world
HDTV Supply ships all WolfPack products from here in the U.S.
HDTV Supply stocks extra WolfPack accessories in case you misplace your remote or other unit
HDTV pride ourselves on confidentiality and any personal information that you may share with us is kept absolutely private.
Why not buy one of HDTV Supplys WolfPack 4K UHD 8x8 Matrix HDMI Switch today?
Q: Does this HDMI Matrix Switch support remote IR from another room?
A:
No.
Q: I see the the HDMI extenders come with 2-remote IR cables, will the remote IR work with this matrix?
A: No, the cables are used when the application has one source and one widescreen. They can't be used with this matrix and need to be set aside and not used.
Q: Can I use unpowered HDMI over CAT5/6 extenders with this matrix?
A: We don't recommend them with our matrices, or anyone else's, due to them consuming power from the matrix and the matrices are not designed to power many external devices.
Consider the example of 9 - HDMI balun transmitters that need 0.5a amp each to power it times 9 or 4.5 amps the matrix would have to supply. The power supply of this matrix is rated at 12v at 3.5 amp so in that example the matrix would probably break down and your warranty may be voided. See the companion powered HDMI extenders in the above OPTIONS that have 2-AC adapters.
HDMI cables with built-in boosters also consume power also and we don't recommend more than 2, if at all. You must use our low power ones, also.
Q: Do the optional HDMI extenders support Remote IR?
A: They send perfect audio and video but the remote IR doesn't support this device as it only works with with 1-source & 1-TV. See our RF remote controls if you want to control all your devices from afar.