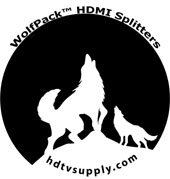 HDTV Supply's WolfPack 1x2 HDMI Splitter Over CAT5 is a unique device that allows connecting any HDMI digital video source such as a DVD player, Camera, AppleTV, Satellite, Cable Box, PC, Xbox, PS43 and more with an HDMI output to up to 2 digital displays upwards of 300 feet away. The 1x2 HDMI distribution amplifier splits an HDMI signal into 2 mirrored (the same) outputs without signal loss upwards of 300 feet.
The 1x2 HDMI Splitter Over CAT5 also supports control of the source device (like a cable box) from the 2-far away TV locations via its built in IR control. Just point your source remote control at the supplied IR cable located at the TVs to operate the cable box. It uses CAT 5e/6 cables and a Gigabit Ethernet LAN switch with MJPEG techniques and an industry standard IP protocol to deliver 1080p video from sources that are 300 feet away from the Ethernet switch and another 300 feet away to the TVs. It also allows the system to grow in the field as its design allows you the flexibility of adding more displays to the system based upon the number of unused Ethernet ports available.
The transmitter has a static IP address and can pair with multiple receivers (up to 253). Multiple transmitters and multiple receivers can be paired on the same network.
What Sets This 1x2 HDMI Splitter Over CAT5 Apart From Our Competition:
It sends one HDMI source to 2-widescreens over a single CAT5e/6 cable to each widescreen or projector
Remote IR to control the source from the 2-TV locations
Those CAT5e/6 cables can be up to 300 feet long in and out of the switch i.e. 600 feet distances it can span
It uses an inexpensive 5-port Ethernet switch that is supplied
The 1x2 HDMI Splitter Over CAT5 comes with:

One transmitter plus its AC adapter
Two receivers plus their AC adapters
A 5 port Ethernet switch is required and supplied
The 5 port Ethernet switch has 2-unused outputs which allows 2-more displays to be added by buying 2-more HDMI receivers.
3 - IR cables

It supports both HDMI video and audio
It uses HDTV Supply's TCPIP technology
it can be field upgraded by buying more receivers and a bigger Ethernet switch
It does not require software, buttons nor any set up
It is plug and play...no documentation is needed nor supplied
1x2 HDMI Splitter Over CAT5 Features:
Input HDMI resolution: 480i@60Hz; 480p@60Hz; 576i@50Hz; 576p@50Hz; 720p@50/60Hz; 1080i@50/60Hz; 1080p@50/60Hz;
Output HDMI resolution: 480p@60Hz; 576p@50Hz; 720p@50/60Hz; 1080p@50/60Hz
Supported Video Color Formats: 24 Bit/Deep color; 30 Bit/Deep color; 36 Bit Deep Color
Supported audio format: DTS-HD/Dolby-true HD/LPCM7.1/DTS/Dolby-AC3/DSD
Supports HDMI 1.3, HDCP 1.1 and DVI1.1 compliantcy.
Supports Deep Color up to 12 bits/color.
Supports IR re-transmitting.
Uses one CAT5E/6 cable for each data/DDC transmission.
Equalizes and recovers the incoming ™DS data before re-transmitting it in optimal quality regardless of the incoming signal quality.
Cable testing showed that with 1080p resolution the HDMI input source can be 20 feet away using 24 AWG cabling.
When transmitting a signal in 1080p resolution the CAT6 operating distance is 100 meters or 33o feet.
Supported Resolution: 480p, 720p, 1080i, 1080p, 1920 x 1200
Bandwidth: 1.65Gbps
Transmission Range:
CAT5e/6 UTP 24AWG - 1080p at ~300 feet
Both UTP (Unshielded Twisted Pair) and STP (Shielded Twisted Pair) cables can be used (UTP is recommended)
Supported HDMI cable length:
HDMI cable lenght from source (e.g. DVD) to Sender - 20 feet max with 24 AWG HDMI cable
Receiver to Unit (e.g. LCD TV) -- 6 feet with 28 AWG HDMI cable
HDCP compliant
Why not buy this 1x2 HDMI Splitter Over CAT5 w/Remote IR today?