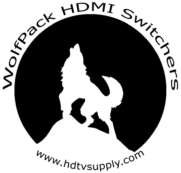 HDTV Supplys WolfPack™ 4K 30 Hz 18-18 HDMI Matrix Switch is an HDMI video & HDMI audio HDMI matrix Switch developed to meet the new generation of HDMI matrix switchers. Users can control the switchers via mobile phone, iPad & WEB bidirectional control. The matrix has 40 presets for often used scenes. The matrix has IOS/Android APP control, 2-key fast switch, 40-scenes Save & recall, & centralized control via the RS232 port (such as turn on/off projector, curtain), & at a competitive price.
These have been discontinued so see 1080p 16x16 HDMI Matrix Switch with 16-Separate HDMI Baluns.
Also the 18-18 HDMI Matrix Switch supports centralized management by IOS / Android Apps and is compatible with HDMI 1.4a and supports EDID management functions. It also supports resolution up to 1080p@60Hz and 4K at 30 Hz with support of both audio and video simultaneously. It is widely used in conference rooms, control centers, multimedia rooms and other applications. Optionally, if you need to go long distances see our optional stand alone (TX & RX) 4K HDMI extenders over CAT5e/6 with POE.
Traditional video matrices usually generate flashing, black, jitter, delay and signal interruption and other shortcomings in the switching process. Our WolfPack 4K 18-18 HDMI Matrix Switch allows fast switching to completely overcome the shortcomings of traditional matrices with no flicker, no black, no delay and no signal interruption in the switching process. The WolfPack 18-18 HDMI Matrix Switcher manages HDMI input signals for the inputs & outputs. This 18-18 HDMI Matrix Switcher support long haul transmissions, maintains power reliability in the event of failure & offers the best flexible solutions for an AV system deployment. Our 18-18 HDMI Matrix Switcher also can support high-resolution HDMI sources routed to HDMI displays, monitors, projectors, or audio receivers, etc.
WolfPack 18-18 HDMI Matrix Switch Features:
Compatible with 4K2K @ 30Hz and 1080p @ 60Hz
Deep Color support to 48/36/30/24-bit
Supports LPCM 7.1CH, Dolby True HD, Dolby digital + and DTS-HD Master Audio output
Optional Crestron, Elan & 2-Way Control4 Drivers
Supports any signal source displayed simultaneously on multiple displays
Supports any HDMI signal sources to be viewed on any HDMI displays at any time
Supports WEB control and APP management, more flexible and user friendly
Two-key control method enabling easier and more effective controlling supporting 1 port input and multiple ports output when switching images
Support channel fast closure
Indicator lights of visual buttons enabling the input and output channel operation status to be visible
Broadcast level exchange chip increased integration enabling image switching can be realized by a single chip
Bi-directional control enabling images can be switched simultaneously by WEB and APP in real time
Centralized control function enabling multiple matrices can be controlled by a single control unit. No need to manually modify configuration data
Opening Web control codes enables secondary development
Supports EDID learning and EDID adaptive function enabling it to meet the needs of field diversification display devices, and also improved compatibility
Support iOS, RS-232, front-panel, TCP and IP control
Front LCD displays feedback the real-time status
Spiral power connectors guaranteed stable power supplying
Using broadcast class silent buttons with blue background lights
Why not buy this 18-18 HDMI Matrix Switch today?
4K WolfPack 18-18 HDMI Matrix Switch Features:
Input: 18-HDMI inputs
Output: 18-HDMI outputs
Protocol Support HDMI 1.4a, HDCP compatible, EDID Learning
Resolution 480i, 576i, 480p, 576p, 720p ,1080i, 1080p@24/30/50/60Hz and 1080P3D@60Hz & 4K/30
Transmission Distance HDMI: 10m
Control Dual RS232 (In/ out), LAN(WEB GUI), front buttons, APP
Dimension 448x280x88(mm)
Weight 6KG
Consumption 23W
Power Supply AC 110V-240V 50/60HZ
Working Humidity 10%-90%
Working Temperature -10C - 50C
Storage Temperature -25C - 55C
Why not buy this 18-18 HDMI Matrix Switch today?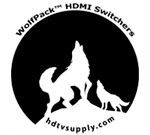 Reasons To Buy an HDTV Supply WolfPack Product
Why not buy this 18-18 HDMI Matrix Switch today?
Control Drivers
DirecTV Controller
Apps
HDTV Supply has successfully installed our WolfPack, WolfPackLite and our other HDMI Matrix Switchers in Sports Bars, Restaurants, Bowling Alleys, Fitness Centers, Malls, Places of Worship, Data Centers, Gaming Rooms, Nail Salons, County Clubs, Casinos, Factories, Conference Rooms, Schools, Home Theaters or many other installations requiring HDMI matrix switching. The reason, we are told by the users, is the number of features we offer compared to other companies they looked at.
These HDMI matrix switchers can usually be integrated with many third party control systems using the RS232 port on the back of the matrix.
For experienced AV hardware and software professionals who want to write their own drivers for 3rd party control systems from:
AMX™
Control4™
Creston™
RTI™
DTVGameControl™
Elan g!™
Media Switcher™
OnControls™
Savant™
SimpleControl™
SwitchItUp™
SAVI Control™
URC Control™
...and we have created a simple and very easy to use RS232 script to write your own drivers.
EXAMPLE: If you want to switch input 8 to output 1, 8, 16, the RS232 command would be 8x1&8&16. and notice the command has a period (.) at the end of the string. The matrix even replies "OK" when the right command is received and shows "ERR" when receiving a wrong command. Here is the RS232 User Manual if you want to write your own drivers.
How to use the info:
END USER: If you are an end user and want to have a whole-house control system from any of the above 3rd party control houses but your budget can't support the price you were quoted, do the following:
Call us for a quote
Once you get our quote call a 3rd party control reseller or installer in your area and tell them "Here is the hardware I want to use, please give me a quote on writing the software and installing all of the hardware at my location." You usually can save $1,000s on larger systems.
CAVEAT: We are not certified by any of the above 3rd party control systems companies nor have the necessary hardware to verify, troubleshoot and support the 3rd party writing of the code. We do warranty, though, that the RS232 script in the above RS232 Users Manual has and will work to control the matrix directly.
Also, CLICK HERE for our DirecTV™ & HDMI Matrix Control Software for Bars & Restaurants
Why not buy this 18-18 HDMI Matrix Switch today?
Q: Why dual RS232?
A:
It's our newest feature. The RS232 input is for controlling the matrix and the RS232 output is for controlling other equipment with RS232 ports, such as turn off a projector.
Q: I forgot my IP address?
A: Customer modified the IP address of the HDTVFIXHDMI1818 and doesn't remember the IP address, you can log in with our master IP address to reset, the master IP addresses are: 192.168.250.80 or 192.168.251.80
Why not buy this 18-18 HDMI Matrix Switch today?
HDTV Supply's WolfPack Family of Matrix Switchers can be created however you wish. Just SCROLL DOWN and fill out the below and press SUBMIT and we will send you a quotation based upon your needs within an hour.
If it doesn't meet your needs just call us right now at 833-WOLFPACK or 833-965-3722 or email us at support@hdtvsupply.com
Why not buy this 18-18 HDMI Matrix Switch today?