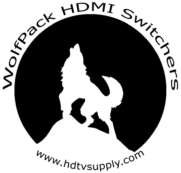 HDTV Supplys WolfPack
HDMI Over IP Network
switch, together with the above optional HDMI extenders, operates as an HDMI Extender, HDMI Splitter and HDMI Matrix Switcher depending upon your needs. Because it is a matrix switcher, it allows any input to be routed to any output; or the same input to be routed to all outputs, or any combination. You don't have to have any IP or LAN knowledge, just select a few settings and you will be running in a few minutes.
It is Browser Based WEB GUI controlled by a PC or MAC hardwired to its LAN port. The above picture shows an example of a mixture of HDMI transmitters and HDMI receivers (totaling 16) & the Gigabit Ethernet matrix switch with internal firmware to support either an network HDMI splitter, network HDMI switcher or a network HDMI matrix switch.
It uses CAT5e/6 cables and a Gigabit Ethernet LAN switch with MJPEG techniques and an industry standard IP protocol to deliver 1080p video from sources that are 300 feet away from the Ethernet switch and another 300 feet away to the TVs. It also allows the system to grow in the field as its design allows you the flexibility of adding more video sources or more displays to the system based upon the number of unused Ethernet ports available. These Network HDMI Matrix Switchers come with a 24-port rack mount Ethernet switch with one port used for the WIFI/PC control leaving a 23-ports to grow your system. You cannot use more the 23-in and out ports total. Example: an 8x16 is not supported but an 8x15 is.
4 - HDMI Over IP Network Switch Configuration Examples:
One transmitter in and one out HDMI Extender w/optional receivers to ~350 feet (HDMI Extender)
One transmitter in and up 23 out w/optional receivers (HDMI Splitter)
Up to 22 ins and one out w/optional transmitters & a receiver (HDMI Switcher)
Up to 23 ins and outs w/optional transmitters & receivers (HDMI Matrix Switcher)
HDMI Over IP Network Switch Features:
Supports 720p and 1080p HDMI video plus 2-channel audio
Plug-and-play operation - no programming or setup required
Extends 1080p HDMI signals up to ~300 feet over a single Cat5e/6 cable
Traffic can be unicast, multicast or broadcast for different applications
Allows Wideband IR remote control of sources devices
Control from a Browser Based GUI
Compliant with HDCP 1.2
Uses our off-the-shelf gigabit IP switches for extension and distribution
Extends 1080p HDMI signals up to 300 feet over a single UTP Cat5e/6 cable
Flexible and scalable 1080p HDMI broadcasting via and included Gigabit Ethernet switch (LAN)
Multicasting and broadcasting architecture, adding more displays without adding LAN bandwidth loading .
Supports Point-to-Point, Point-to-Many and Many-to-Many network configurations.
Why not buy this HDMI Over IP Network Switch today?
HDMI Over IP Network Switch Specs:
Supports default configuration which can be restored to overwrite the current configuration which is working on via Web UI and Reset button of the switch.
Supports user management and limits one user to login.
8K MAC addresses.
Full-duplex flow control (IEEE802.3x) and half-duplex backpressure.
Supports Unknown Unicast / Broadcast / Multicast Storm Control.
Q: Do you have any setup tips?
A:
1. Change IP and MAC address on Transmitters and receivers
2. Login to the switch and setup the ports for inputs and outputs
After that it is pretty much plug and play
Q: My customers are still having problems with the web interface, can you help.
A: I talked to a customer that was having a similar issue accessing the switch and I found out he was having a IP conflict with the switch and his wireless network. For a quick test, turn your wireless OFF and see if your issue get resolved.
Here is a video on Web Interface Setup.
Q: I don't see a picture, what do I do?
A: Did you change the MAC addresses of the transmitters and receivers? Also in the switch do you have the ports setup to inputs and outputs?
Q: I cannot get logged into the matrix switch. I've assigned an IP address as described in the instructions but cannot get the GUI to load on the browser.
A: We have found Firefox works best to get to the GUI.
Q: Does a HDMI Over IP Network Matrix come with a remote control or front panel switches?
A: No, it is controlled by a PC or a MAC only via its LAN port.
HDTV Supply has this HDMI Network switch in stock in our California warehouse so place your order at the above ADD TO CART button by 11AM PST and it can ship today or call us at 800-841-9238 to place your order.


Changing IP and MAC addresses addresses

Changing PC setting for HDMI Smart Matrix

Smart Matrix Login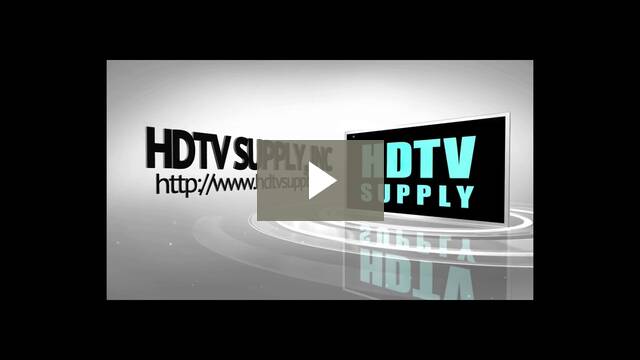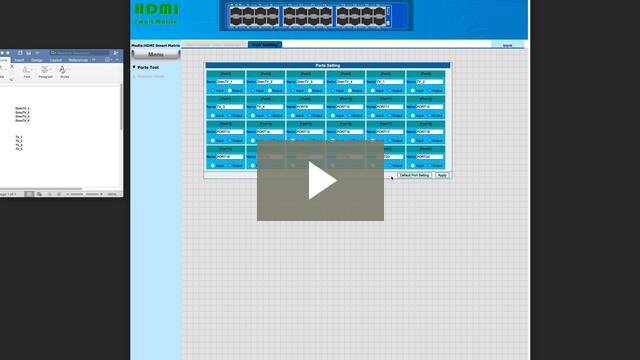 Why not buy this WolfPack HDMI Over IP Network - Configure as an HDMI Switch, Splitter or Matrix today?