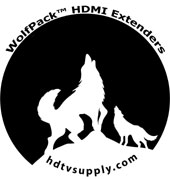 HDTV Supplys WolfPack
HDMI Over LAN Adapter
set is a solution for audio, video, fiber & USB signal extension via Local Area Network (LAN). It can be used as audio, video and KVM extender over IP & applied to point to point, point to multi-point, multi-point to multi-point and video wall broadcast system controlled by USB, RS232, IR & configured the 4K HDMI & USB over IP Extender by a WEB GUI & a PC GUI. An easy installation system built up with Gigabit Ethernet switch which has IGMP function & CATx cables for extension or broadcast. Our WolfPack 4K HDMI Over LAN Adapter is IP addressable. The supplied remote control allows you to choose the source & the LED shows the group ID.
NOTE:
This product has been discontinued. See the above SIMILAR Tab for equivalent products or, if not there, call us at
833-WOLFPACK (833-965-3722)
right now to discuss your needs.
The conversion to TCP/IP allows you to forego the limitations of point-to-point extender systems and transmit directly over your network. You can also use this set as a typical point-to-point extender and transmit for up to 394 ft over a single Cat6 cable or 330 feet over a CAT5e cable. In a one-to-many configuration the transmitter (TX) features a static IP address and can be paired with up to eight receivers on the same network.
A network switch is not supplied.EXAMPLE: 4K 8x32 Network HDMI Matrix Switch:
Let′s say you have an application where you need a 8 - 4K sources sent to 4K - TVs in any combination. The sources are 6 feet away from the switch and the TVs are 200 feet away from the switch. This is an 4K 8x32 Network HDMI switch and here is what you need to buy from above:
8 - 4K/30 HDMI Transmitters (TX)
32 - 4K/30 HDMI Receivers (RX)
1 - 40 port (or larger) IGMP 10-Gigabit POE Ethernet Switch (not supplied)
Field expandable by simply buying more TVs, sources and RXs and TXs
WolfPack 4K HDMI Over LAN Adapter Features:
4k UHD HDMI over IP/Fiber Extension
USB 2.0 over IP extension
Supports a transmission distance 120m over single Cat5e/6 cable
Supports Fiber optical up to 60KM (Single Mode)
Supports input 4K@60 Hz YUV 420 (Max) and output 4K@30 Hz (Max)
HDCP 2.2 / HDCP1.4 compliant
Supports Bi-Directional Wide Band IR (38KHZ to 56KHZ) Pass through
Supports RS232 pass through and control & Telnet command
Includes an IR remote to control the Group ID with an LED to show the Group ID
Supports Dolby True HD and DTS-HD Master Audio
Input audio: SPDIF 5.1 and L/R Stereo analog Line mixed
Output audio: SPDIF 5.1 and L/R Stereo Analog audio extraction
Supports an Unicast / Multicast Video Wall system (Max 8x16) with output video Rotation
10 - Gigabit IGMP Ethernet Switch can be cascaded for many layers
Complys with TCP/IP protocol
LED channel display
Front panel channel plus/minus buttons
IR remote control for channel selections
Support LPCM audio format
Support Dynamic Host Configuration Protocol (DHCP)
Wide-band IR control (38KHz to 56KHz)
With IR Remote to choose the source with LED to show the Group ID
By pass 2 way UART/RS232 (Up to 115200)
Uses a remote controller to select 8 group Baud rate
Supports one to one, one to many, many to one, many to many modes, with large cascade
Supports PC tool control
HDCP 2.2/1.4 Compliant
Supports 3D
This 4K HDMI Over LAN Adapter use the advanced H.264 as the compression type, which makes it occupy lower bandwidth and transmit over the LAN more smoothly. It supports 330 feet over single cat5e/6 cable at point to point, as well as point to many and many to many over Ethernet switch. The over IP solution is widely used in various locations, like meeting room, class room, metro, airport, home, mall advertisement...etc.
The WolfPack 4K HDMI Over LAN Adapter consists of a local unit that connects to an HDMI source, and a remote unit that connects to an HDMI display. The local and remote units can be connected together for a Point-to-Point connection via CATx or a Point-to-Many connection with the above network Ethernet switch. Support for multiple transmitters requires a managed network switch.
Why not buy this 4K HDMI Over LAN Adapter today?