Wireless HDMI Adapter - Send 1080p to ~100 feet




Wireless HDMI Transmitter & Receiver

Sends full 1080p to ~100 feet

Supports HDCP 1.4

Supports HDMI 1.4a

Supports an uncompressed transmission

Free Lifetime Telephone, CHAT, Text, Fax & Email Tech Support
Features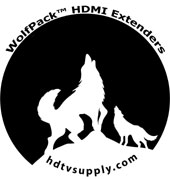 This
Wireless HDMI Adapter
has a transmitter and receiver and uses baseband technology with standard 802.11a/n RFIC chipsets to deliver uncompressed wireless HD video and audio up to ~100 feet indoors while maintaining superb, wire-equivalent quality and robustness with no latency. The Wireless HDMI Adapter will not interfere with any other wireless device as the Wireless HDMI system works in the uncongested 60 GHz frequency band.
This Wireless HDMI Adapter uses Wireless HD technology which enables high-speed, high performance wireless communication among consumer electronics,computer and mobile devices. Working in the uncrowded 60 GHz frequency band,it is not subject to interference by WiFi signals, microwave radiation, or cordless phone. It combines high bandwidth capacity to robust error-correction,to deliver uncompressed HD video, multi-channel surround sound. It supports the highest resolution up to 1080p@60Hz,and the transmitting distance of wireless can be up to ~100 feet. The transmitter and receiver side are available with on-board OCB antennas or with external antennas.
Wireless HDMI Adapter Features:
Supports 480p, 576p, 720p and 1080p. It does not support interlaced signals like 1080i and 480i
Plug and play setup requires no software or driver installation
Supports HDMI 1.4a version
Supports 3D video format
Supports HDCP 1.4
Supports the highest resolution up to 1920x1080/60Hz
Supports the highest rate 1.485G and TMDS clock up to 148.5Mhz
60 GHz frequency band which is not subject to interference by WiFi signals, microwave radiation or cordless phones
Supports uncompressed transmission
The longest distance can be ~100 feet when the resolution is 1080p
5V/1A power adapter
NOTE:
Although performance characteristics may exceed the stated distance limitations depending upon the environment, we recommend, that the HDMI wireless transmitter and HDMI wireless receiver should face each other within the same room, be located within ~100 feet of each other, be placed at the same level (i.e. the transmitter should not be placed higher than the receiver), and be located in open spaces (i.e. not in a cabinet or enclosed shelf). Please do not put obstacles between the TX and RX to give the best performance.
The HDMI Wireless Extender comes with a receive unit. At the display side, a short cable connects the HDMI output of the receiver unit to the HDMI input of the HDTV Display. The HDMI signal from the source travels wirelessly using no cables to the display, and a vibrant and crisp High Definition picture emerges on the HDTV Display.
Why not buy this Wireless HDMI Adapter today?
Specs
This Wireless HDMI Adapter is very simple set-up and no software installation required! Just connect the transmitter device to any HDMI source, such as a Blu-ray player, A/V receiver, STB or even a PC, and users can now transmit uninterrupted HDMI signals wirelessly and view it on the display that has the receiver connected to it.
Ideally used in situations where traditional cabling cannot be installed in-wall and wiring is chaos. Avoid long cable runs or drilling through the walls by deploying the Wireless HDMI kit. This Wireless HDMI extender fully supports HDCP and EDID requirements ensuring the display of content-protected media and interoperability with other HDCP devices.
Wireless HDMI Adapter Features:
HDMI version: HDMI 1.4a
HDMI resolution: up to 1920x1080/60Hz
Supported audio format: DTS-HD/Dolby-trueHD/DTS/Dolby-AC3/DSD
Max bandwidth: 148.5MHz
Max baud rate: 1.485Gbps
Input cable distance: (1080p resolution) ≤8m AWG26 HDMI standard cable
Output cable distance: (1080p resolution) ≤8m AWG26 HDMI standard cable
Max working current: 650m A
Power adapter format: input AC (50Hz, 60Hz) 100V-240V; output: DC5V/1A
Operating Temperature range: (-15℃ to +55℃)
Dimension (L x W x H): 85x55x12 (mm)
Weight: 80g
Why not buy this Wireless HDMI Adapter today?
Similar
Wireless HDMI Converter Sends HDMI 100 Feet Wirelessly

Price: $599.95

Today's price:

$224.95

(You Save: 63%)

KanexPro WHDI30M Wireless HDMI Extender - No line of sight ~50 feet

$374.95
Warranty

HDTV Supply
includes a 1 Year Limited Warranty on this Wireless HDMI Adapter. The warranty states that (a) this unit will perform substantially in accordance with the accompanying written materials for a period of 1 year from the date of receipt and (b) that the Wireless HDMI Adapter will be free from defects in materials & workmanship under normal use & service for a period of 1 year. In order to get a warranty replacement for a defective product, HDTV Supplys Support Team will verify the product is eligible for warranty. An RMA number will then be issued. The shipped unit will be in like new conditions, tested and all components included.
HDTV Supply
also sells a 3 and 5 Year Extended Warranty for this Wireless HDMI Adapter. Please go to
Extended Warranties
or see the above Options to purchase it.
Why not buy this Wireless HDMI Adapter today?
Ask a Question
Questions & Answers

Ask a question about the Wireless HDMI Adapter - Send 1080p to ~100 feet or Call 800-841-9238


Wireless HDMI Adapter - Send 1080p to ~100 feet
Recently Viewed Items