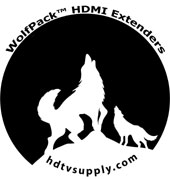 This
Wireless HDMI Adapter
has a transmitter and receiver and uses baseband technology with standard 802.11a/n RFIC chipsets to deliver uncompressed wireless HD video and audio up to ~100 feet indoors while maintaining superb, wire-equivalent quality and robustness with no latency. The Wireless HDMI Adapter will not interfere with any other wireless device as the Wireless HDMI system works in the uncongested 60 GHz frequency band.
This Wireless HDMI Adapter uses Wireless HD technology which enables high-speed, high performance wireless communication among consumer electronics,computer and mobile devices. Working in the uncrowded 60 GHz frequency band, it is not subject to interference by WiFi signals, microwave radiation, or cordless phone. It combines high bandwidth capacity to robust error-correction,to deliver uncompressed HD video, multi-channel surround sound. It supports the highest resolution up to 1080p@60Hz,and the transmitting distance of wireless can be up to ~100 feet. The transmitter and receiver side are available with on-board OCB antennas or with external antennas.
Wireless HDMI Adapter Features:
Supports 480p, 576p, 720p and 1080p. It does not support interlaced signals like 1080i and 480i
Plug and play setup requires no software or driver installation
Supports HDMI 1.4a version
Supports 3D video format
Supports HDCP 1.4
Supports the highest resolution up to 1920x1080/60Hz
Supports the highest rate 1.485G and TMDS clock up to 148.5Mhz
60 GHz frequency band which is not subject to interference by WiFi signals, microwave radiation or cordless phones
Supports uncompressed transmission
The longest distance can be ~100 feet when the resolution is 1080p
Comes with 2-5V/1A power adapters
NOTE:
Although performance characteristics may exceed the stated distance limitations depending upon the environment, we recommend, that the HDMI wireless transmitter and HDMI wireless receiver should face each other within the same room, be located within ~100 feet of each other, be placed at the same level (i.e. the transmitter should not be placed higher than the receiver), and be located in open spaces (i.e. not in a cabinet or enclosed shelf). Please do not put obstacles between the TX and RX to give the best performance.
The HDMI Wireless Extender comes with a receive unit. At the display side, a short cable connects the HDMI output of the receiver unit to the HDMI input of the HDTV Display. The HDMI signal from the source travels wirelessly using no cables to the display, and a vibrant and crisp High Definition picture emerges on the HDTV Display.
Why not buy this Wireless HDMI Adapter today?