VGA with Stereo Audio Extenders over Cat5/6 up to 100ft






Send a VGA with Stereo Audio Signal over 2 - Cat5/6 cables up to 100ft

High Resolutions up to 1280x1024
This
VGA with Stereo Audio Extenders over Cat5/6 up to 100ft
allow users to extend VGA and stereo audio signal great distances.
VGA with Stereo Audio Extenders over Cat5/6 up to 100ft Features:
Extends VGA video and stereo audio signal up to 100ft away using two CAT5 cables.
Both Transmitter and Receiver units are Powerless
High Resolutions up to 1280x1024
Single Gang Wall plate style
Decora Style
Using a dual, cost effective Cat-5 or Cat-6 cables, these units extend signal at distances up 100ft with no signal degradation and high resolutions up to 1280x1024. Both transmitter and receiver units are completely Powerless.
Why not buy this VGA with Stereo Audio Extenders over Cat5/6 up to 100ft today?
VGA with Stereo Audio Extenders over Cat5/6 up to 100ft Specifications:
VGA In/Out Connector: 1x HD-15 Female
Audio In/Out Connector: 1x 3.5mm Stereo Jack
Twisted Pair Cable Connectors: 2x RJ-45
Max. Resolution: 1280x1024 @ 60Hz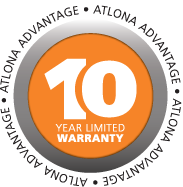 HDTV Supply and Atlona have teamed up and offers a 10 Year Warranty on all Atlona Electronic Products and a Lifetime Warranty on cable products when Atlona products are purchased from this HDTV Supply site.
HDTV Supply and Atlona have teamed up and warrants Atlona products will substantially perform to their published specifications and will be free from defects in materials and workmanship under normal use, conditions and service. Under its Limited Product Warranty, Atlona, at its sole discretion, will either (a) repair or facilitate the repair of defective products within a reasonable period of time, restore products to their proper operating condition and return defective products free of any charge for necessary parts, labor and shipping or (b) replace and return, free of charge, any defective products with direct replacement or with similar products deemed by Atlona to perform substantially the same function as the original products or (c) refund the pro-rated value based on the remaining term of the warranty period, not to exceed MSRP, in cases where products are beyond repair and/or no direct or substantially similar replacement products exist. Repair, replacement or refund of Atlona's products is the purchaser's exclusive remedy and Atlona's liability does not extend to any other damages, incidental, consequential or otherwise.
This Limited Product Warranty extends to the original end-user purchaser of Atlona's products and is non- transferable to any subsequent purchaser(s) or owner(s) of these products and the Limited Product Warranty Period begins on the date of purchase by the end-purchaser. The date contained on the end-purchaser 's sales or delivery receipt is the proof purchase date. For more info contact Atlona at 877-536-3976 or HDTV Supply at 800-841-9238.
Questions & Answers

Ask a question about the VGA with Stereo Audio Extenders over Cat5/6 up to 100ft or Call 800-841-9238


VGA with Stereo Audio Extenders over Cat5/6 up to 100ft
Recently Viewed Items