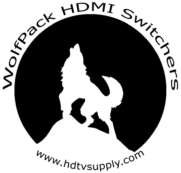 HDTV Supplys
VGA and Component Video to HDMI Converter
can be used in conference rooms where different products need to be shown on a projector or widescreen TV. Technology has made life so much easier and enjoyable. However, it has made it difficult to choose products when one is out shopping. You want to buy a TV- there are so many terms that are used nowadays, Full HD, OLED curve, HDMI and so many more. The case is not easier when buying sound systems for your home. There are some big technical terms that may not make sense but all you need to understand is that they are the best technology can offer currently. This converter will alter VGA video signals into HDMI signals. This allows you to comfortably display VGA and component video on HDTVs and all the other display devices that allow HDMI. With this stereo audio to HDMI converter you can increase the flexibility of your video display devices as you can connect your DVD player, computer, gaming console to the HDTV and treat yourself to immense doses of stunning videos.
Now, HDMI is the real deal when you think of video nowadays. It can facilitate greater resolution in videos as well as high-definition videos, digital videos etc. Simply put, you will be getting better quality entertainment right from the comfort of your home.
VGA and component video have been in use for a really long time in video signal. VGA is employed in computers monitors and the video cards. It is because of the VGA that you are able to enjoy quality pictures and videos while using your computer. On the other hand component video is used mostly in televisions, DVDs, gaming consoles and other entertainment items that you can think of. Most recently, the term HDMI hit the markets. HDMI is quickly replacing the component video connections that have been in use in home theater equipment for a long time.
VGA / Component Video to HDMI Video Converter Features:
Input: 3.5mm Stereo, VGA, Component Video
Output: HDMI
Converts either VGA or Component Video to HDMI, with stereo audio
Accessories: includes VGA & 3.5mm stereo cables
VGA Resolution Support: 60Hz: 640 x 480, 800 x 600, 1024 x 768, 1280 x 720, 1280 x 768, 1280 x 960, 1280 x 1024, 1360 x 768, 1366 x 768, 1400 x 1050, 1440 x 900, 1600 x 900, 1680 x 1050, 1920 x 1080
Component Video Support: 480i @ 60Hz, 480p @ 60Hz, 576i @ 50Hz, 576p @ 50Hz, 720p @ 50/60Hz, 1080i @ 50/60Hz, 1080p @ 50/60Hz
HDMI output: 720p, 1080p
Power Adapter: DC5V, 1A
Why not buy this VGA and Component Video to HDMI Converter today?
VGA / Component Video to HDMI Video Converter Specs:
Input: 3.5mm Stereo, VGA, Component Video
Output: HDMI
Converts either VGA or Component Video to HDMI, with stereo audio
Accessories: includes VGA & 3.5mm stereo cables
VGA Resolution Support: 60Hz: 640 x 480, 800 x 600, 1024 x 768, 1280 x 720, 1280 x 768, 1280 x 960, 1280 x 1024, 1360 x 768, 1366 x 768, 1400 x 1050, 1440 x 900, 1600 x 900, 1680 x 1050, 1920 x 1080
Component Video Support: 480i @ 60Hz, 480p @ 60Hz, 576i @ 50Hz, 576p @ 50Hz, 720p @ 50/60Hz, 1080i @ 50/60Hz, 1080p @ 50/60Hz
HDMI output: 720p, 1080p
Power Adapter: DC5V, 1A