Shinybow SB-6353T HDMI HDBaseT Wall Plate TRANSMITTER w/ PoH up to 330 Feet (100M) - (Single LAN, 2-Way IR, RS-232, HDMI)




Shinybow SB-6353T HDMI HDBaseT Wall Plate TRANSMITTER w/ PoH up to 330 Feet (100M) - (Single LAN, 2-Way IR, RS-232, HDMI)

3 Year Shinybow Warranty Upgraded to 5 Years

Lifetime USA Telephone Tech Support
Shinybow SB-6353T HDMI HDBaseT Wall Plate TRANSMITTER w/ PoH up to 330 Feet (100M) - (Single LAN, 2-Way IR, RS-232, HDMI)
The SB-6353T HDBaseT婵犮垼娉涘﹢绛l Plate Transmitter is designed to transmit HDMI, Ethernet, PoH power (48VDC) from the Receiver, the RS-232 interface signal I/O to the HDBaseT婵犮垼娉涘﹢銆哻eiver (SB-6353R PoH), and IR Remote input to the Receiver or output to the destination via single LAN (category) cable for long distances of up to 328 feet (100M) maximum. The SB-6353T Transmitter requires a single UTP/FTP (category cable) CAT5e, CAT6, CAT6a or CAT7 with the help of a RJ-45 8P8C female socket (Supports 568a/b). This product offers higher full HD HDMI 1.4a with supported resolutions of 480i/p, 720p,1080i/p or High 4K2K quality which is similar to the top quality full HDMI 1.4 source signals. This Transmitter is perfect for transporting the HDMI digital video / multi-channel audio format, Ethernet, IR remote in or out, RS-232 in/out and PoH signals through a single category cable transferring to the HDBaseT婵犮垼娉涘﹢銆哻eiver.
Shinybow SB-6353T HDMI HDBaseT Wall Plate TRANSMITTER w/ PoH up to 330 Feet (100M) - (Single LAN, 2-Way IR, RS-232, HDMI) Features:
HDBaseT婵犮垼娉涘﹢绀 3D, 4K2K over a single UTP/STP cable up to 330ft (100M)
Supports HDMI 1080p@60 video V1.4a 3D and Ultra HD 4K2K video, CEC / HDCP compliant
Supports link speeds for TMDS video format for a max 10.2Gbit/s, Signal 340MHz Deep Color, Full HD 1080p@60Hz@24/36/48bit/pixels
Supports 1080p TV婵犮垹婀遍弲浜搁惂鐣 24/30/60/100/200/240Hz and above as well as Blu-rays at 24FPS
Supports Digital Audio 7.1 LPCM 192KHz, 24bits, Full HD Dolby TrueHD and DTS-HD Master Audio uncompressed HD audio formats
Supports PoH power over HDBaseT婵(Power support 48VDC from HDBaseT婵犮垼娉涘﹢銆哻eiver SB-6353R)
Transfers Bi-directional Infrared control signals together with the HDMI signal
RS-232 port for firmware updates or RS-232 control signal transmission
Supports HDMI CEC between your connected source and display gear with LED indicators to show the POWER/HDMI/HDCP/LINK status
HDBaseT婵犮垼娉涘鍗筧nsfers HDMI, PoE, LAN, RS-232 and Bi-Directional IR over a single category cable
Supports Super Audio CD (DSD), CEC commands protocol table
Why not buy this Shinybow SB-6353T HDMI HDBaseT Wall Plate TRANSMITTER w/ PoH up to 330 Feet (100M) - (Single LAN, 2-Way IR, RS-232, HDMI) today?
Shinybow SB-6353T HDMI HDBaseT Wall Plate TRANSMITTER w/ PoH up to 330 Feet (100M) - (Single LAN, 2-Way IR, RS-232, HDMI) Specifications:
Type of Extender: HDBaseT婵犮垼娉涘﹢娆碝I signal over category UTP/STP Cable
Input Signals: HDMI with Digital Video (TMDS)/Audio 0.5~1.0Vpp, DDC 5Vpp
HDBaseT婵犮垼娉涘﹢鐥爂nal Supports: HDMI 1.4a HDMI format Standard, DVI and HDCP Compliant
Video Supported: HDMI and DVI TMDS formats for 1920x1200 resolution up to 10.2Gbps (340MHz), Digital RGB 48bits/px, deep color, 3D
Category Cable Supported: CAT5e, CAT6, CAT6a, CAT7 UTP/STP cable
Supports HDMI Resolutions: 480p, 720p 1080i/1080p and Ultra HD 4K2K
Scan Rate Accepted: Supports HDMI full HD resolution; Frequency 24Hz to 240Hz
Controls: IR in / IR out / RS-232 I/O / LAN series interface
PoH Supported: Supports PoH power 48VDC from HDBaseT婵犮垼娉涘﹢銆哻eiver SB-6353R
Transfer Distance: Up to 330ft (100M)
HDMI I/O Connectors: HDMI Type A - SMD 19pin female type
HDBaseT婵犮垼娉涘﹢/O Connectors: HDBaseT婵犮垼娉涘﹢銕-45, 8p8c female socket
Temperature: 32濠电娀娼 - 96濠电娀娼 Operation (0濠电娀娼 ~ 36濠电娀娼)
Safety Approvals: CE, FCC, VCCI, REACH
Dimensions (LxWxH): 4.33 x 4.73 x 1.38 in (110x120x35mm)
Weight: 0.9 lb (Unit only) / 1.3 lb (Net)
Power Consumption: Max 1000mA (Full load 1080p-60Hz signal with use DC48V input)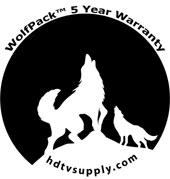 HDTV Supply
includes a
WolfPackCare
5 Year U.S. Limited Extended Warranty on this product. There are two bundled parts to this 5 year warranty. The 5 year warranty is only for the main device you purchased and does not include any product options or additional products you purchased at the same time.
FIRST YEAR THROUGH THIRD YEAR WARRANTY:
The first three years are direct with Shinybow at
RMA Request
. The 3-year warranty states that the Product will perform substantially in accordance with the supplied written materials and Product information located on this Product web site page for a period of 3 years from the date of shipment of the Product and that the Product will be free from defects in materials & workmanship under normal use & service.
4TH THROUGH 5TH YEAR WARRANTY:
The 4th through the 5th year are direct with
Consumer Priority Extended Warranty Service (CPS)
as they are HDTV Supplys extended warranty provider. They are a large 3rd party repair company with facilities throughout the U.S. and offer our U.S. customers unparalleled product coverage and repairs. If after calling HDTV Supply, at 800-841-9238, we find we can't fix the issue over the phone, and you need a repair, you will henceforth deal directly with CPS for the repairs via their toll free phone number (800) 905-0443 Option 3 during the 4th and 5th year.
You can also
email CPS
and
email HDTV Supply
as well as call us a 800-841-9238 if you have any questions with this 5 year bundled warranty.
Questions & Answers

Ask a question about the Shinybow SB-6353T HDMI HDBaseT Wall Plate TRANSMITTER w/ PoH up to 330 Feet (100M) - (Single LAN, 2-Way IR, RS-232, HDMI) or Call 800-841-9238


Shinybow SB-6353T HDMI HDBaseT Wall Plate TRANSMITTER w/ PoH up to 330 Feet (100M) - (Single LAN, 2-Way IR, RS-232, HDMI)
Recently Viewed Items