Shinybow SB-6320R HDMI HDBaseT Receiver up to 330 Feet (100M) (Dual LAN, 2-way IR, RS-232, HDMI & Audio for DVI)




Shinybow SB-6320R HDMI HDBaseT Receiver up to 330 Feet (100M) (Dual LAN, 2-way IR, RS-232, HDMI & Audio for DVI)

3 Year Shinybow Warranty Upgraded to 5 Years

Lifetime USA Telephone Tech Support
Shinybow SB-6320R HDMI HDBaseT Receiver up to 330 Feet (100M) (Dual LAN, 2-way IR, RS-232, HDMI & Audio for DVI)
The SB-6320R is an HDMI Version 1.4 supporting all the modern audio formats like Dolby True HD, DTS-master, etc闁哄鏅濋悧鎲俤 all (7) types of 3D. It has an LED status display at the front panel that designates a valid HDMI source, connection between the Transmitter and Receiver and Power. The SB-6320R HDBaseT婵犮垼娉涘涔猚eiver can accept HDMI signals from the SB-6320T HDBaseT婵犮垼娉涘﹢绁宎nsmitter for lengths up to 328 ft/100M. It uses HDBaseT婵犮垼娉涘鍗 receive HDMI, IR, RS-232 & Ethernet signals with the help of a CAT6/6a/7 category cable with a RJ-45 connector. This device offers higher full HD resolutions of 480i/p, 720p, 1080i/p sw I/O quality that matches well with the HD source quality signals. In-built mounting tabs for surface mounting are included. It also supports DVI with the use of an external adapter. The SB-6320R uses the Audio Output jack to deliver audio from your DVI Audio Input OR excerpts the audio from your HDMI signal.
Shinybow SB-6320R HDMI HDBaseT Receiver up to 330 Feet (100M) (Dual LAN, 2-way IR, RS-232, HDMI & Audio for DVI) Features:
HDMI Over CAT/5e/6/7 Receiver
HDMI digital Video/Audio and Video TMDS format with HDCP compliant and supports HDBaseT濠电姷鏁搁弻鍣媏cifications
Supports all latest Audio formats such as DTS-HD Master Audio, Dolby True-HD Dolby Digital Plus
3D Enabled
Support link via using the CAT/5e/6/7 UTP/STP cable
Support link speeds of up to 3.4Gbps
Support Digital RGB 36bits HDMI TMDS format deep color
DVI TMDS format for 1920x1200
Support HD High Definition full range resolution 408p, 720p 1080i/1080p
Transmitter Support IR EXT and RS-232 control Display
Extended Long distance CAT6/7 330 feet (100M), CAT5e 200 feet (75M), CAT5 100 feet (35M)
Surface mountable ready with included tabs
Easy to install without any adjustments
Power DC input with low power consumption (Full load 480mA)
Power supply using universal power switch DC 12V/1250mA
Why not buy this Shinybow SB-6320R HDMI HDBaseT Receiver up to 330 Feet (100M) (Dual LAN, 2-way IR, RS-232, HDMI & Audio for DVI) today?
Shinybow SB-6320R HDMI HDBaseT Receiver up to 330 Feet (100M) (Dual LAN, 2-way IR, RS-232, HDMI & Audio for DVI) Specifications:
Inputs/Outputs:

(2) HDMI
(2) Ethernet (RJ-45)
(2) RS-232
(1) 3.8mm Audio (for use with DVI only)
(1) IR Emitter port
(1) IR Receiver port
(1) HDBaseT婵犮垼娉涘﹢銕-45

Type of Extender: HDMI signal over CAT5/6a/7 Cable Receiver
Signal Supports: HDMI Standard, DVI and Audio, with HDCP Compliant
Video Signals:

HDMI with Digital Video (TMDS)/Audio .5~1.0Vpp, DDC5Vpp
DVI up to 1920x1200 resolution

Video Support:

HDMI and DVI TMDS formats for 1920x1200 resolutions up to 3.4Gbps
Digital RGB 36bits HDMI TMDS format deep color
Audio Support: DTS-HD Master Audio, Dolby True-HD & Dolby Digital Plus
DVI Audio Support: (1) DVI Audio output via phone-plug 3.5mm(OD) port
Supported HDMI Resolutions: 480p, 720p 1080i/1080p
Scan Rate Accepted: HDMI Resolution 24-240Hz
Control Link Series: (1) IR in, (1) IR out, (1) RS-232 and (2) Ethernet series interface
IR Infrared Frequency: 38KHz (IR in)
Extender Distance: Up to 328 ft/100M (CAT6/7) / CAT5e 200 ft (75M) / CAT5 100 ft (35M)
Safety Approvals: CE, FCC, VCCI & RoHS (2002/95/EC)
Dimensions (LxWxH): 5.12 x 3.15 x 1 in (130x120x26mm)
Weight: 1.3 lb (Unit only) / 2.9 lb (Net)
Power Supply: Power switch supply +12VDC / 2000mA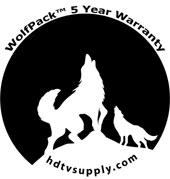 HDTV Supply
includes a
WolfPackCare
5 Year U.S. Limited Extended Warranty on this product. There are two bundled parts to this 5 year warranty. The 5 year warranty is only for the main device you purchased and does not include any product options or additional products you purchased at the same time.
FIRST YEAR THROUGH THIRD YEAR WARRANTY:
The first three years are direct with Shinybow at
RMA Request
. The 3-year warranty states that the Product will perform substantially in accordance with the supplied written materials and Product information located on this Product web site page for a period of 3 years from the date of shipment of the Product and that the Product will be free from defects in materials & workmanship under normal use & service.
4TH THROUGH 5TH YEAR WARRANTY:
The 4th through the 5th year are direct with
Consumer Priority Extended Warranty Service (CPS)
as they are HDTV Supplys extended warranty provider. They are a large 3rd party repair company with facilities throughout the U.S. and offer our U.S. customers unparalleled product coverage and repairs. If after calling HDTV Supply, at 800-841-9238, we find we can't fix the issue over the phone, and you need a repair, you will henceforth deal directly with CPS for the repairs via their toll free phone number (800) 905-0443 Option 3 during the 4th and 5th year.
You can also
email CPS
and
email HDTV Supply
as well as call us a 800-841-9238 if you have any questions with this 5 year bundled warranty.
Questions & Answers

Ask a question about the Shinybow SB-6320R HDMI HDBaseT Receiver up to 330 Feet (100M) (Dual LAN, 2-way IR, RS-232, HDMI & Audio for DVI) or Call 800-841-9238


Shinybow SB-6320R HDMI HDBaseT Receiver up to 330 Feet (100M) (Dual LAN, 2-way IR, RS-232, HDMI & Audio for DVI)
Recently Viewed Items