HDMI Amplifier Repeater Extender




HDMI Amplifier Repeater Extender

3 Year Shinybow Warranty Upgraded to 5 Years

Lifetime USA Telephone Tech Support
HDMI Amplifier Repeater Extender
The SB-6225 HDMI Amplifier Repeater Extender extends the range of HDMI signals to 100 feet. Linking two cables (HDMI) with each other, it makes a longer extension on each repeater upto 100 feet. Moreover, the repeaters can also be chained further to have a much longer extensions up to 360 feet.
It has HDMI version 1.2 and 1.3 features like 3D support, deep color support and HD 1080p resolution along with eight-channel digital audio to render fantastic signal quality. The 50 feet long HDMI cable is connected from both ends - an HDMI source and the HDMI input jack provided on the SB-6225. The source can be anything from a DVD player and set-top box to a HiFi gaming station. The second cable starts from the output jack and ends up to the display of HDTV which is set-up 50 feet away. It comes with a 12VDC power supply which is plugged into a wall socket from one end, and to the repeater unit from the other.
HDMI Amplifier Repeater Extender Features
100 feet Extender for HDMI signal TMDS/Audio Digital Video
Compliant for HDMI digital Audio/Video
Supports DVI and HDCP formats
3.4 Gbps link speed support
Supports digital RGB 36bits in HDMI and TMDS formats with deep color
High quality video extension 1920x1200 for 1080p-60
Supports HD resolutions: 408, 720p 1080i/10810p
Digital Quality Audio format support
DTS-HD Master Audio, Dolby and Dolby True-HD support
Extension between Blu-Ray player and HDMI display
Easy installation, easy mounting
12VDC power input, Low power consumption
Why not buy this HDMI Amplifier Repeater Extender today?
HDMI Amplifier Repeater Extender Specifications
Video Input Level: 1.45V (p-p) max
Distortion: -80dB total harmonic @ 1 MHz: Rl = 100 ohms
Video Bandwidth: 450MHz, -3dB
Slew Rate: 1600V/us
Housing: Aluminum
Switcher Size (LxWxH): 3 x 2.75 x 1 in
Power Supply: 12VDC, 300mA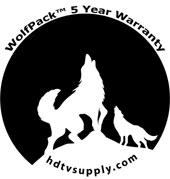 HDTV Supply
includes a
WolfPackCare
5 Year U.S. Limited Extended Warranty on this product. There are two bundled parts to this 5 year warranty. The 5 year warranty is only for the main device you purchased and does not include any product options or additional products you purchased at the same time.
FIRST YEAR THROUGH THIRD YEAR WARRANTY:
The first three years are direct with Shinybow at
RMA Request
. The 3-year warranty states that the Product will perform substantially in accordance with the supplied written materials and Product information located on this Product web site page for a period of 3 years from the date of shipment of the Product and that the Product will be free from defects in materials & workmanship under normal use & service.
4TH THROUGH 5TH YEAR WARRANTY:
The 4th through the 5th year are direct with
Consumer Priority Extended Warranty Service (CPS)
as they are HDTV Supplys extended warranty provider. They are a large 3rd party repair company with facilities throughout the U.S. and offer our U.S. customers unparalleled product coverage and repairs. If after calling HDTV Supply, at 800-841-9238, we find we can't fix the issue over the phone, and you need a repair, you will henceforth deal directly with CPS for the repairs via their toll free phone number (800) 905-0443 Option 3 during the 4th and 5th year.
You can also
email CPS
and
email HDTV Supply
as well as call us a 800-841-9238 if you have any questions with this 5 year bundled warranty.
Questions & Answers

Ask a question about the HDMI Amplifier Repeater Extender or Call 800-841-9238


HDMI Amplifier Repeater Extender
Recently Viewed Items