4K ShinyBow 4x4 HDMI POE HDBaseT Matrix Switch w/Audio




ShinyBow 4x4 HDMI-HDBaseT Matrix Switch with Auxiliary Audio I/O with PoH

3 Year Shinybow Warranty Upgraded to 5 Years

Lifetime USA Telephone Tech Support
ShinyBow 4x4 HDMI-HDBaseT Matrix Switch with Auxiliary Audio I/O with PoH
The SB-5645CAK from ShinyBow USA is a 4x4 HDMI-HDBaseT Matrix Switch that is used for switching of HDMI signals along with auxiliary audio signals. This matrix switch features 4 HDMI and 4 auxiliary audio input ports, and 4 HDMI, 4 SPDIF and 4 HDBaseT output ports. It supports a maximum video resolution of 1080p (Full-HD), along with embedded EDID and PoE function. Moreover, this switch also transmits Audio, RS-232, Ethernet and bi-directional IR signals. All this, over a single CATx cable. High signal bandwidth of 340 Mhz allows transmission of uncompressed data with high details, and the switch offers a choice of 12 outputs, out of which 8 separate outputs can be fed simultaneously. The PoH (Power over HDBaseT) function allows you to connect source and output devices to a remote location from the transmitter and receiver units. For easy and convenient operation, the SB-5645CAK offers easy control via IR remote, RS-232 or TCP/IP and front-panel push buttons.
ShinyBow 4x4 HDMI-HDBaseT Matrix Switch with Auxiliary Audio I/O with PoH Features:
(4)x HDMI with Auxiliary Audio (Analog Audio) player devices matrix switched to (4)x HDMI with S/PDIF outputs and (4)x HDBaseT Transmitter output to (8)x destinations
Application HDBaseT Specification with PoE (48V output), IR, RS-232, Multi Audio Format and HD Video Signals over one CATx (6/6a/7) category cable
HDMI digital Video w/ embedded HDCP, DVI format and CEC/HDCP 1.3 compliant
Worldwide control EDID modes for HDMI full 4K2K (24/30 Hz) HD Video resolutions
Wide frequency range 25MHz ~ 340MHz. Support HDMI 4K2K@30Hz, 1.4a 3D formats
Wide range of HD resolutions from PC XGA to WUXGA 1920x1200 and HDTV/DTV HDMI resolutions 480i/480p, 576i/576p, 720p, 1080i/p & 4K2K (24/30Hz)
Compatible with all HDMI source devices, PC monitors, Plasma HD display, HDTV and audio receivers or audio amplifiers
Digital Video TMDS formats Resolution up to 4K2K with Deep color 36-bit
Digital Audio Support: Dolby TrueHD, Dolby Digital, Dolby Digital Plug/ex, DTS, DTS-HD, DTS-HD Master, DTS-EX, PCM, PCM2, LPCM2
Audio Input: Support Auxiliary Audio (Analog stereo audio)
Audio Output: Support Digital audio ARC or Digital audio S/PDIF ( from HDMI source or Auxiliary Audio)
Various User Interface controls:

Windows based GUI control via RS-232 interface control driver for 2000/XP/WIN7-32/WIN7-64/WIN8
Front Panel push button
IR wireless remote controller
Ethernet Switch control
Third party RS-232 controller (via simple ASCII)

Support world wide (9)x control function keys:Full function front panel controls: ARC / AUX/ ALL / OFF / EDID / LOCK / RECALL / MEMORY / ENTER
Support EDID modes:

a. Embedded EDID modes: FSS/ H24-3D/ H24-3D-M/ H36-3D/ H36-3D-M/ 4K2K-3D / DVI-D 1920x1200-60Hz
b. External modes: Learning mode

Automatic scanning input & output status via LCM show on front panel
Using the build-in booster, each HDMI Output port is capable of driving cable lengths 1080p up to 98 ft (30M) & 4K2K up to 66 ft (20M)
Support IR Remote and IR Extender with distance up to ~ 984 ft (300M) Max
Support Universal power adaptor AC100V~AC240V, 50/60Hz, 12VDC,10A/120W
Why not buy this ShinyBow 4x4 HDMI-HDBaseT Matrix Switch with Auxiliary Audio I/O with PoH today?
ShinyBow 4x4 HDMI-HDBaseT Matrix Switch with Auxiliary Audio I/O with PoH Specifications:
Type of HDMI Switcher: 4x inputs To 4x Outputs HDMI over HDBaseT Matrix Switch with Audio and Extension
HDMI Support: HDMI 4K2K, 1080p@60Hz, H36-bit Deep color, 3D of HDMI V1.4 formats
HDBaseTSupport: Bi-directional IR, RS-232, Multi format Audio and Ethernet over one CATx 6/6a/7 cable
HDCP / CEC Support: HDCP 1.3 Compliant, CEC Compliant
Video Bandwidth: Double Data Rates: up to 340Mhz, HD 4K2K@30Hz
Digital Video Support: HD: 480i/ 480p/ 720p/ 1080i/p and 4K2K up to 36bit deep color
Video Inputs (HDMI): 4x HDMI (HDMI or DVI digital source)
Audio Inputs (Audio): 4x Audio ( Analog Stereo, AUX port. 3.5mm Jack)
Video Outputs:

HDMI: 4x HDMI : With Booster output 1080p up to ~98ft (35M) & 4K2K up to ~66 ft (20M)
HDBaseT: 4x HDBaseTTransmitter with PoE (48V out to RX) via category cable & RJ-45 connector)

Audio Outputs:

S/PDIF: 4x S/PDIF : Multi Audio Formats 5.1 from HDMI or LPCM-2CH from Auxiliary audio
ARC: 4x ARC: TV Return Channel Audio
HDMI: 4x HDMI: Multi Audio Formats 5.1 / 7.1, MAT (MLP), Dolby Digital, Dolby TrueHD, Dolby Digital Plus, DTS, DTS-ES 6CH, DTS-HD, DTS-HD-HRA, DTS-HD Master, (PCM-2CH)

HDBaseTControl In:

4x IR in (Send IR signals To 8x Rooms via HDBaseTTransmitter)
1x ALL IR in (Send IR Signals To 8x Rooms - Via HDBaseTTransmitter)

HDBaseTControl Out:

4x IR out (Link to Receive IR signals from 4x Rooms via HDBaseTExtender)
1x ALL IR out (Link to Receive IR signals from 4x Rooms via HDBaseTExtender)
1x All Tx LAN (All Switcher HDBaseTTransmitter Ethernets link to HDBaseTReceiver)

HDBaseTControl I/O: 4x RS-232 I/O (Control 4x Rooms RS-232 via Switcher HDBaseTExtender Tx)
Switch Controls:

1x Select & Function buttons on front panel (Data status via LCM panel show out)
1x IR Remote Controller (switch control)
4x IR Room Remote Controller (switch control)
1x IR External port (switch control via 3.5mm OD Jack)
1x RS-232 series interface (switch control)
1x Ethernet series interface (switch control)

(17) Function Control Keys: 1. ARC, 2. AUX, 3. ALL, 4. OFF, 5. RECALL, 6. ENTER, 7. MEMORY, 8. LOCK, 9.EDID, 10. Destination button 1 thru 4, 11. Source button 1 thru 4
(7) EDID management: Select Embedded EDID modes : Mode1: Fast Speed Start, Mode2: H24-3D, Mode3: H24-3D-M, Mode4: H36-3D, Mode5: H36-3D-M, Mode6: 4K2K-3D, PCM-2CH, Mode7: DVI-D 1920x1200
Select Learning mode: Learning Destination EDID To Link Source / Learning mode-1 (Single Learning) / Learning mode-2 (Multiple Learning)
Infrared Frequency: 38 Khz
IR External Distance: ~984 ft / 300M max
HDBaseTExtender Distance: ~328 ft / 100M max
HDMI I/O Connector: HDMI Type A - SMD 19pin Female Type
Temperature: Operating Temperature 32°F - 100°F (0°C - 32°C)
Dimensions (LxWxH): 19 x 13.77 x 1.76 in (482x350x44mm)
Rack Mount: 1RU High 19 in Rack Mount #1U-440L (with rack mount)
Power Supply: Power input AC100~240 VAC 50/60Hz (Power Consumption: 3500mA Max)
Safety Approvals: CE, FCC, RoHs, REACH, WEEE
Product Weight: 2.45 Kgs / 5.39 lb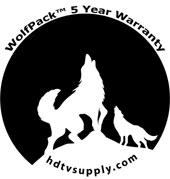 HDTV Supply
includes a
WolfPackCare
5 Year U.S. Limited Extended Warranty on this product. There are two bundled parts to this 5 year warranty. The 5 year warranty is only for the main device you purchased and does not include any product options or additional products you purchased at the same time.
FIRST YEAR THROUGH THIRD YEAR WARRANTY:
The first three years are direct with Shinybow at
RMA Request
. The 3-year warranty states that the Product will perform substantially in accordance with the supplied written materials and Product information located on this Product web site page for a period of 3 years from the date of shipment of the Product and that the Product will be free from defects in materials & workmanship under normal use & service.
4TH THROUGH 5TH YEAR WARRANTY:
The 4th through the 5th year are direct with
Consumer Priority Extended Warranty Service (CPS)
as they are HDTV Supplys extended warranty provider. They are a large 3rd party repair company with facilities throughout the U.S. and offer our U.S. customers unparalleled product coverage and repairs. If after calling HDTV Supply, at 800-841-9238, we find we can't fix the issue over the phone, and you need a repair, you will henceforth deal directly with CPS for the repairs via their toll free phone number (800) 905-0443 Option 3 during the 4th and 5th year.
You can also
email CPS
and
email HDTV Supply
as well as call us a 800-841-9238 if you have any questions with this 5 year bundled warranty.
Questions & Answers

Ask a question about the 4K ShinyBow 4x4 HDMI POE HDBaseT Matrix Switch w/Audio or Call 800-841-9238


4K ShinyBow 4x4 HDMI POE HDBaseT Matrix Switch w/Audio
Recently Viewed Items