Features
Ethernet/USB to HDMI/VGA Converter Extender
The ANI-ETHVGA can send audio/video signals from a Notebook or PC through a standard Ethernet network (LAN) to any display. It supports HDMI or VGA output and either 3.5mm stereo jack or optical audio. This extender operated over standard Ethernet Hub/Switch/Router and even supports direct connection up to 330 feet away. It includes 2 USB ports which allows user to operate printers, scanners or any other USB devices. You can also access a projector from your laptop without having a fumble with any cables.
NOTE:
This product has been discontinued. See the above SIMILAR Tab for equivalent products or, if not there, call us at 800-841-9238 right now to discuss your needs.
Ethernet/USB to HDMI/VGA Converter Extender Features
Experience the complete PC environment on a TV
Allows a TV to act as the primary PC display and when using a keyboard and mouse you can browse the internet, use Microsoft Office and watch/listen to music/movies from any networked computer
Can handle high-speed (480Mbps), full-speed (12Mbps) and low-speed (1.5Mbps) Transaction
Supports high performance 16-bit stereo, 48 KHz audio sampling rate
Compliant with USB 1.1/ USB 2.0 (Hi-speed)
Supports Ethernet protocols TCP/IP
Supports 10/100/1000Mbase Ethernet
an HDMI display to your computer through a USB 2.0 port
Supports mirror and extended video modes
Why not buy this Ethernet/USB to HDMI/VGA Converter Extender today?
Warranty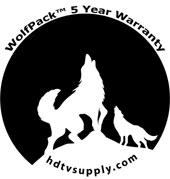 HDTV Supply
includes a
WolfPackCare
5 Year U.S. Limited Extended Warranty on this product. There are two bundled parts to this 5 year warranty. The 5 year warranty is only for the main device you purchased and does not include any product options or additional products you purchased at the same time.
FIRST YEAR THROUGH THIRD YEAR WARRANTY:
The first three years are direct with Shinybow at
RMA Request
. The 3-year warranty states that the Product will perform substantially in accordance with the supplied written materials and Product information located on this Product web site page for a period of 3 years from the date of shipment of the Product and that the Product will be free from defects in materials & workmanship under normal use & service.
4TH THROUGH 5TH YEAR WARRANTY:
The 4th through the 5th year are direct with
Consumer Priority Extended Warranty Service (CPS)
as they are HDTV Supplys extended warranty provider. They are a large 3rd party repair company with facilities throughout the U.S. and offer our U.S. customers unparalleled product coverage and repairs. If after calling HDTV Supply, at 800-841-9238, we find we can't fix the issue over the phone, and you need a repair, you will henceforth deal directly with CPS for the repairs via their toll free phone number (800) 905-0443 Option 3 during the 4th and 5th year.
You can also
email CPS
and
email HDTV Supply
as well as call us a 800-841-9238 if you have any questions with this 5 year bundled warranty.