8x8x2 HDMI w/16 Outs & HDBaseT Over Single CAT5 Matrix Switcher





8x8 HDMI and HDBaseT Over Single CAT5/6/7 Matrix Routing Switcher

Unbundled Receivers & all 16 outputs Can Be Used!!

Part # SB-5688LCM-CT

Today's Price: $5,500.00
Features
This
SB-5688CM-CT 8x8 HDMI and HDBaseT Over Single CAT5e/6/7 Matrix Routing Switcher
is high-performance 8x8 matrix routing switcher with eight (8) HDMI inputs and supports simultaneously eight (8) HDMI and eight (8) mirrored CAT5e/6/7 outputs with the above optional HDMI receivers. The SB-5688CT is based on HDBaseT technology and that supports HDMI Video with embedded audio, RS-232, IR bi-directional, and Ethernet all over a single CAT5/6/7 cable.
The SB-5688CT has one CAT5e/CAT6 and HDMI connector for each output, effectively making this an 8x16 switcher but shows the same signal on both of those outputs. Think of it as an 8x8x2.NOTE:
This product has been discontinued. See the above SIMILAR Tab for equivalent products or, if not there, call us at 800-841-9238 right now to discuss your needs.
The SB-5688CM-CT ships with 9 - Remote controls...1 master and 8 channel specific.
8x8 HDMI and HDBaseT Over Single CAT5e/6/7 Matrix Routing Switcher Features:
3D Enabled
8x HDMI source devices matrix switched to 8x HDMI and 8x CAT5e/6 Extender output devices
Application HDBaseT IR, RS-232, Multi Audio Format and HD Video Signals over CAT5e/6 Cable
HDMI digital Video w/embedded Audio, DVI format and CEC/HDCP 2.0 compliant
Worldwide control EDID modes for HD Video resolutions
Link speeds of up to 6.75 Gbps (link clock rate of 340MbHz), Support HDMI 1.4a 3D formats
Wide range of HD resolutions from PC XGA to WUXGA 1920x1200 and HDTV/DTV HDMI resolutions 480i/480p, 576i/576p, 720p, 1080i & 1080p
Compatible with all HDMI source devices, PC monitors, Plasma HD display, HDTV and audio receivers/amplifiers
Digital Video TMDS formats Resolution up to 1080P-60 with Deep color 36-bit
Digital Audio Support:

Dolby TrueHD
Dolby Digital
Dolby Digital Plug/ex
DTS
DTS-HD
DTS-HD Master
DTS-EX
PCM, PCM2, LPCM2

Various User Interface Control:

Windows based GUI control via RS232 port
Front Panel push button
IR wireless remote control
Third party RS-232 controller (via simple ASCII)

Support World Wide Control Functions: ALL/OFF/RECALL/ENTER/MEMORY/EDID/LOCK
Support EDID Modes:

Internal Modes: AUTO/1080P-2CH/1080P-5.1/1080P-7.1/1080i-2CH/720P-2CH
External Modes: Passing mode with learning function

Automatic scanning input & output status via LED show on front panel
Support IR Remote and IR Extender with distance up to ~ 1000' (300M) Maximum
EDID configuration via Internal modes
Consumer Electronic Control (CEC) switch all open or OFF
With a signal bandwidth of 340Mhz, there is no signal degradation. High Definition Digital signals can be selected and distributed to any 16 outputs simultaneously. The Switcher is certified as being fully CEC and HDCP 2.0 compliant, HDMI V1.4a 3D formats, data rates up to 6.75 Gbps. Supports UXGA/WUXGA/DVI 1920x1200 resolution to any HD displays. The SB-5688CT has one CAT5e/CAT6 and HDMI connector for each output, effectively making this an 8x16 switcher (same signal on both outputs).
1 CAT RJ-45 connection on each output extends the HDMI signal to remote location via HDBaseT CAT5e/6/7 HDMI Receiver SB-6335R. The EDID can be selected between seven (7) different modes. Control is provided via Front panel push buttons, IR remote or via RS-232. An RS-232 Windows GUI interface is provided for matrix routing.
Zone control with 8 independent remote controls provide easy channel selection based on independent remotes. For example: Remote #2 controls only video on Output number 2.

Also included is one master remote that operates all source and destination devices.

This SKU does NOT include the SB-6335 HDBaset-T receviers. They can be ordered separately (see top of this page).
Why not buy this 8x8 HDMI and HDBaseT Over Single CAT5e/6/7 Matrix Routing Switcher today?
Specs
8x8 HDMI and HDBaseT Over Single CAT5e/6/7 Matrix Routing Switcher Specifications:
Type of Switcher: 8 in to 8 out, HDBaseT Matrix HDMI Matrix Routing Switcher
Inputs: Video TDMS 0.5, 1.0Vpp, DDC 5Vpp
Signals Supported: HDMI Standard, DVI and HDCP Compliant
Video Supported: 1080p HDMI formats and DVI UXGA 1600x1200 HD resolutions
Audio Supported: DTS-HD Master Audio, Dolby True- HD & Dolby Digital Plus
Various video input interface supporting digital video standards such as:

RGB/YCbCr: 24/30/36 bits
YCbCr: 8/10/12/16/20/24 bits
Double data rate interface for RGB/YCbCr: 12/15/18 bits

Controls: IR, IR EXT, Select buttons on the front panel & RS-232
Data Rates: 250Mbps to 6.75Gbps
IR Extender Distance: 1,000 feet
Infrared Frequency: 38KHz
Safety Approvals: CE, FCC, RoHS(2002/95/EC)
Switcher Size (LxWxH): 19 x 7.87 x 1.75 inches (482mm x 200mm x 44mm)
Shipping Weight: 4.25 lbs
Power Source: DC12V/2A (consumption 1680mA Maximum)Use Universal Switch Type 50/60Hz, 100~230 VAC
Package Included

SB-5688CT HDBaseT HDMI Matrix Switcher
Master wireless IR Remote Control (SW-5688)
8 each; Individual wireless IR Control (SW-5688CT-IR01~IR08)
19 inch Ear mount bracket (Part 2U-440L)
IR Extender Transmitter (SB-101)
IR Extender Receiver (SB-100)
2 each; IR Extender Cable 10 feet (3M)
RS-232 Cable 6 feet (2M)
CD Contents : This manual, Windows GUI, ISP V1.0 Windows driver, RS-232 driver (All Windows Operating Systems)
Users Guide
AC/DC Adapter: Worldwide Universal Power Supply 100~230 VAC, AC 50/60Hz, 10A
Videos
HDTV Supply has this in stock in our Texas warehouse so place your order at the above ADD TO CART button by 11AM PST and it can ship today or call us at 800-841-9238 to place your order.
3D
HDTV Supply is a leader in supplying 3D equipment for this new, fast growing 3DTV market. Our test lab includes the latest equipment for designing, testing and supporting 3D video equipment. The chips sets we use support the below 3D formats and work with many of our HDMI 1.3 and HDMI 1.4 compliant devices. This device supports these 3D formats:
Side-by-Side 3D Format
Top-and-Bottom 3D Format
Blu-ray 3D Format
Frame packing
and more
We not only test this device with lab equipment we also test many of our 3D devices with 3D products you are likely to use. The products used for the test are:
Sony PS3 with the 3D 3.41 firmware
Samsung model PN50C7000YF 3DTV
Samsung model BD-C6900 3D Blu-ray player FORCED to 1080p
Samsung model SSG-P2100T 3D glasses
DirecTV models HR21-100 and the HR24 high definition receiver.
It works with all HDMI devices including the new 3D units.
The 3D viewing results were awesome in our lab and did not have any picture or audio degradation. The normal and standard (2D) results equally exhibited a superb picture quality.
Q/A
Q: I see the the "Add'l" HDMI extenders come with 2-remote IR cables, will the remote IR work with this matrix?
A:
No, the cables are used when the application has one source and one widescreen. They can't be used with this matrix and need to be set aside and not used.
Q: How is HDBaseT technology different than others?
A:
Unlike other HD distribution technologies, HDBaseT is the only technology which enables CAT5/6/7 connectivity from 70 meters to 100 meters, depending upon the specific product, for uncompressed full HD multimedia content and up to 100 watts of charging power via a single cable. HDBaseT is optimized for video applications and can connect all HDBaseT enabled home entertainment devices. Also, HDBaseT technology has the capacity to deliver double the resolution available today to future 2K and 4K formats. Other existing solutions also require a specific cable and/or a new proprietary connector while HDBaseT utilizes the existing Ethernet infrastructure.
Warranty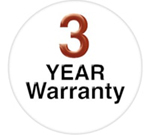 HDTV Supply
includes a 3 Year Limited Warranty on all Shinybow products. The warranty states that (a) its products (the will perform substantially in accordance with the accompanying written materials for a period of 3 years from the date of receipt and (b) that the Product will be free from defects in materials & workmanship under normal use & service for a period of 3 years. In order to get a warranty replacement for a defective item, HDTV Supplys and Shinybows Support Team will verify the product is eligible for warranty. An RMA number will then be issued. Shipped replacements will be in like new conditions, tested and all components included.
HDTV Supply
also sells a 5 Year warranty for all Shinybow products. Please go to
5 Year Extended Warranty
or see the above Options to purchase it.
Ask a Question
Questions & Answers

Ask a question about the 8x8x2 HDMI w/16 Outs & HDBaseT Over Single CAT5 Matrix Switcher or Call 833-WOLFPACK (833-965-3722)


8x8x2 HDMI w/16 Outs & HDBaseT Over Single CAT5 Matrix Switcher
Scroll Left & Right To See 20 Of Your Recently Viewed Items Below

(:SHINYBOW-SB-5688CK-8X8-HDMI-MATRIX-ROUTING-SWITCH :|8X16-HDMI-MATRIX-OVER-HDBASET| :|8-16-HDMI-MATRIX-ROUTER| :|10X10-HDMI-MATRIX-SWITCHER| NIL)