Rugged HDMI Over CAT5 Extender with IR




HDMI Over CAT5 Extender to 330 Feet For Hostile Environments

POE Design Uses only One AC Adapter

Zero Latency & Zero Transmission Loss

Anti-rust Industrial Aluminum Alloy Shielding

Operating Temperature from 0 to 150 degrees F

Stainless Hexcon Assembly Screws & RJ45 Connectors

Free Lifetime U.S. Telephone Tech Support & 5 Year Warranty

Part # HDTVHSV891IR

Today's Price: $299.95
Features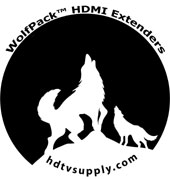 This WolfPack™
Rugged HDMI Over CAT5 Extender
extends your HDMI source device to an HDTV display up to 330 feet with a single CAT5 cable without any video loss and time delay...and in hostile environments.
NOTE:
This product has been discontinued. See the above SIMILAR Tab for equivalent products or, if not there, call us at 800-841-9238 right now to discuss your needs.
By utilizing POE technology both HDMI audio and video signals and power can be sent to a device via standard CAT5e/6/6a cabling. This means you do not need to install a power outlet at the device location and you can use readily available, relatively low cost, Ethernet cabling with this Rugged HDMI Over CAT5 Extender.
The Sturdy HDMI Over CAT5 Extender can also be split with an Ethernet switch and sent to dozens of more TVs with the above optional receivers and Ethernet switch. This HDMI Over CAT5 Extender sends a 1080p FULL HD HDMI signal up to 330 feet over a single CAT5 cable without any video loss and time delay...and in hostile environments.
NOTE:
The Rugged HDMI Over CAT5 Extender only supports 480p, 720p or 1080p progressive signals so set your source device to one of those resolutions. These adapters do not work with 480i or 1080i source resolutions or 480i or 1080i displays or any interlaced (i) device or any other resolution like 1280x1024, etc.
Rugged HDMI Over CAT5 Extender Applications:
Outdoor pool areas
Open door factories
Outdoor trade shows
Outdoor patios
Installations where CAT5 cables are already installed
The units are not waterproof and must be protected from any water getting on them.
WolfPack Rugged HDMI Over CAT5 Extender Features:
HDMI Over CAT5 Extender to 330 Feet For Hostile Environments
Anti-rust Industrial Aluminum Alloy Shielding
Operating Temperature from 0 to 150 degrees F
Stainless Hexcon Assembly Screws & BNC Connectors
Zero Latency & Zero Transmission Loss
RF Interference Protection
Operating Temperature: -20C to 70C
Storage Temperature: -40C to 80C
Humidity: 20% ~ 90% RH (Non-condensing)
Extends a FULL 1080p HD HDMI signal to 330 feet using CAT5e or CAT6 cables
Wide range 117VAC to 5VDC to 12VDC power supply
Resolutions Supported:

1080p@60Hz
1080p@50Hz
1080p@30Hz
1080p@25Hz
720p@60Hz
720p@50Hz
480p@60Hz
It does not support 1080i, 720i, 480i or any interlaced resolutions

Supports digital video formats in Deep Color Mode at up to 12bits/color
Supports full HDMI audio and video
Easy to install and simple to use
FCC, CE and RoHS Compliant
Why not buy this Rugged HDMI Over CAT5 Extender today?
Specs
Rugged HDMI Over CAT5 Extender Features:
Standard Power Input: 5V-12V
Power Consumption: 3W
HDMI Port: HDMI A type Female
Ethernet Port: RJ45
Link Connection: UTP or STP Cable
Transmission: 100 meters
Resolution Supported: 1080p@60Hz / 1080p@50Hz / 1080p@30Hz / 1080p@25Hz 720p@60Hz / 720p@50Hz 480p@60Hz
Color depth: 12 bit Max. res
Input TMDS signal: 1.2 Volts P-P
Input DDC signal: 5 Volts P-P (TTL)
HDMI input/output connector: HDMI type A 19 Pin
Link Connector: RJ45
WolfPack Rugged HDMI Over Coax Extender Contents:
1 - Transmitter
1 - Receiver
1 - Power Adapter (POE design)
1 - User Manual
No cables
Why not buy this Rugged HDMI Over CAT5 Extender today?
Compatibility
This Rugged HDMI Over CAT5 Extender can be used with:
Any high definition Dish Network and DirecTV receiver with HDMI outputs
High definition TiVo's with HDMI outputs
Any high definition cable receiver with HDMI outputs
Canadian Rogers, Shaw, Bell ExpressVu and Star Choice receivers with HDMI out, or DVI out with a converter
Any "Over The Air" (OTA) high definition receiver with HDMI outputs
Any Sony PSx, HD DVD and Blu-ray DVD players
Any Xbox with HDMI outputs
Any upconverting DVD player with HDMI outputs
Any DVHS VCR with HDMI outputs
An Roku with HDMI outputs
An Vudu with HDMI outputs
An APPLE TV with HDMI outputs
Any high definition camcorder with an optional type C to standard HDMI cable
Any HDCP compliant HDTV, monitor and projector. If the source is HDCP compliant and your TV is not, you will not get a picture. Please check your TV manual or the manufacturers web site.
All HDMI 1.3b compliant devices as well as with older 1.0, 1.1, 1.2 and 1.3 versions
and other similar devices.
Warranty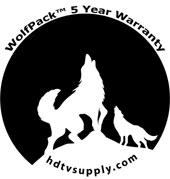 HDTV Supply
includes a 5 Year U.S. Limited Warranty on this product. There are two bundled parts to this 5 year warranty. The 5 year warranty is only for the main device you purchased and does not include any product options or additional products you purchased at the same time.
FIRST YEAR:
The first year is direct with with HDTV Supply at 800-841-9238. The warranty states that the Product will perform substantially in accordance with the supplied written materials and Product information located on this Product web site page for a period of 1 year from the date of shipment of the Product and that the Product will be free from defects in materials & workmanship under normal use & service for a period of 1 year from date of shipment.
In order to get a warranty reapir for a defective item within the first year call HDTV Supplys Tech Support Team with your order number at 800-841-9238 and they will verify the product is eligible for a warranty repair. An RMA number will then be issued via email. Shipped replacements will be in like new condition, tested and all components included. Please read
HDTV Supplys Warranty Terms and Conditions
for more.
2ND THROUGH 5TH YEAR:
The 2nd through 5th year are direct with
Consumer Priority Extended Warranty Service (CPS)
as they are HDTV Supplys extended warranty provider. They are a large 3rd party repair company with facilities throughout the U.S. and offer our U.S. customers unparalleled product coverage and repairs. If after calling HDTV Supply, at 800-841-9238, we find we can't fix the issue over the phone, and you need a repair, you will henceforth deal directly with CPS for the repairs via their toll free phone number (800) 905-0443 Option 3 during the 2nd through 5th year.
You can also
email CPS
and
email HDTV Supply
as well as call us a 800-841-9238 if you have any questions with this 5 year bundled warranty.
Ask a Question
Questions & Answers

Ask a question about the Rugged HDMI Over CAT5 Extender with IR or Call 833-WOLFPACK (833-965-3722)


Government
This product may be eligible to be purchased through the United States Governments SEWP program, similar to their GSA program.
The NASA SEWP (Solutions for Enterprise-Wide Procurement) provides the latest in Information and Communications Technology (ICT) and Audio-Visual (AV) products and services for all Federal Agencies and their approved contractors.
If you are a government agency and want to see whether HDTV Supply has this product in the SEWP database go to our
our SEWP Contract Holder RedHawk IT Solutions, LLC
to allow you to maybe order this product from the United States Governments SEWP program. It is very easy to place your order, go to the link above and enter HDTV Supply and there you will see a list of part numbers of what we currently have. If you do not see it than give us a call at 833-WOLFPACK (833-965-3722) and we may be able to enter it.
Our SEWP Contract Holder RedHawk IT Solutions partner has the following credentials:
DUNS: 801957023
TIN: 260452583
CAGE: 4TBM6
Their SEWP Federal Contracts are:
SEWP Contract Number: NNG15SD38B
Group: Group B_SDVOSB
NAICS: 541519
and
SEWP Contract Number: NNG15SD88B
Group: Group C
NAICS: 541519
The SEWP Program Office manages a suite of government-wide IT products and services contracts that enable NASA and all Federal Agencies to achieve their missions and strategic initiatives by providing streamlined access to critical technologies and solutions. The Program provides best value for the Federal Government and American taxpayer through innovative procurement processes, premier customer service and outreach, acquisition insight, and partnership with Government entities and Industry.
For a complete listing of HDTV Supply products from us, or our other vendors, call 833-WOLFPACK (833-965-3722).
Catalog
HDTV Supply WolfPack Product Catalog (2020)
Rugged HDMI Over CAT5 Extender with IR
Scroll Left & Right To See 20 Of Your Recently Viewed Items Below