Rack Mount WolfPack™ 4x4 HDMI Matrix Switch




WolfPack Rack Mount 4x4 HDMI Matrix Switcher

Comes with 19-inch Rack Ears

Any in to any out in any combination

Front panel push-buttons, RS-232 port and IR remote included
Features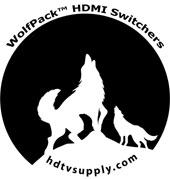 HDTV Supplys WolfPack
Rack Mount 4x4 HDMI Matrix Switch
allow 256 viewing combinations from 4 HDMI sources to 4 widescreens. Because it is a matrix switcher, it allows any input to be routed to any output; or the same input to be routed to all outputs, or any combination. The 4x4 HDMI Matrix Switcher has four HDMI inputs and four HDMI outputs ports.
The WolfPack 4x4 HDMI Matrix connects four HDMI sources to four displays. It works with Blu-Ray players, Set-Top boxes, Home Theater PCs, and game consoles that connect to an HDMI display. Any source is accessible at all times by any display by selecting it via the supplied IR Remote Control, RS-232, TCP/IP or by using the selection buttons on the front panel. This 4x4 HDMI Matrix Switcher supports High Definition Audio. The switcher features a front panel number display for easy status monitoring plus an included remote control. Designed to provide maximum functionality is a small space, the WolfPack 4x4 HDMI Matrix Switch can be used as a standalone device or 19" rack-mounted using the included rack ear-mounts.
Rack Mount WolfPack 4x4 HDMI Matrix Switch Features:
4 HDMI input and 4 HDMI outputs.
Any input to any output
HDMI 1080P Full-HD output with deep color 36bit support
HDMI 1.3, HDCP 1.1 and DVI 1.0 compliant
Supports HDMI 3D pass-through
Supports resolutions from VGA~WUXGA & HD resolutions from 480i~1080p dependent upon the EDID
Input HDMI cable distance: ~25 feet AWG22 HDMI 1.4 high speed cable
Output HDMI cable distance: ~35 feet AWG22 HDMI 1.4 high speed cable
Supports 38-KHz IR
Supports RS-232, remote control, on-panel control and TCP/IP Control
Supports LPCM 7.1CH, Dolby TrueHD, Dolby Digital Plus and DTS-HD Master Audio transmission
HDMI digital audio format: DTS-HD/Dolby-true-HD/LPCM7.1/DSD
RS232 input for a PC control
Supports Xv-YCC and Blue-Ray player for 24fs film format
Manual or remote or with RS232 controlled by computer select source input signals to a different sink
Supports 1080p and 3D video modes
Supports high definition, 7.1-channel audio, including Dolby TrueHD and DTS-HD Master Audio
Distributes any input to any output
Supports minimum 6.75Gbps data transmission rate
Includes instructions and app for RS232 control
Includes IR remote control
Supports Deep Color up to 36-bits (12-bits/channel)
Supports x.v.Color
Supports Digital Audio Format, DTS-HD/Dolby-True HD/LPCM7.1/AC3/DTS/DSD
Unique Circuit Design Allows for Protection against High Voltage and Peak Currents
Tested for Compatibility with all leading HD Video brands
Tested with 7.1 Home Theater Systems
Why not buy our Rack Mount WolfPack 4x4 HDMI Matrix Switch today?
Specs
Rack Mount WolfPack 4x4 HDMI Matrix Switch Specs:
HDMI version - HDMI 1.3
HDCP version - HDCP 1.1
Supports HDMI resolution - 1080/24fs/1080P/1080i/720P/576P/576i/480P/480i
Supported video color bit - 24bit/deep color 36bit
Supported audio format - DTS-HD/Dolby-true-HD/LPCM7.1/DSD
Date transfer speed - 6.75Gbps
Video amplifier bandwidth: 165MHz
Up to 24bit color depth
Input video signal: 1.2 Volts P-P
Input DDC signal: 5 Volts P-P (TTL)
HDMI connectors: type A 19-pin fe
IR remote with battery (included)
Why not buy this Rack Mount WolfPack 4x4 HDMI Matrix Switch today?
Accessories
WOLFPACK 4K HDMI CABLES



4K WolfPack HDMI HDBaseT Extender to 220 Feet with IR & POC

Price: $299.95

Today's price:

$149.95

(You Save: 50%)
3D
HDTV Supply is a leader in supplying 3D equipment for this new, fast growing 3DTV market. Our test lab includes the latest equipment for designing, testing and supporting 3D video equipment. The chips sets we use support the below 3D formats and work with many of our HDMI 1.3 compliant devices. This Rack Mount WolfPack 4x4 HDMI Matrix Switch (only) supports these 3D formats:
Side-by-Side 3D Format
Top-and-Bottom 3D Format
Blu-ray 3D Format
Frame packing
and more
We not only test this Rack Mount WolfPack 4x4 HDMI Matrix Switch Cables with lab equipment we also test many of our 3D devices with 3D products you are likely to use. The products used for the test are:
Sony PS3 with the 3D 3.41 firmware
Samsung model PN50C7000YF 3DTV
Samsung model BD-C6900 3D Blu-ray player FORCED to 1080p
Samsung model SSG-P2100T 3D glasses
DirecTV models HR21-100 and the HR24 high definition receiver.
HDTV Supply's true HDMI 2.0 cables
It works with all HDMI devices including the new 3D units.
The 3D viewing results were awesome in our lab and did not have any picture or audio degradation. The normal and standard (2D) results equally exhibited a superb picture quality.
Why not buy this Rack Mount WolfPack 4x4 HDMI Matrix Switch today?
Q/A
Q: Will the Remote IR work with all remote controls?
A:
The IR repeater works well with 38 Khz single band remotes but may not work with multi-band remotes used on a few satellite boxes. Look for 2 emitters on the nose of the remote. If you are pre-wiring make sure to run a 3rd cat5 cable so you can add an IR system that can handle multi-band remotes. If you have multi-band remotes you might want to upgrade your remotes to UHF, which goes through walls. This will bypass the IR system completely on the matrix.
Q: This product has CEC, what is CEC?
A:
This product features CEC (Consumer Electronics Control) allowing your HDTV's remote to manage up to ten devices that are connected via HDMI (such as Blu-ray Disc players or home theater receivers) with no special programming needed. For example, you can use your remote to turn on your TV, your player, and your receiver at the same time, and adjust the system volume with one button. All devices must support CEC, though.
Most major TV manufacturers now support CEC, and an HDTV with HDMI 1.3 will likely have the technology. Manufacturers call it by different names; LG Electronics, for instance, calls its implementation SimpleLink, whereas Toshiba calls its version CE-Link. Interoperability isn't mandatory, so some manufacturers limit control to their own products; Sony, for one, allows only Sony-to-Sony communication.
Why not buy this Rack Mount WolfPack 4x4 HDMI Matrix Switch today?
Warranty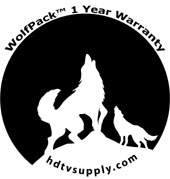 HDTV Supply
includes a 1 Year Limited U.S. Warrantitcher 1-Year Warranty"itcher 1-Year Warranty"itcher 1-Year Warranty"WolfPack 4x4 HDMI Matrix Switch. The U.S. warranty states that (a) its products will perform substantially in accordance with the accompanying written materials for a period of 1 year from the date of receipt and (b) that the Rack Mount WolfPack 4x4 HDMI Matrix Switch will be free from defects in materials & workmanship under normal use & service for a period of 1 year. In order to get a warranty replacement for a defective item, HDTV Supplys Support Team will verify the product is eligible for warranty. An RMA number will then be issued. Shipped replacements will be in like new conditions, tested and all components included. A 30-day RETURN also comes with this warranty as well as Free Lifetime Tech Support.
HDTV Supply
also sells a 3 and 5 Year Extended U.S. Warranty for this 44x4 HDMI Matrix Switcher & CAT5 Outs. Please go to
Extended Warranties
or see the above Options to purchase it.
Why not buy this Rack Mount 4x4 HDMI Matrix Switch today?
Ask a Question
Questions & Answers

Ask a question about the Rack Mount WolfPack™ 4x4 HDMI Matrix Switch or Call 800-841-9238


FAQ
HDTV Supply created our Rack Mount 4x4 HDMI Matrix Switch line of
WolfPack line of products
which are born from a hungry, circling pack of high performance video and audio HDMI that surround our competition to devour them. The WolfPack Rack Mount 4x4 HDMI Matrix Switch is sleek, unique & swift & even the smallest configuration wolf can adapt himself to many hostile environments.
The Wolfpack family can roam long distances even some up to 300 feet over HDBaseT trails and howl 4K whereas those who try to trap the WolfPack fails & runs away to the older devices.
You can only get this one-of-a-kind WolfPack Rack Mount 4x4 HDMI Matrix Switch from HDTV Supply.
Reasons To Buy an HDTV Supply WolfPack Product:
All WolfPack products have FREE HDTV Supply U.S. based Live Telephone Lifetime Tech support
HDTV Supply has a dedicated TEXT support line at 805-409-0208 to support you
HDTV Supply has a dedicated Product Manager for WolfPack products to assist with any special needs
If there is a WolfPack firmware update for your product you will find it at our site
Many times we will list lower refurbished WolfPack products at our site
All WolfPack products are usualy in stock and ship the same week day if the order comes in by 12PM PST
You can buy WolfPack products from us with most any credit card, your Amazon account and PayPal
HDTV Supply has many videos to show the features of WolfPack products
You will find all WolfPack User Manuals and other manuals at our site
From time-to-time HDTV Supply runs Factory Authorized sales on WolfPack products
All WolfPack products bought from HDTV Supply are brand new and in unopened boxes.
All WolfPack products bought from HDTV Supply are shipped in double carton boxing.
All WolfPack products bought from HDTV Supply have full value shipping insurance
All WolfPack products bought from HDTV Supply have a 30-day No-Hassle returns
All WolfPack products bought from HDTV Supply can be shipped blind to your customer
HDTV Supply has shipped >1,000 WolfPack products throughout the world
HDTV Supply ships all WolfPack products from here in the U.S.
HDTV Supply stocks extra WolfPack accessories in case you misplace your remote or other unit
HDTV pride ourselves on confidentiality and any personal information that you may share with us is kept absolutely private.
Why not buy one of HDTV Supplys WolfPack products today?
Rack Mount WolfPack™ 4x4 HDMI Matrix Switch
Recently Viewed Items