Key Digital KD-X200ProK HDBaseT/HDMI via Single CAT5e/6






Key Digital KD-X200ProK HDBaseT/HDMI via Single CAT5e/6 Transmitter & Receiver

Free Shipping & 5-Year HDTV Supply Upgraded Warranty

Free Lifetime Telephone, CHAT, TEXT and Email Tech Support

Key Digital KD-X200ProK HDBaseT/HDMI via Single CAT5e/6 Transmitter and Receiver CAT5e/6 Extenders
Get a better picture quality with KD-X200ProK FatCAT Series, brought to you by Key Digital. Made up with advanced techniques, this device is latest HDBaseT CAT5e/6 extenders that come with HDCP2.2 and UltraHD4K support. Thanks to the Key Digital's Full Buffer System technology that makes KD-X200ProK able to carry IR and RS-232 signals in order to control remotely located equipment conveniently.
NOTE: HDTV Supply is proud to be an Authorized Reseller of Key Digital Products and provide Key Digitals 3 YEAR WARRANTY along with our Free HDTV Supply Lifetime Telephone Tech Support.HDTV Supply also upgrades their 3-Year Warranty to a 5-YEAR WARRANTY at no cost to you and we will Price Match if you find a lower price from an Authorized Key Digital Reseller conforming to the specs on this product page.
Key Digital KD-X200ProK HDBaseT/HDMI via Single CAT5e/6 Transmitter and Reciever CAT5e/6 Extenders Features:
HDBaseT via Single CAT5e/6 UTP/STP Extension: With fully automatic adjustment of feedback, equalization, and amplification depending on cabling length
Signal Extension:

Up to 150 ft.4K/24/25/30/60 using KD-CAT6STP1X cabling
Up to 125 ft.4K/24/25/30/60 using third-party CAT5e/6 UTP/STP
Up to 250 ft.1080p/1920x1200 using KD-CAT6STP1X cabling
Up to 230 ft.1080p/1920x1200 using third-party CAT5e/6 UTP/STP

3D Ready: Capability to pass 3D stereoscopic signal formats
4K/Ultra HD Resolution: Support for 4096x2160 or 3840x2160 24/25/30Hz at 4:4:4/8 Bit or 60Hz at 4:2:0/8 Bit
HDMI and HDCP Licensing: Fully licensed and compatible with all HDMI and HDCP technologies up to HDCP 2.2 and HDMI 2.0 4:2:0/8 Bit profile
EDID Control: Internal library features 15 default EDID configurations and native EDID data from Output/Display devices connected via Rx
Hot Plug Detection Control: Enables integrator to choose if active signal voltage is forced to connected input devices
Full Buffer System: Manages TMDS re-clocking / signal re-generation, HDCP authentication with source & display, and EDID Control handshake, Hot Plug control
IR Sensor: Sensor powering via +5V on Rx unit In port collects line-of-sight IR from remote(s) without external IR connecting block
Up/Down IR: Two channels of IR enable control to/from devices connected to Tx and Rx units
RS-232: Bi-Directional control to/from Tx and Rx unit on 3.5mm connector
Rotary Switch RS-232 Control Mode: Provides control of Tx unit
3D: Support for standard 3D stereoscopic signal formats
Deep Color Support: 12bit Deep Color video / 8bit color for 4K/UHD
Lossless compressed digital audio: Support for Dolby TrueHD, Dolby Digital Plus and DTS-HD Master Audio
CEC Support: For inter-device control between main input and output HDMI channel
I2C Communication: EDID and HDCP authentication to Display and Source
Control System Support: Compatible with Compass Control, AMX, Control4, Crestron, RTI, Savant, URC, Leviton etc.
Why not buy this Key Digital KD-X200ProK HDBaseT/HDMI via Single CAT5e/6 Transmitter and Receiver CAT5e/6 Extenders today?
Key Digital KD-X200ProK HDBaseT/HDMI via Single CAT5e/6 Transmitter and Reciever CAT5e/6 Extenders Specifications:
Inputs Tx (Each): 1 HDMI, 1 IR In
Outputs Tx (Each): 1 CAT5e/6 UTP/STP, 1 IR Out /RS-232 Bi-Directional
Inputs Rx (Each): 1 CAT5e/6 UTP/STP, 1 IR In
Outputs Rx (Each): 1 HDMI, 1 IR Out/RS-232 Bi-Directional
Regulation: CE, RoHS, WEEE
Enclosure: Black Metal
Product (Each): 4.125"" x 2.625"" x 0.875"", Weight: 0.5 lbs
Shipping Carton: 6.9"" x 3.9"" x 3"", Weight: 2 lbs
Power Supply: (2) KD-PS5V2ASC, 5V/2A, 100-240VAC, 50-60Hz, Interchangeable head with screw-in connector
Accessories: (2) Mounting Brackets, (1) IR Emitter, (1) IR Sensor IR Emitter: KD-IRE3501F1
IR Receiver/Sensor: KD-IRSR001
Why not buy this Key Digital KD-X200ProK HDBaseT Extender today?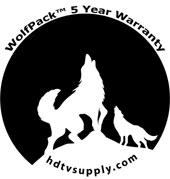 HDTV Supply
includes a
WolfPackCare
5 Year U.S. Limited Extended Warranty on this product. There are two bundled parts to this 5 year warranty. The 5 year warranty is only for the main device you purchased and does not include any product options or additional products you purchased at the same time.
FIRST THROUGH THIRD YEAR:
The first part of the warranty is a 3-year warranty direct with Key Digital ay 855-539-3444. The warranty states that the Product will perform substantially in accordance with the supplied written materials and Product information located on this Product web site page for a period of 3-years from the date of shipment of the Product and that the Product will be free from defects in materials & workmanship under normal use & service for a period of 3-years from date of shipment.
In order to get a warranty replacement for a defective item within the 3-years call Key Digital at 855-539-3444.
4th THROUGH 5th YEAR:
The 4th through 5th year are direct with
Consumer Priority Extended Warranty Service (CPS)
as they are HDTV Supplys extended warranty provider. They are a large 3rd party repair company with facilities throughout the U.S. and offer our U.S. customers unparalleled product coverage and repairs. If after calling HDTV Supply, at 800-841-9238, we find we can't fix the issue over the phone, and you need a repair, you will henceforth deal directly with CPS for the repairs via their toll free phone number (800) 905-0443 Option 3 during the 4th and 5th year.
Read
HDTV Supplys Warranty Terms and Conditions
and
Key Digitals Warranty Terms and Conditions
for more.
You can also
email CPS
and
email HDTV Supply
and
email KEY DIGITAL
as well as call us a 800-841-9238 if you have any questions with this 5 year bundled warranty.
Questions & Answers

Ask a question about the Key Digital KD-X200ProK HDBaseT/HDMI via Single CAT5e/6 or Call 800-841-9238


Key Digital KD-X200ProK HDBaseT/HDMI via Single CAT5e/6
Recently Viewed Items