Key Digital KD-Pro16 Ultra-HD / 4K HDMI Cable







Compliancy up to HDCP 2.2 and backward compliant

4096x2160 or 3840x2160 24/25/30Hz at 4:4:4 and 50/60Hz at 4:4:4

Capability to pass 3D stereoscopic signal formats

5-Year HDTV Supply Upgraded Warranty

Free Lifetime Telephone, CHAT, TEXT and Email Tech Support

Part # KD-Pro16

Usually ships the same business day

Today's Price: $54.00
Features
Key Digital KD-Pro16 Ultra-HD / 4K HDMI Cable with HDR10, HDCP 2.2, Ethernet & ARC Support (16')
16 ft. HDMI Cable12 ft. HDMI Cable (4K@60Hz/18G/444/CL3/FT4, 26AWG)
NOTE: HDTV Supply is proud to be an Authorized Reseller of Key Digital Products and provide Key Digitals 3 YEAR WARRANTY along with our Free HDTV Supply Lifetime Telephone Tech Support.HDTV Supply also upgrades their 3-Year Warranty to a 5-YEAR WARRANTY at no cost to you and we will Price Match if you find a lower price from an Authorized Key Digital Reseller conforming to the specs on this product page.
Key Digital KD-Pro16 Ultra-HD / 4K HDMI Cable with HDR10, HDCP 2.2, Ethernet & ARC Support (16') Features:
4K/18G/444/60Hz/HDR10/HDCP2.2
HDR10 (High Dynamic Range): More life-like images through a greater range of luminance levels
HDCP 2.2: Compliancy up to HDCP 2.2 and backward compliant
Ultra HD/4K Support: 4096x2160 or 3840x2160 24/25/30Hz at 4:4:4 and 50/60Hz at 4:4:4
Ethernet Channel: 100 Mb/s Ethernet between two HDMI connecting devices
Audio Return Channel: Audio can be returned from display back to HDMI source for amplification and display
3D Support: Capability to pass 3D stereoscopic signal formats
Deep Color Support: Up to UHD/4K 24/25/30Hz 4:4:4/12 bits or 50/60Hz 4:4:4/8 bit
Bandwidth: 18Gbps for support of latest HDMI standards
OPEN EYE™ Technology: Certified & tested for low loss and noise-free performance
Support All Digital Audio Formats: Dolby® TrueHD, Dolby® Digital Plus, Dolby® Atmos and DTS-HD Master Audio™
Why not buy this Key Digital KD-Pro16 Ultra-HD / 4K HDMI Cable with HDR10, HDCP 2.2, Ethernet & ARC Support (16') today?
Warranty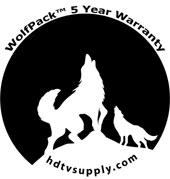 HDTV Supply
includes a
WolfPackCare
5 Year U.S. Limited Extended Warranty on this product. There are two bundled parts to this 5 year warranty. The 5 year warranty is only for the main device you purchased and does not include any product options or additional products you purchased at the same time.
FIRST THROUGH THIRD YEAR:
The first part of the warranty is a 3-year warranty direct with Key Digital ay 855-539-3444. The warranty states that the Product will perform substantially in accordance with the supplied written materials and Product information located on this Product web site page for a period of 3-years from the date of shipment of the Product and that the Product will be free from defects in materials & workmanship under normal use & service for a period of 3-years from date of shipment.
In order to get a warranty replacement for a defective item within the 3-years call Key Digital at 855-539-3444.
4th THROUGH 5th YEAR:
The 4th through 5th year are direct with
Consumer Priority Extended Warranty Service (CPS)
as they are HDTV Supplys extended warranty provider. They are a large 3rd party repair company with facilities throughout the U.S. and offer our U.S. customers unparalleled product coverage and repairs. If after calling HDTV Supply, at 800-841-9238, we find we can't fix the issue over the phone, and you need a repair, you will henceforth deal directly with CPS for the repairs via their toll free phone number (800) 905-0443 Option 3 during the 4th and 5th year.
Read
HDTV Supplys Warranty Terms and Conditions
and
Key Digitals Warranty Terms and Conditions
for more.
You can also
email CPS
and
email HDTV Supply
and
email KEY DIGITAL
as well as call us a 800-841-9238 if you have any questions with this 5 year bundled warranty.
Ask a Question
Questions & Answers

Ask a question about the Key Digital KD-Pro16 Ultra-HD / 4K HDMI Cable or Call 833-WOLFPACK (833-965-3722)


FAQ

Reasons To Buy an Key Digital Product
Why not buy this Key Digital KD-Pro16 Ultra-HD / 4K HDMI Cable today?
Key Digital KD-Pro16 Ultra-HD / 4K HDMI Cable
See Up To 20 Of Your Recently Viewed Items Below