Features
This
Key Digital KD-CATHD250POH Power over HDBaseT/HDMI "Lite POH" via Single CAT5e/6 Extender
allows extensions of 1080p/60, 1920x1200, 3D signals up to 200 ft. on CAT5e/UTP; 250 Ft on CAT6/STP with KD-CAT6STP1X cable. 4K signal extension is 120 ft. with all cabling. KD-CATHD250Lite/POH carry IR and RS-232 for controlling remotely located equipment.
The FatCAT model KD-CATHD250Lite utilizes HDBaseT Technology for reliable long distance signal extension of full HD, 3D, 4K, IR, and RS-232 control signal via a single CAT cable. Key Digital′s extenders auto-adjust, equalization and amplification as needed, depending on the length of cabling utilized and signal strength.
NOTE:
This product has been discontinued. See the above SIMILAR Tab for equivalent products or, if not there, call us at 800-841-9238 right now.
HDTV Supply is proud to be an Authorized Reseller of Key Digital Products and only through Authorized Resellers can you get a LIFETIME WARRANTY on all Key Digital Products along with our Free HDTV Supply Lifetime Telephone Tech Support
.
Key Digital KD-CATHD250POH Power over HDBaseT/HDMI "Lite POH" via Single CAT5e/6 Extender Features:
Extends: HDBaseT/HDMI via Single CAT5e/6 cable
Control Signal Extension: Uni-directional IR (Tx to Rx) OR bi-directional RS-232 control via 3.5mm stereo connection on Tx and Rx units; includes one KD-IRE3501F IR Emitter to control IR controllable devices
Power Extension: From Tx to Rx with Power Over HDBaseT

Rx unit does not require power supply

HDBaseT: Utilized on CAT5e/6 RJ45 output
Signal Extension::

Up to 250 feet @ 1080p/60, 1920x1200 via KD-CAT6STP1X CAT6/STP
Up to 210 feet @ 1080p/60, 1920x1200 via CAT5e/UTP cable
Up to 120 feet @ Ultra HD/4K (2160p/24) via KD-CAT6STP1X CAT6/STP

3D Ready: Capability to pass 3D stereoscopic signal formats
Ultra HD/4K: 2160p/24 video resolution support for 4K-capable televisions and commercial applications such as Digital Movie Theaters, CAD, Post Production
Auto Adjustment: Equalization depending on the length of cabling used
Lossless Compressed Digital Audio: Dolby TrueHD, Dolby Digital Plus and DTS-HD Master Audio
Deep Color Support: 8-Bit at 2160p/24; 12-Bit at 480p/720p/1080i/1080p
CEC Support: To the main input and output HDMI channel.
I2C Communication: EDID and HDCP transparency from Display to Source
Licensing: Fully licensed and compatible with all HDMI and HDCP technologies
Cabling Requirements: Standard UTP CAT5, 5e or CAT6 cabling

For all installations, we highly recommend use of KD-CAT6STP1X STP cabling, especially in hostile electrical environments
The shield of CAT6STP must be soldered on both ends to the shield of RJ45 connector used. The CAT5/5e/6 cable has to be terminated according to TIA/EIA-568-B standard. The use of STP CAT5, 5e is not recommended
Why not buy this Key Digital KD-CATHD250POH POE HDBaseT/HDMI Extender today?
Compatibility
Tech Note: Please email us for recommended cable box source devices if integrating KD-CATHD250Lite with legacy Cable/Sat set top boxes in point-to-point applications (ie. Set Top Box to Tx to Rx to Display)
3D
HDTV Supply is a leader in supplying 3D equipment for this new, fast growing 3DTV market. Our test lab includes the latest equipment for designing, testing and supporting 3D video equipment. The chips sets we use support the below 3D formats and work with many of our HDMI 1.3 and HDMI 1.4 compliant devices. This KD-2x1CSK supports these 3D formats:
Side-by-Side 3D Format
Top-and-Bottom 3D Format
Blu-ray 3D Format
Frame packing
and more
We not only test this device with lab equipment we also test many of our 3D devices with 3D products you are likely to use. The products used for the test are:
Sony PS3 with the 3D 3.41 firmware
Samsung model PN50C7000YF 3DTV
Samsung model BD-C6900 3D Blu-ray player FORCED to 1080p
Samsung model SSG-P2100T 3D glasses
DirecTV models HR21-100 and the HR24 high definition receiver.
It works with all HDMI devices including the new 3D units.
The 3D viewing results were awesome in our lab and did not have any picture or audio degradation. The normal and standard (2D) results equally exhibited a superb picture quality.
Why not buy this Key Digital KD-2x1CSK 4K 2x1 HDMI Switch today?
Warranty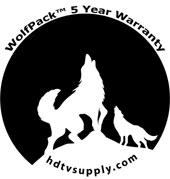 HDTV Supply
includes a
WolfPackCare
5 Year U.S. Limited Extended Warranty on this product. There are two bundled parts to this 5 year warranty. The 5 year warranty is only for the main device you purchased and does not include any product options or additional products you purchased at the same time.
FIRST THROUGH THIRD YEAR:
The first part of the warranty is a 3-year warranty direct with Key Digital ay 855-539-3444. The warranty states that the Product will perform substantially in accordance with the supplied written materials and Product information located on this Product web site page for a period of 3-years from the date of shipment of the Product and that the Product will be free from defects in materials & workmanship under normal use & service for a period of 3-years from date of shipment.
In order to get a warranty replacement for a defective item within the 3-years call Key Digital at 855-539-3444.
4th THROUGH 5th YEAR:
The 4th through 5th year are direct with
Consumer Priority Extended Warranty Service (CPS)
as they are HDTV Supplys extended warranty provider. They are a large 3rd party repair company with facilities throughout the U.S. and offer our U.S. customers unparalleled product coverage and repairs. If after calling HDTV Supply, at 800-841-9238, we find we can't fix the issue over the phone, and you need a repair, you will henceforth deal directly with CPS for the repairs via their toll free phone number (800) 905-0443 Option 3 during the 4th and 5th year.
Read
HDTV Supplys Warranty Terms and Conditions
and
Key Digitals Warranty Terms and Conditions
for more.
You can also
email CPS
and
email HDTV Supply
and
email KEY DIGITAL
as well as call us a 800-841-9238 if you have any questions with this 5 year bundled warranty.