Key Digital KD-CAT6STP350 350 ft. Spool Cable Non Plenum Blue






Key Digital KD-CAT6STP350 350 ft. Spool Cable Non Plenum Blue

Free Shipping & 5-Year HDTV Supply Upgraded Warranty

Free Lifetime Telephone, CHAT, TEXT and Email Tech Support

Part # KD-CAT6STP350

Today's Price: $780.00
Features
Key Digital KD-CAT6STP350 350 ft. Spool Cable Non Plenum Blue
High Performance CAT6a/STP Cabling 350 ft. Spool (Non Plenum Blue)
NOTE:
This product has been discontinued. See the above SIMILAR Tab for equivalent products or, if not there, call us at
833-WOLFPACK (833-965-3722)
right now to discuss your needs.
Key Digital KD-CAT6STP350 350 ft. Spool Cable Non Plenum Blue Features:
Applications: HDBaseT, 10GBaseT, 1GBase-T, 100Base-T; 10Base-T
Twisted Pairs: 4 individually aluminum-foil screened & overall braid-shielded to an S/FTP form
Link Channel Bandwidth: 500 MHz
Standards: CAT6A as described in ANSI/TIA-568-C.1. and ISO/IEC 11801, 2nd Ed
Supported distance: 100 m (330 feet) for 10GBaseT networking, 121 m (400 feet) for HDBaseT
LED Head with Equalization: On lengths 30 ft. and up
Conductor Size: 23 AWG Bare Copper
Internal Shield Material: Aluminum-Mylar Tape
Overall Shield Material: Tinned-Copper Braid
Conductor Color Code: Standard
Total Wires: 8
Diameter: 7.20 mm or 0.28346 in
Designed to work with: Key Digital Digital IQ Series HDBT/HDMI via CAT6a Matrix Switchers and FatCAT Series Extenders to ensure improved syncing / stable signals
Strain-relief neck: Acts as drain-wire connectivity point
2-piece connector: Includes plastic insert for each wire in respective standard
Utilize: Reliable long distance HD video signals and up to 10GBaseT networks
Future-proofs: Any LAN installation by ensuring high-performance voice, data, video and security capabilities for cabling in noisy environment
Category CAT6a: defined at link frequencies up to 500 MHz

Category CAT6a performs at improved specifications, in particular in the area of alien crosstalk as compared to CAT6 UTP (unshielded twisted pair), which exhibited high alien noise in high frequencies.
When used for 10/100/1G/10GBASE-T, the maximum allowed length of a CAT6a cable is 100 meters or 328 feet. This consists of 90 meters (300 ft.) of solid "horizontal" cabling between the patch panel and the wall jack, plus 10 meters (33 ft.) of stranded patch cable between each jack and the attached device. Since stranded cable has higher attenuation than solid cable, exceeding 10 meters of patch cabling will reduce the permissible length of horizontal cable. When used with Key Digital HDBaseT Switchers or/and extenders the maximum allowed length is 121 meters or 400 feet.
Works great in hostile alien crosstalk environment, such as when many cables are bundled together. However, because the effects of alien crosstalk environments on cables are difficult to determine prior to installation, it is highly recommended that all CAT6a cables used for 10GBASE-T be electrically tested once installed. With its improved specifications, CAT6a does not have this limitation and can run 10GBASE-T at 100 meters (330 ft.) without electronic testing.
Why not buy this Key Digital KD-CAT6STP350 350 ft. Spool Cable Non Plenum Blue today?
Specs
Key Digital KD-CAT6STP350 350 ft. Spool Cable Non Plenum Blue Specifications:
Compliance:

ANSI/TIA-568-C.2 CAT.6; ISO/IEC 11801 CLASS E
Flame retardant according to: IEC 60332-1-2
RoHS per EU Directive 2002/95/EC
Listed: UL/cUL

Construction:

Conductor: Copper; Size Bare: 23AWG
Insulation: Foam-Skin PE; Thickness Nominal: 0.414 mm; Diameter Nominal: 1.387 mm; Colors: BluelWhite, Orange/White, Green/White, Brown/White; Unaged Elongation: Min. 100%; Unaged Tensile Strength: Min. 0.816 Kgf/mm2
Screen: Aluminum-Mylar tape and tinned copper braid
Jacket: Flame Retardant PVC; Thickness Nominal: 0.5 mm; Diameter Nominal: 7.2 mm; Color: Blue; Unaged Elongation: Min. 100%; Unaged Tensile Strength: Min. 1.407 Kgf/mm2; Aging at 100°C for 168 Hrs: Min. elongation retention: 5O%, Min. tensile strength retention: 75%

Electrical:

Dielectric Strength of Insulation: 1500 V dc 1 2 seconds
Insulation Resistance Test: Min. 5000 M.Km
Conductor Resistance: Max.9.38 /1OOm at 20°C
Resistance Unbalance: Max. 2%
Capacitance Unbalance: Max. 160 pF/100m
Mutual Capacitance: Max. 5600 pF/100m
Impedance: 772kHz - 125+ 20%; 1~250MHz - 100+ 15%
Warranty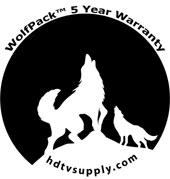 HDTV Supply
includes a
WolfPackCare
5 Year U.S. Limited Extended Warranty on this product. There are two bundled parts to this 5 year warranty. The 5 year warranty is only for the main device you purchased and does not include any product options or additional products you purchased at the same time.
FIRST THROUGH THIRD YEAR:
The first part of the warranty is a 3-year warranty direct with Key Digital ay 855-539-3444. The warranty states that the Product will perform substantially in accordance with the supplied written materials and Product information located on this Product web site page for a period of 3-years from the date of shipment of the Product and that the Product will be free from defects in materials & workmanship under normal use & service for a period of 3-years from date of shipment.
In order to get a warranty replacement for a defective item within the 3-years call Key Digital at 855-539-3444.
4th THROUGH 5th YEAR:
The 4th through 5th year are direct with
Consumer Priority Extended Warranty Service (CPS)
as they are HDTV Supplys extended warranty provider. They are a large 3rd party repair company with facilities throughout the U.S. and offer our U.S. customers unparalleled product coverage and repairs. If after calling HDTV Supply, at 800-841-9238, we find we can't fix the issue over the phone, and you need a repair, you will henceforth deal directly with CPS for the repairs via their toll free phone number (800) 905-0443 Option 3 during the 4th and 5th year.
Read
HDTV Supplys Warranty Terms and Conditions
and
Key Digitals Warranty Terms and Conditions
for more.
You can also
email CPS
and
email HDTV Supply
and
email KEY DIGITAL
as well as call us a 800-841-9238 if you have any questions with this 5 year bundled warranty.
Ask a Question
Questions & Answers

Ask a question about the Key Digital KD-CAT6STP350 350 ft. Spool Cable Non Plenum Blue or Call 833-WOLFPACK (833-965-3722)


FAQ

Reasons To Buy an Key Digital Product
Why not buy this Key Digital KD-CAT6STP350 350 ft. Spool Cable Non Plenum Blue today?
Key Digital KD-CAT6STP350 350 ft. Spool Cable Non Plenum Blue
Scroll Left & Right To See 20 Of Your Recently Viewed Items Below

(:|12BUSPCA|)