Features
Key Digital KD-MLV4X2 4 Inputs to 2 Outputs MultiView Seamless Matrix Switcher
The 4x2 4K Multi-View Seamless Matrix Switcher from Key‑Digital is a seamless multi-format video matrix with UHD/4K resolution, up-scaling, multi-view window processing, audio de-embedding, independent audio from video matrix selection, and HDCP 2.2 compliance. It creates and stores custom multi-view layouts and recall custom presets in 1080p (2K) multi-view mode. The HDMI and HDBaseT outputs are independent in full-screen and quad-screen modes. It is designed to fit a variety of professional video installation and live event needs. The switcher is suitable for digital signage, video wall, conference & board room, huddle spaces, home theater, and bar/restaurant applications.
NOTE:
This product has been discontinued. See the above SIMILAR Tab for equivalent products or, if not there, call us at
833-WOLFPACK (833-965-3722)
right now to discuss your needs.
Key Digital KD-MLV4X2 4 Inputs to 2 Outputs MultiView Seamless Matrix Switcher Features:
HDMI Matrix Switching: 4 HDMI/Analog sources to 2 HDMI outputs,
independent in full-screen and quadrant modes
Seamless Switching: Un-interrupted screen transitions during source selections in full-screen mode or multi-view modes
Resolution Support: Supports SD, HD, and VESA input resolutions up to 1080p / 1920x1200 on HDMI and analog video Inputs
Analog to Digital Video Conversion: Analog video input ports support VGA / DB15 or Component / YPbPr signal types
Ultra HD/4K Up-scaling: Outputs independently upscale to Ultra HD/4K
in 4K Quadrant mode
Multi-View Window Processing: Create & store custom multi-view layouts,
recall custom presets in 1080p (2K) Multi-View mode


Quadrant Mode (4K or 2K): Independent outputs in four equally-sized windows
Multi-View Mode (2K): Linked/mirrored outputs in customized screen layout

Image Layering: Stack images with customizable priority settings
Window Transparency and Border: View content through each other and choose window bezel width and coloring
Web Control Interface: Reduces installation time and provides basic and advanced video and audio setup
Audio De-Embed: Audio from the selected input is be de-embedded through the Coax digital (PCM) output in addition to the HDMI output
Independent Video & Audio Matrixing: Listen to any audio source while
in quadrant or multi-view modes
Full Buffer System™: Manages TMDS re-clocking / signal re-generation, HDCP authentication to source & display, and EDID Control handshake
EDID: Internal library with 5 default EDID configurations for input, in addition to native EDID data for any Output / Display
TMDS re-clocking: Support for long HDMI connectivity using Key Digital® HDMI cables
Deep Color Support: Up to 12 bits/color
Licensing: Fully licensed and compatible with HDMI up to 4KUHD/60Fps and HDCP 1.0 to HDCP 1.4 technologies. For HDCP 2.2 sources use KD-HDFIX22 in conjunction with this product.
Control: Front panel buttons, Serial IR, Optical IR, RS-232, TCP-IP and Web Control, including discrete power ON/OFF via IR, RS-232, and TCP-IP
Control System Support: Compass Control®, AMX®, Control4®, Crestron®, KNX®, RTI®, Savant, URC®, Honeywell®, HAI®, Leviton®, etc.
Why not buy this Key Digital KD-MLV4X2 4 Inputs to 2 Outputs MultiView Seamless Matrix Switcher today?
Warranty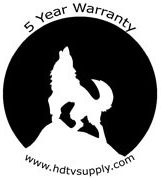 HDTV Supply
includes a
WolfPackCare
5 Year U.S. Limited Extended Warranty on this product. There are two bundled parts to this 5 year warranty. The 5 year warranty is only for the main device you purchased and does not include any product options or additional products you purchased at the same time.
FIRST THROUGH THIRD YEAR:
The first part of the warranty is a 3-year warranty direct with Key Digital at 855-539-3444. The warranty states that the Product will perform substantially in accordance with the supplied written materials and Product information located on this Product web site page for a period of 3-years from the date of shipment of the Product and that the Product will be free from defects in materials & workmanship under normal use & service for a period of 3-years from date of shipment.
In order to get a warranty replacement for a defective item within the 3-years call Key Digital at 855-539-3444.
4th THROUGH 5th YEAR:
The 4th through 5th year are direct with
Consumer Priority Extended Warranty Service (CPS)
as they are HDTV Supplys extended warranty provider. They are a large 3rd party repair company with facilities throughout the U.S. and offer our U.S. customers unparalleled product coverage and repairs. If after calling HDTV Supply, at 800-841-9238, we find we can't fix the issue over the phone, and you need a repair, you will henceforth deal directly with CPS for the repairs via their toll free phone number (800) 905-0443 Option 3 during the 4th and 5th year.
Read
HDTV Supplys Warranty Terms and Conditions
and
Key Digitals Warranty Terms and Conditions
for more.
You can also
email CPS
and
email HDTV Supply
and
email KEY DIGITAL
as well as call us a 800-841-9238 if you have any questions with this 5 year bundled warranty.