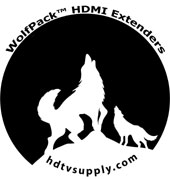 This WolfPack™ One Channel
HDMI to ATSC & QAM Adapter
allows you to easily distribute content up to 1080p resolution over the existing TV coax cables to an unlimited number of displays using the TVs built in QAM/ATSC tuner. It eliminates the need for cumbersome and expensive set-top-boxes or media players at each display. The single channel HDMI to ATSC Adapter also supports QAM, DVB-C & T, ASTC and ISDB-T. You can easily expand the number of TV channels at any time by simply adding more HDMI to ATSC Adapters going to a simple coax splitter attached to on the coax outputs.
NOTE: This product has been discontinued. See the above SIMILAR Tab for equivalent products or, if not there, call us at 833-WOLFPACK (833-965-3722) right now to discuss your needs.
This HDMI to ATSC / QAM Modulator is an all-in-one device includes MPEG-2 encoding and modulation to convert HDMI audio/video signals into DVB-C / DVB-T / ATSC / ISDBT with an RF out & dynamic switching. The low cost HDMI to ATSC encoder allows a single HDMI audio/video signal input to be distributed to applications encompassing home entertainment, surveillance control, Digital Signage, Mom-&-Pop shops, etc. The sources could be from satellite receivers, closed-circuit television cameras, Blue-ray players, etc. Its output signal is received by the TVs ATSC / QAM Tuner input. It is superb for adding a security video channel or information channel to over-the-air TV signals that can be viewed by hotel guests or apartment tenants.
The setup and control of the HDMI to ATSC Modulator is via a secure WEB GUI preventing others from changing the settings. This saves tech support calls and visits. The built-in web server allows you to access network and video quality settings. Other modulators have controls on the unit with buttons that can be easily changed by anyone causing outages and tech support visits to set it back up.
What Sets our WolfPack Single Channel HDMI to ATSC / QAM Adapter Apart From Others:
Supports QAM, DVB-C & T, ASTC and ISDB-T
Sends one source to multiple displays with one modulator via coax splitter
Secure Web GUI Setup and Control
Supports the latest 1080p HDMI version 1.4
Supports the latest 1080p HDCP version 1.4
1-Year Warranty
Lifetime Telephone Tech Support from the USA
Lifetime TEXT Support from the USA
You don't have to Submit a Ticket to get support, just call or TEXT us
30 Day Open Box Returns
Free UPS Insured Ground Shipping
Quantity discounts
This WolfPack HDMI to ATSC / QAM modulator is easily configured using a web browser when directly connected with a PC using Ethernet cable. Its web control panel provides all the detailed control functions such as DTV system selection (ATSC, DVB-T, DVB-C, DMBT, ISDB-T), TV channel frequency, channel name and so on.
BEWARE:
This WolfPack Single Channel HD ATSC RF Modulator supports 2-Channel AC3 Dolby Digital. Others mislead you and don't mention theirs also is 2-channel as they only say Dolby Digital. Theirs is 2-channel also.
HDMI to ATSC Adapter Features:
One (1) Channel HDMI input for encoding to the coax output
Also includes one (1) digital RF input for cascading
HDMI version 1.4
HDCP version 1.4
MPEG-2 SD/HD video encoding
Latency: Encoding latency about 1 second
MPEG1 Layer II, AAC, AC3 audio encoding
CC (closed caption) EIA608 supported
Transmission mode (FFT): 2K, 8K (applied in DVB-T modulation)
RF output level: -63~-16dBm (44~91 dBuV), 1dB step
MER ≥35dB
RF frequency: 100~1000MHz, 1KHz step
DVB-C/T/ASTC/ISDBT RF in one device, DVB-C/T/ASTC/ISDBT modulation dynamic switching
Easy operation with Web GUI management
HDTV Modulator supports up to 1080p
Supports the ATSC digital TV standard
Supports 2-channel AC3 and AAC audio
Comes with wall-mount brackets
This HDMI to RF ATSC Adapter converts your local AV and HDMI signal into an RF signal for distribution over coaxial cables. The consumer HDMI to ATSC Adapter is designed to make your HD or AV Device use more convenient, productive and cost-efficient.
The HDMI to ATSC Modulator can do digital coding processing for HDMI with DTV technology. The HDMI to ATSC Adapter adopts RF modulation technology characteristic to transmit the multiple RF signal through one common coax cable for long distance transmission without amplification. The HDMI to ATSC Adapter can distribute your HD or AV source to HD resolution to an unlimited number of displays over almost any distance. By adding a DTV network mixer at the RF cable you can easily achieve a large number of displays or DTVs.
Why not buy this HDMI to ATSC Adapter today?