Features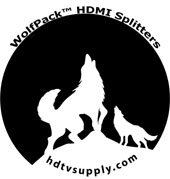 HDTV Supplys WolfPack
HDMI over IP Extender
with POE adopts standard Ethernet TCP/IP protocol and transmits HD video and audio over single CAT6 cable and support One-to-many applications with POE Ethernet switches. The equipment has excellent image processing and transmission capacity, makes signal transmission smooth and steady and is a cheap way of HDMI signal extension.
This HDMI over IP Extender with POE extends audio and video signals up to 100ft using a Cat5e/6 cable and for convenience, includes an IR and equalizer. Extending your signals using Cat5e/Cat6 cables saves you money and is easier to run through walls and other compact areas. The HDMI extender includes an IR, which allows you to locate your Blu-ray, DVD player, or any other HDMI enabled device into another area of the room, such as a cabinet and have the ability to control it without pointing at the cabinet. The equalizer allows you to adjust the video signal to view your content at the highest quality. These extenders can be used in homes, offices, restaurants, bars, and any location that you need to run an audio/video signal over longer distances.
The installation of the HDMI to CAT6 Converter is quick and easy, simply place Sender unit next to your HDTV source such as a DVD player, place the Receiver unit next to your display, then connect only one CAT6 cable and you are done, the signal will be sent over the CAT6 cable with perfect video quality.
What sets our HDMI over CAT6 Converter from the competition:
The HDMI to CAT6 Converter can extend HDMI audio & video up to 330 feet
Alternately it can be connected into a managed LAN
By buying the above additional HDMI receivers you can connect multiple TVs over a LAN via a router - See above MORE PICTURES Tab
Used with another router it can extend 120M longer
Turn key install: For less than $200 you get a TRANSMITTER and RECEIVER....just add cables
Auto install: no software needed.
Uses M-JPEG technology to process image compression
HDMI over IP Extender with POE Features:
Transmits HDMI video and audio signals up to 200M over a single CAT6 cable
Supported HDMI formats:

480i @ 60Hz
480p @ 60Hz
576i @ 50Hz
576p @ 50Hz
720p @ 50/60Hz
1080i @ 50/60Hz
1080p @ 50/60Hz

Support over TCP/IP protocol: One-to-many applications with POE switches
Compliance with HDMI 1.3 and HDCP 1.2 standard;
Support for external IR expansion
Support for POE
High compatibility as auto-matches source and display device
Built-in automatic adjustment system that makes the image smooth, clear & stable
Built-in ESD protection system
Simple to install, plug and play
Why not buy this HDMI over IP Extender with POE today?
Government
This product may be eligible to be purchased through the United States Governments SEWP program, similar to their GSA program.
The NASA SEWP (Solutions for Enterprise-Wide Procurement) provides the latest in Information and Communications Technology (ICT) and Audio-Visual (AV) products and services for all Federal Agencies and their approved contractors.
If you are a government agency and want to see whether HDTV Supply has this product in the SEWP database go to our
our SEWP Contract Holder RedHawk IT Solutions, LLC
to allow you to maybe order this product from the United States Governments SEWP program. It is very easy to place your order, go to the link above and enter HDTV Supply and there you will see a list of part numbers of what we currently have. If you do not see it than give us a call at 833-WOLFPACK (833-965-3722) and we may be able to enter it.
Our SEWP Contract Holder RedHawk IT Solutions partner has the following credentials:
DUNS: 801957023
TIN: 260452583
CAGE: 4TBM6
Their SEWP Federal Contracts are:
SEWP Contract Number: NNG15SD38B
Group: Group B_SDVOSB
NAICS: 541519
and
SEWP Contract Number: NNG15SD88B
Group: Group C
NAICS: 541519
The SEWP Program Office manages a suite of government-wide IT products and services contracts that enable NASA and all Federal Agencies to achieve their missions and strategic initiatives by providing streamlined access to critical technologies and solutions. The Program provides best value for the Federal Government and American taxpayer through innovative procurement processes, premier customer service and outreach, acquisition insight, and partnership with Government entities and Industry.
For a complete listing of HDTV Supply products from us, or our other vendors, call 833-WOLFPACK (833-965-3722).