WolfPack HDMI & DVI Scaler - Scales HDMI / DVI Up or Down to match your TV




Upscale or Downscale an HDMI or DVI Signal

Allows sending a 1080p signal to a 480p TV

Allows sending a 480p signal to a 1080p TV

...or any resolution between & similar with audio

5 Year Warranty & Free Lifetime U.S. Telephone Tech Support
Features
HDTV Supplys WolfPack
HDMI Scaler
can automatically detect all the below HDMI resolutions and then down convert or upconvert and scale with the needed resolution to match the native resolution of the connected display. Our HDMI Scaler can be used to down convert or scale the displays with an acceptable resolution to match the displays that are incapable of outputting resolutions, and it can also be used to adjust HDMI image or Audio in all kinds of displays.
The WolfPack HDMI Scaler simply connects to the HDMI or DVI input of your video display and ensures that every source you feed it appears reliably and beautifully. Just insert the HDMI Scaler into the incoming video signal path and it intelligently converts and enhances that signal for optimal appearance on your display. The HDMI / DVI Scaler also converts or cross-converts Digital Coaxial audio and 3.5mm Analog Stereo to Digital Coaxial audio and 3.5mm Analog Stereo
WolfPack HDMI / DVI Upscaler and Downscaler Features:
These HDMI Inputs...

480i@60Hz
480p@60Hz
576i@50Hz
576p@50Hz
720p@50/60Hz
1080i@50/60Hz
1080p@50/60Hz


...and these HDMI Graphic Resolution Inputs:

640x480@60Hz
800x600@60Hz
1024x768@60Hz
1280x720@60Hz
1280x768@60Hz
1280x960@60Hz
1280x1024@60Hz
1360x768@60Hz
1366x768@60Hz
1400x1050@60Hz
1440x900@60Hz
1600x900@60Hz
1680x1050@60Hz
1920x1080@60Hz


...Can Be Converted To These HDMI Outputs:

1080p@60Hz
1080p@50Hz
720p@60Hz
720p@50Hz&
576p@50Hz
480p@60Hz
1680x1050@60Hz
1440x900@60Hz
1366x768@60Hz
1280x1024@60Hz
1024x768@60Hz
800x600@60Hz
640x480@60Hz
The HDMI / DVI Scaler is used extensively with our large HDMI matrix switchers when a system has, say, 7 - 1080p HDMI sources, 7 - 1080p widescreens and one 720p projector and needs the projector HDMI signal scaled to 720p vs. buying a new projector or lowering all the source resolutions to 720p. A similar application is sending one HDMI through a splitter when the widescreens are mixed resolutions.
Specs
The HDMI & DVI Scaler accepts an HDMI input with a separate Toslink or analog audio and scales it to HDMI (at a number of selectable resolutions) with additional Toslink and analog audio output.
This HDMI & DVI Scaler has a comprehensive OSD menu that allows user to select a variety of output resolutions and adjust for best picture quality. It is ideal for using between incompatible HDMI source and display by changing picture resolution and frame rate of HDMI source to match the native resolution of the HDMI display. Any HDMI input resolution could be up-converted up to 1080p or down converted as well to any resolution (listed in the technical specifications).
Scale HDMI video:
The HDMI & DVI Scaler Converter lets you connect your HDMI output source (Blu-ray player, etc.) to the scaler input port, then connect the scaler output port to an HDMI-capable display. Configuration is simple, with a convenient on-screen display that lets you select the desired output resolution as necessary.
Scale DVI video:
The HDMI & DVI Scaler can also be used with DVI video sources, using a DVI to HDMI cable or adapter for both video input and output signals; the corresponding audio signal can be connected to and from the scaler through either Toslink (digital) or the 3.5mm audio port(analog) as needed.
Separate HDMI into DVI with audio:
A cost-effective solution, the HDMI & DVI Scaler eliminates the expense of upgrading a DVI display for the sake of compatibility with an HDMI output device, allowing you to separate an HDMI signal into discrete DVI and digital/analog audio.
Combine DVI video with Audio for HDMI output:
The HDMI & DVI Scaler also accepts DVI video input along with the corresponding audio, for output as a single HDMI signal - saving the cost of a display upgrade for the sake of HDMI convenience.
The HDMI & DVI Scaler accepts an HDMI input with a separate Toslink or analog audio and scales it to a HDMI output at a number of selectable resolutions, with additional Toslink and analog audio outputs.
Accessories
WOLFPACK 4K HDMI CABLES



DVI to HDMI Cable - Many Lengths - Premium 1080p

Price: $99.95

Today's price:

$29.95

(You Save: 70%)
Compatibility
One of the most common problems we have seen on setups that use HDMI splitters or HDMI matrices to display content on multiple screens is that one of the displays does not match the resolution of the other displays. For example, one display may support up to a 720p resolution, while the rest of the displays may support up to 1080p.
Since the EDID handshake requires the splitter to send out an identical signal to all the displays, when the splitter detects that one display only supports 720p, it then sends an identically inferior 720p signal to all of the 1080p displays.
Most of the time this goes unnoticed. But for people that do pride themselves on image quality, this is very noticeable, and can lead to very embarrassing situations. Especially when watching High Definition content such as Blu-Ray Discs, or any other gatherings where top image quality is critical, since the lower resolution will make all the other displays look inferior. The solution
To solve this unavoidably embarrassing problem, the solution is to use an HDMI to HDMI Scaler between your splitter and your 720p display. The way a HDMI to HDMI Scaler works is that it receives a 1080p signal, and converts it into a 720p signal. The splitter is forced to send a 1080p signal to all the displays because it thinks that all of the displays are the same resolution.
Why not buy this HDMI to HDMI Scaler today?
Similar
HDMI Resolution Changer

Price: $235.00

Today's price:

$183.00

(You Save: 22%)

WolfPack Universal AV Converter

Price: $399.95

Today's price:

$224.95

(You Save: 44%)
Warranty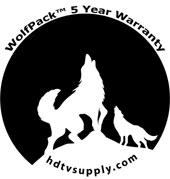 HDTV Supply
includes a 5 Year U.S. Limited Warranty on this product. There are two bundled parts to this 5 year warranty. The 5 year warranty is only for the main device you purchased and does not include any product options or additional products you purchased at the same time.
FIRST YEAR:
The first year is direct with HDTV Supply at 800-841-9238. The warranty states that the Product will perform substantially in accordance with the supplied written materials and Product information located on this Product web site page for a period of 1 year from the date of shipment of the Product and that the Product will be free from defects in materials & workmanship under normal use & service for a period of 1 year from date of shipment.
In order to get a warranty replacement for a defective item within the first year call HDTV Supplys Tech Support Team with your order number at 800-841-9238 and they will verify the product is eligible for a warranty repair. An RMA number will then be issued via email. Shipped replacements will be in like new condition, tested and all components included. Please read
HDTV Supplys Warranty Terms and Conditions
for more.
2ND THROUGH 5TH YEAR:
The 2nd through 5th year are direct with
Consumer Priority Extended Warranty Service (CPS)
as they are HDTV Supplys extended warranty provider. They are a large 3rd party repair company with facilities throughout the U.S. and offer our U.S. customers unparalleled product coverage and repairs. If after calling HDTV Supply, at 800-841-9238, we find we can't fix the issue over the phone, and you need a repair, you will henceforth deal directly with CPS for the repairs via their toll free phone number (800) 905-0443 Option 3 during the 2nd through 5th year.
You can also
email CPS
and
email HDTV Supply
as well as call us a 800-841-9238 if you have any questions with this 5 year bundled warranty.
Ask a Question
Questions & Answers

Ask a question about the WolfPack HDMI & DVI Scaler - Scales HDMI / DVI Up or Down to match your TV or Call 800-841-9238


WolfPack HDMI & DVI Scaler - Scales HDMI / DVI Up or Down to match your TV
Recently Viewed Items