1X4 HDMI Distribution Amplifier




1X4 HDMI Distribution Amplifier - Stackable

3 Year Shinybow Warranty Upgraded to 5 Years

Lifetime USA Telephone Tech Support
This
SB-5654 1X4 HDMI Distribution Amplifier
is a one input, four output HDMI distribution amplifier featuring equalized TMDS input & pre-emphasized TMDS outputs.
NOTE:
This product has been discontinued. See the above SIMILAR Tab for equivalent products or, if not there, call us at 800-841-9238 right now to discuss your needs.
SB-5654 1X4 HDMI Distribution Amplifier Features:
INPUT: 1x HDMI
OUTPUT: 4x HDMI
Supports HDCP
High Signal Bandwidth
Support HD Resolution
Auto Scan use state
Digital Signal Amp
Power : DC +12V 350mA
W-D-H : 12" x 6" x 1-3/4" inches
This SB-5654 1X4 HDMI Distribution Amplifier supports HDMI V1.1/V1.2 for a high definition digital of TMDS signal support with HDCP. The 1X4 HDMI Distribution Amplifiers support data rates up to 1.65Gbps, enabling 1080p HDMI formats and UXGA(1600x1200) DVI/HDMI resolution which is ideally suited for High Definition LCD Television or Plasma display applications.
These SB-5654 HDMI splitters are HDCP compatible; however, you must verify your source and destination devices support (or don't support) HDCP encryption. Essentially, HDCP compliant devices will only transmit to or receive from other devices with HDCP coding. These HDMI splitters will also work if neither device is HDCP compatible.
Why not buy a stackable SB-5654 1X4 HDMI Distribution Amplifier today?
SB-5654 1:4 HDMI Distribution Amplifier Specs:
Type of Distributor: 1x4 HDMI Distribution Amplifier
Signal Supports: HDMI Standard, DVI, and HDCP Compliant
Video Supported: 1080p HDMI formats and DVI UXGA 1600x1200 HD resolutions
Audio Supported: DTS-HD Master Audio, Dolby True - HD & Dolby Digital Plus
Type of Signal: TMDS Digital Video PCM Digital Audio
Compliant with HDMI stanrdard: HDMI and HDCP
HDTV Support: 1080p HDMI formats and UXGA 1600x1200 resolution
Controls: Select buttons on the front panel, IR remote and IR extender
Data Rates: 250Mbps to 2.25Gbps. Pixel clocks: 25MHz to 225 Mhz
HDMI Cable Distance: 10 meters at 2.25 Gbps
Various video input interface supporting digital video standards such as:

RGB/YCBCR: 24/30/36-bits
YCBCR: 8/10/12/16/20/24-bits
Double data rate interface for RGB/YCBCR: 12/15/18-bits

Infrared frequency: 38KHz
Safety Approvals: CE, FCC, ROHS(2002/95/EC)
The SB-5654 1:4 HDMI Distribution Amplifier works with:
Any high definition Dish Network and DirecTV receiver with HDMI outputs
High definition TiVo's with HDMI outputs
Any high definition cable receiver with HDMI outputs
Canadian Rogers, Shaw, Bell ExpressVu and Star Choice receivers with HDMI out, or DVI out with a converter
Any "Over The Air" (OTA) high definition receiver with HDMI outputs
Sony PS3, HD DVD and Blu-ray DVD players
Any Xbox360 with HDMI outputs
Any upconverting DVD player with HDMI outputs
Any DVHS VCR with HDMI outputs
An APPLE TV with HDMI outputs
A VuDu with HDMI outputs
Any PC video card with HDMI outputs
Any high definition camcorder with an optional type C to standard HDMI cable
Many A/V surround sound receivers with HDMI switching that include the proper chip set. Call your AV receiver supplier to discuss your application or us.
Any HDCP compliant HDTV, monitor and projector. If the source is HDCP compliant and your TV is not, you will not get a picture. Please check your TV manual or the manufacturers web site.
and other similar devices.
Shinybow SB-5654K 1x4 HDMI UHD 4K2K Distribution Amp with Scaler

Price: $398.00

Today's price:

$258.66

(You Save: 35%)

1x4 HDMI Splitter with EDID & Built-in Booster - 4K

Price: $299.94

Today's price:

$99.95

(You Save: 67%)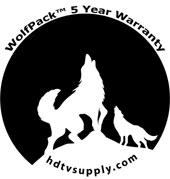 HDTV Supply
includes a
WolfPackCare
5 Year U.S. Limited Extended Warranty on this product. There are two bundled parts to this 5 year warranty. The 5 year warranty is only for the main device you purchased and does not include any product options or additional products you purchased at the same time.
FIRST YEAR THROUGH THIRD YEAR WARRANTY:
The first three years are direct with Shinybow at
RMA Request
. The 3-year warranty states that the Product will perform substantially in accordance with the supplied written materials and Product information located on this Product web site page for a period of 3 years from the date of shipment of the Product and that the Product will be free from defects in materials & workmanship under normal use & service.
4TH THROUGH 5TH YEAR WARRANTY:
The 4th through the 5th year are direct with
Consumer Priority Extended Warranty Service (CPS)
as they are HDTV Supplys extended warranty provider. They are a large 3rd party repair company with facilities throughout the U.S. and offer our U.S. customers unparalleled product coverage and repairs. If after calling HDTV Supply, at 800-841-9238, we find we can't fix the issue over the phone, and you need a repair, you will henceforth deal directly with CPS for the repairs via their toll free phone number (800) 905-0443 Option 3 during the 4th and 5th year.
You can also
email CPS
and
email HDTV Supply
as well as call us a 800-841-9238 if you have any questions with this 5 year bundled warranty.
Questions & Answers

Ask a question about the 1X4 HDMI Distribution Amplifier or Call 800-841-9238


1X4 HDMI Distribution Amplifier
Recently Viewed Items