WolfPack 4K HDMI Booster Plus - 1 Year Warranty




4K rated HDMI BOOSTER PLUS w/optional AC adapter

Amplifies, equalizes & restores the 4K HDMI signal to 100 feet

High speed 340MHz/3.4Gbps per channel needed for 4K and 3D

Optional +5 volt DC adapter

1 Year Warranty and U.S. Lifetime Telephone Tech Support


Part # HDTV4PETRTN

Today's Price: $179.95
Features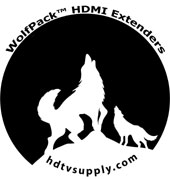 HDTV Supplys WolfPack
4K rated HDMI BOOSTER PLUS
extends a 4K HDMI cable and still is able to the maintain the highest 4K at 30 Hz video quality and resolution. This WolfPack 4K HDMI booster uses a custom chip which will guarantee the specific resolution. This WolfPack HDMI booster works only at the end, or near the HDTV, not at the source device. The HDMI booster is placed near the display to remove any noise that has been generated by a long HDMI cable.
NOTE:
This product has been discontinued. See the above SIMILAR Tab for equivalent products or, if not there, call us at 800-841-9238 right now to discuss your needs.
If you are not getting a picture with a long 4K HDMI cable or you are getting sparkles, these boosters will allow you to see your HDMI video and hear your audio. This HDMI BOOSTER PLUS corrects digital errors and provide an 8 dB input equalization to compensate for cable transmission losses. It eliminates digital noise (sparkles) to ensure you to receive a perfect HDTV picture even after using long HDMI cables.
How the WolfPack 4K HDMI Signal Booster Plus works:
You connect the HDMI cable on one side of the HDMI extender and the displays cable on the other side. The HDMI extender sits between the end of your HDMI cable and your display, NOT AT THE SOURCE.
NOTE:
Your source device must have +5 volts available to power our WolfPack 4K HDMI Booster Plus or buy the above optional USB DC power supply with an output of 5V @ 1A (USB).
WolfPack 4K HDMI BOOSTER-PLUS Features:
Integrated signal amplifier for extending 4K HDMI cables up to 100 feet at 4K @ 30Hz
Self-powered active circuitry for fast, easy, elegant installation
Supports Full 3D and 4K@30Hz resolution
Supports 340MHz/3.4Gbps per channel (10.2Gbps all channels) bandwidth
Supports 12bit per channel (36bit all channels) deep color
Supports HDCP pass through
Supports Consumer Electronics Control function
Supports uncompressed audio such as LPCM7.1
Supports compressed audio such as DTS, Dolby Digital (including DTS-HD Master AudioTM and Dolby TrueHD).
Ultra slim design
High speed 340MHz / 3.4Gbps per channel > (10.2Gbps all channel) bandwidth
2D and 3D compatible
Supports HDMI 1.4
Supports highest video resolution 1080p
Supports 340MHz/3.4Gbps per channel (10.2Gbps all channel) bandwidth
Supports 12bit per channel (36bit all channel) deep color.HDCP pass-through
Iron Shell for better EMI elimination.Support uncompressed audio such as LPCM
Supports compressed audio such as DTS Digital, Dolby Digital(including DTS-HD and Dolby True HD)
Unique designed structure for better connection.
Extends your HDMI cable to >100 feet at 4K at 30 Hz resolution
Restores a poor HDMI signal
HDCP compliant to pass an encrypted signals
AC powered or can be optionally powered by the HDMI source internal +5V
1080p rated
Can work with DVI also with a DVI to HDMI adapter
Optional USB power supply
NOTE:
24AWG or thicker (lower AWG number) similar to our HDMI cables are HIGHLY RECOMMENDED for best performance with this HDMI Booster Plus. Some devices will require thicker gauge, category 2 cables to work with this HDMI Booster Plus.
Your video is only as good as the HDMI extender that connects it. Why not buy this 4K HDMI BOOSTER-PLUS today?
Specs
4K HDMI BOOSTER-PLUS Specs:
Input Video Signal: 5 Volts p-p (TTL)
Maximum Single Link Range: 4K at 30 Hz
Output Video: HDMI 1.4
HDMI Input/Output Connector: Type A 19 pin
Vertical Frequency Range: 50/60Hz
Video Amplifier Bandwidth: 3.4Gbps/340MHz
Resolutions(HDTV): Interlaced(50&60Hz) 480i,576i,1080i
Resolutions(HDTV): Progressive(50&60Hz) 480p,576p,720p,1080p AND 4k AT 30 hZ
Easy to use. Plug and Play.
DVI compatible with use of adapters.
1 year factory direct manufacturers warranty.
4K HDMI signal booster Package contains:
4K HDMI Booster
Instructions
Compatibility
This 4K HDMI BOOSTER-PLUS can be used to boost the signal from the following devices:
Any high definition Dish Network and DirecTV receiver with HDMI outputs
High definition TiVo's with HDMI outputs
Any high definition cable receiver with HDMI outputs
Canadian Rogers, Shaw, Bell ExpressVu and Star Choice receivers with HDMI out, or DVI out with a converter
Any "Over The Air" (OTA) high definition receiver with HDMI outputs
Sony PS3, HD DVD and Blu-ray DVD players
Any Xbox360 with HDMI outputs
Any upconverting DVD player with HDMI outputs
Any DVHS VCR with HDMI outputs
An APPLE TV with HDMI outputs
A VuDu with HDMI outputs
Any PC video card with HDMI outputs
Any high definition camcorder with an optional type C to standard HDMI cable
Many A/V surround sound receivers with HDMI switching that include the proper chip set. Call your AV receiver supplier to discuss your application or us.
Any HDCP compliant HDTV, monitor and projector. If the source is HDCP compliant and your TV is not, you will not get a picture. Please check your TV manual or the manufacturers web site.
and other similar devices.
Refurbished
Three refurbished units for $79.95 - Call in your order today at 800-841-9238 as only 3 left
Similar

HDMI Booster w/Power Supply - Built-in Equalizer for Better Picture - BEST
$75.00


HDMI Cable Booster - Voltage Inserter for AV Receivers & PC/Laptops
Price: $99.95


Today's price:

$59.95

(You Save: 40%)
Q/A
Q: I don't get video with my PC video card and my Onkyo AV receiver, will this HDMI booster with EDID work?
A:
Yes, PC video cards and AV Surround sound receivers are notorious for not conforming to the HDMI spec of providing enough voltage and current to drive the capacitance in long HDMI cables. We have seen many Pioneer, Yamaha, Onkyo, Integra and other AV receivers who can't drive long HDMI cables due to their poor HDMI amp design. This HDMI booster with EDID and an AC adapter will be able to offset that problem if you are not getting a signal when using a long HDMI cable. HDMI cable gauges also play a major effect and they should be 24 or 22 AWG.
Q: Where do I place the HDMI Booster?
A:
This HDMI booster works only at the end, or near the HDTV, not at the source device. The HDMI booster is placed near the display to remove any noise that has been generated by a long HDMI cable. Connect the output of the source device into the input of HDMI Repeater and connect the output to the HDMI display unit. The 4K HDMI Repeater is put close to the HDMI display unit (Input cables are optional)
Warranty

Click Here for Product Warranty
Ask a Question
Questions & Answers

Ask a question about the WolfPack 4K HDMI Booster Plus - 1 Year Warranty or Call 833-WOLFPACK (833-965-3722)


WolfPack 4K HDMI Booster Plus - 1 Year Warranty
Scroll Left & Right To See 20 Of Your Recently Viewed Items Below

(:HDMI-BOOSTER :HDMI-CABLE-BOOSTER)