AVPro Edge AC-MX82-AUHD-RM 8x2 Rack Matrix & Auto Switch




18Gbps Bandwidth Support

Full HDR Support (HDR 10 & 12 Bit)

Dolby Vision, HDR10+ and HLG Support

Advanced EDID Management

Free Shipping & 10-Year AVPro Edge Warranty

Part # AC-MX82-AUHD-RM

Usually ships the same business day

Today's Price: $1,399.00
Features
AVPro Edge AC-MX82-AUHD-RM 8x2 Rack Matrix & Auto Switch
This AVPro Edge AC-MX82-AUHD-RM 8x2 Rack Matrix & Auto Switch 8 HDMI input, 2 HDMI output Matrix Switcher. Engineered for 4K60 (4:4:4) at 18Gbps video distribution, with auto sensing switching and 4K to 1080p downscaling. This is for the "Standard" chassis, if you need the rack mountable chassis.
Ideal for overcoming AVR problems - In today's fast moving, high-bandwidth, video market there is often a need to send high bitrate, bit stream audio into AVR's to take advantage of audio advances like Dolby Atmos or DTS-X. The problem is the AVR's, while especially well suited for audio, lack the robust ability to manage high-bandwidth HDR video. This simple switch will allow you bypass full, un-scaled, uncompressed video on to displays or projectors and simultaneously down-scale one output to lower bandwidth video while maintaining the original untouched audio codecs, making it ideal for sending this second HDMI signal into an AVR. Auto-Switching (Conferencing) - Ideally suited for conference rooms or environments where you want the matrix to simply switch to the active input, or activate when a device is plugged in. BYOD applications are growing, and this unit is ideally suited to manage this type of environment.
Auto switching mode can be configured:
Both outputs auto switch together
Only one output auto switches.
NOTE - In either mode output 1 can be down-scaled to accommodate a room where one display is 1080P and another is 4K.
4K Up/Down Scaling ~ This technology is managed on output two. This will allow you to downscale 4K sources to 1080p. This completely eliminates the problem that all other matrices have that forces them to "dumb down" the entire system even if there is only one old 1080P display.
Extreme EDID Management ~ With 29 on board EDID's, including HDR EDID's, not getting a picture is simply a thing of the past. You can manage the input side of the switch by selecting a preloaded EDID. We also have the ability to INSTANTLY read an EDID from any connected display and apply it to the desired input, all with the push of a button. Goodbye EDID problems...
Dual Audio De-Embedding ~ Our unique Audio De-Embedding allows:
The user can extract 2 Channel audio from the L/R Ports. NOTE: the Analog Port only supports 2CH PCM - for down-mixing check out AC-ADM-AUHD or AC-ADM-COTO
It features a digital optical toslink output for support for 7CH LPCM, Dolby Digital, Dolby Digital +, DTS, DTS Master Audio.
Extracted audio routing is bound to the output of your choosing (extracted audio switches with the video)
AVPro Edge AC-MX82-AUHD-RM 8x2 Rack Matrix & Auto Switch Features:
HDMI 2.0(a/b)
18Gbps Bandwidth Support
4K60 4:4:4 Support
Full HDR Support (HDR 10 & 12 Bit)
Dolby Vision, HDR10+ and HLG Support
HDCP 2.2 (and all earlier versions supported)
4K > 1080p Down Scaler (Out 1)
Perfect AVR Bypass deliver 18Gbps to Display and uncompressed audio to AVR
Advanced EDID Management
IR, RS-232 and LAN Control Options
Digital Toslink Out (7CH PCM, DD, DTS)
Balanced Analog Out (2CH PCM)
Down-scaling mode for mixed systems
Driver Support for Crestron, C4, RTI, ELAN and more
Extracted Audio Supports DD+, DTS Master Audio on Toslink
Extracted Audio bound to output 1 or 2
Why not buy this AVPro Edge AC-MX82-AUHD-RM 8x2 Rack Matrix & Auto Switch today?
Specs
AVPro Edge AC-MX82-AUHD-RM 8x2 Rack Matrix & Auto Switch Specifications: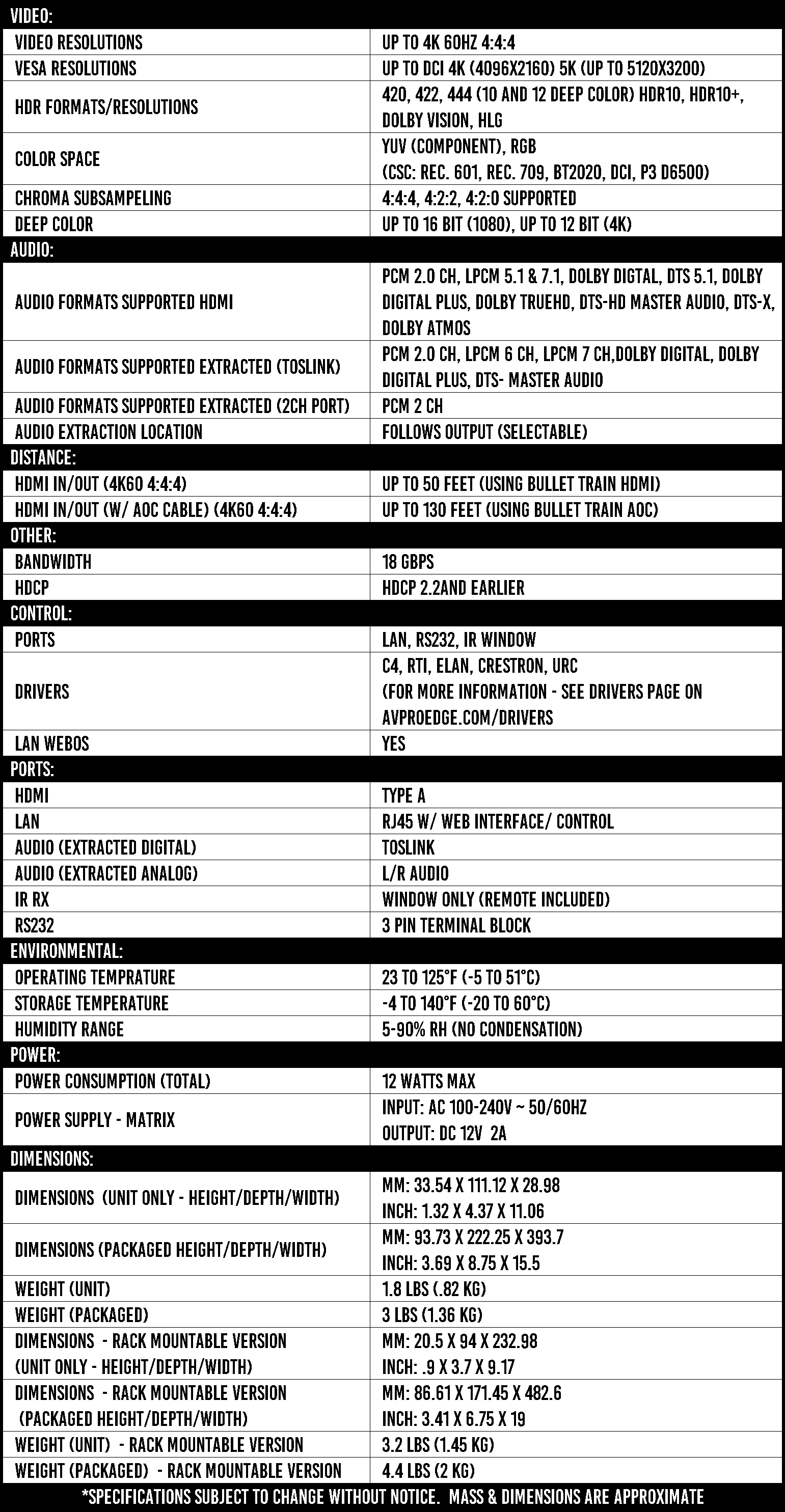 Why not buy this AVPro Edge AC-MX82-AUHD-RM 8x2 Rack Matrix & Auto Switch today?
Warranty

Click Here for Product Warranty
Ask a Question
Questions & Answers

Ask a question about the AVPro Edge AC-MX82-AUHD-RM 8x2 Rack Matrix & Auto Switch or Call 833-WOLFPACK (833-965-3722)


FAQ

Reasons To Buy an AVPro Edge Product
Government
This product may be eligible to be purchased through the United States Governments SEWP program, similar to their GSA program.
The NASA SEWP (Solutions for Enterprise-Wide Procurement) provides the latest in Information and Communications Technology (ICT) and Audio-Visual (AV) products and services for all Federal Agencies and their approved contractors.
If you are a government agency and want to see whether HDTV Supply has this product in the SEWP database go to our
our SEWP Contract Holder RedHawk IT Solutions, LLC
to allow you to maybe order this product from the United States Governments SEWP program. It is very easy to place your order, go to the link above and enter HDTV Supply and there you will see a list of part numbers of what we currently have. If you do not see it than give us a call at 833-WOLFPACK (833-965-3722) and we may be able to enter it.
Our SEWP Contract Holder RedHawk IT Solutions partner has the following credentials:
DUNS: 801957023
TIN: 260452583
CAGE: 4TBM6
Their SEWP Federal Contracts are:
SEWP Contract Number: NNG15SD38B
Group: Group B_SDVOSB
NAICS: 541519
and
SEWP Contract Number: NNG15SD88B
Group: Group C
NAICS: 541519
The SEWP Program Office manages a suite of government-wide IT products and services contracts that enable NASA and all Federal Agencies to achieve their missions and strategic initiatives by providing streamlined access to critical technologies and solutions. The Program provides best value for the Federal Government and American taxpayer through innovative procurement processes, premier customer service and outreach, acquisition insight, and partnership with Government entities and Industry.
For a complete listing of HDTV Supply products from us, or our other vendors, call 833-WOLFPACK (833-965-3722).
AVPro Edge AC-MX82-AUHD-RM 8x2 Rack Matrix & Auto Switch
Scroll Left & Right To See 20 Of Your Recently Viewed Items Below