Atlona 8 port HDMI Splitter with EDID




Split HDMI up to 8 TVs

EDID learning mode provides a solution for incompatibilities and
intermittent signals

10 Year Warranty & Free U.S. Based Lifetime Tech Support
Atlona AT-HDDA-8 is a 1 x 8 HDMI Distribution Amplifier is one of the best amplifiers and it is capable of supporting Ultra HD (4Kx2K). This camera is nice in because it neutralizes the rivalry between analogue and digital technology. This functionality in the Ultra HD (4Kx2K) is enabled by the presence of an 8 zones area within the amplifier. These 8 zones are made in a unique way such that they are able to accommodate both analogue and digital devices. The amplifier has gained its popularity because it has got an audio de-embedding that makes it ideal for signage and Tv Showrooms. This amplify is also highly trusted because it uses a cutting edge resolution that has got an Ultra HD resolution.

1 x 8 HDMI Distribution Amplifier has got the most digital features such as HDDA-8 passes 4KX2K and the DTS-HD Master audio. The resolution of this amplifier that has been indicated here; is the highest resolution that is available for amplifiers in the market currently. This is one of the encouraging reasons as to why you need to buy this amplifier and not any other. Other very important features of the 1 x 8 HDMI Distribution Amplifier includes the 3D that has got 48-bit deep color plus the Dolby True HD.

The 1 x 8 HDMI Distribution Amplifier has got the reference EDID that is got from the first connected mirrors and output display. This is very important in ensuring that the A/V signal operates well without any kind of interruptions. Another reason as to why this amplifier has become very much reliable is the availability of redundant power supply, power connectors and the locking HDMI. Another very important feature of the 1 x 8 HDMI Distribution Amplifier is the 1xaudio screw. It is this feature that makes it produce commercial sound that can be used at various venues such as entertainment venues, sports bar plus any other hospitality venues.


AT-HDDA-8 Specifications:
Bandwidth: 10.2Gbps
Video: up to 4K x 2K - VESA: up to 1920 x 1200
Audio: passes through up to Dolby TrueHD or DTS-HD Master Audio
Distance with HDMI Cables: 30 feet or 10 meters
Rack Size: 1U
HDCP Compliant: YES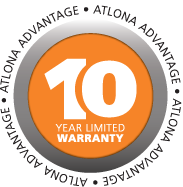 HDTV Supply and Atlona have teamed up and offers a 10 Year Warranty on all NEW Atlona Electronic Products and a Lifetime Warranty on cable products when Atlona products are purchased from this HDTV Supply site.
HDTV Supply and Atlona have teamed up and warrants Atlona products will substantially perform to their published specifications and will be free from defects in materials and workmanship under normal use, conditions and service. Under its Limited Product Warranty, Atlona, at its sole discretion, will either (a) repair or facilitate the repair of defective products within a reasonable period of time, restore products to their proper operating condition and return defective products free of any charge for necessary parts, labor and shipping or (b) replace and return, free of charge, any defective products with direct replacement or with similar products deemed by Atlona to perform substantially the same function as the original products or (c) refund the pro-rated value based on the remaining term of the warranty period, not to exceed MSRP, in cases where products are beyond repair and/or no direct or substantially similar replacement products exist. Repair, replacement or refund of Atlona's products is the purchaser's exclusive remedy and Atlona's liability does not extend to any other damages, incidental, consequential or otherwise.
This Limited Product Warranty extends to the original end-user purchaser of Atlona's products and is non- transferable to any subsequent purchaser(s) or owner(s) of these products and the Limited Product Warranty Period begins on the date of purchase by the end-purchaser. The date contained on the end-purchaser 's sales or delivery receipt is the proof purchase date. For more info contact Atlona at 877-536-3976 or HDTV Supply at 800-841-9238.
Questions & Answers

Ask a question about the Atlona 8 port HDMI Splitter with EDID or Call 800-841-9238


Atlona 8 port HDMI Splitter with EDID
Recently Viewed Items