Atlona AT-HDCAT-8 1X8 HDMI Over CAT5 Splitter




Atlona AT-HDCAT-8 2x8 HDMI HDBaseT Distribution Amp

Unbundled Receivers

10 Year Warranty & Free U.S. Based Lifetime Tech Support
This
Atlona's AT-HDCAT-8
2x8 HDMI HDBastT distribution amp over a single CAT Cable sends one source to many displays. The HDCAT enables you to send one source to multiple displays up to 230ft away. With built in audio loop outs to ensure all audio and video needs are met in zone and locally, the Atlona HDBaseT-Lite HDMI 2 by 8 Distribution Amplifier over a Single Category Cable ensure you can pass any audio from 2CH to uncompressed multi-channel and any video up to 1080p or 1920x1200.
AT-HDCAT-8 2x8 HDMI HDBastT Distribution Amp Features:
Powerful Smart Auto-Switching The HDCAT抯smart switching capability eliminates the need to manually change inputs. Simply power on/off a source device and the matrix conveniently switches automatically.
Go Further with More Extend your audio/visual experience up to 230ft. HDBaseT-Lite technology allows you to send power, video (up to 1080p or 1920x1200) and audio (all Lossy and Lossless formats) signals over a single category cable.
Power of One for All Leave behind the power cable on your receiver. With the latest feature of Power over Category cable (PoCc) the HDCAT transmits power to all the connected receivers over category cable.
Never too Many Displays With a built in local HDMI loop out, send your source to multiple HDCATs. Use one source signal for as many as 8 daisy chains.
Redundant power supply (optional - CALL)
EDID learning mode to ensure compatibility
Built in S/PDIF and Analog audio loop outs
Supports pass through of all 3D formats
Pass through support of all Lossy and Lossless audio (up to Dolby TrueHD or DTS-HD Master Audio).
Locking HDMI port
Field serviceable firmware port
Includes dual purpose wall/rack mount ears, IR remote
Why not buy the AT-HDCAT-8 2x8 HDMI HDBastT distribution amp today?

Key Features

Built in S/PDIF and Analog audio loop outs, enable you to send digital or stereo audio to an AVR or amplifier.

With the new PoCc (Power over Category cable) feature there's no need for a power source for your receiver; simply connect your receiver to the CAT5e/6/7 output on the HDCAT Matrix to power on.

With a built in local HDMI loop out, send your source to multiple HDCATs

Redundant power supply (optional).

HDTV Supply received back to our company today this product of which the buyer did not want and did not open the box. It is new and sold with a 10 year Atlona warranty, a 30 day No-Hassle return and Free U.S. Based Lifetime Tech support from us. You can buy it for 15% off the List Price and includes free UPS insured ground shipping within the U.S. 50 states. It ships from California. It is sold First Come-First-Serve and it won't last long so call 800-841-9238 right now and place your order.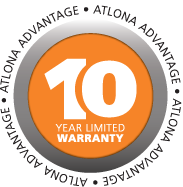 HDTV Supply and Atlona have teamed up and offers a 10 Year Warranty on all NEW Atlona Electronic Products and a Lifetime Warranty on cable products when Atlona products are purchased from this HDTV Supply site.
HDTV Supply and Atlona have teamed up and warrants Atlona products will substantially perform to their published specifications and will be free from defects in materials and workmanship under normal use, conditions and service. Under its Limited Product Warranty, Atlona, at its sole discretion, will either (a) repair or facilitate the repair of defective products within a reasonable period of time, restore products to their proper operating condition and return defective products free of any charge for necessary parts, labor and shipping or (b) replace and return, free of charge, any defective products with direct replacement or with similar products deemed by Atlona to perform substantially the same function as the original products or (c) refund the pro-rated value based on the remaining term of the warranty period, not to exceed MSRP, in cases where products are beyond repair and/or no direct or substantially similar replacement products exist. Repair, replacement or refund of Atlona's products is the purchaser's exclusive remedy and Atlona's liability does not extend to any other damages, incidental, consequential or otherwise.
This Limited Product Warranty extends to the original end-user purchaser of Atlona's products and is non- transferable to any subsequent purchaser(s) or owner(s) of these products and the Limited Product Warranty Period begins on the date of purchase by the end-purchaser. The date contained on the end-purchaser 's sales or delivery receipt is the proof purchase date. For more info contact Atlona at 877-536-3976 or HDTV Supply at 800-841-9238.
Questions & Answers

Ask a question about the Atlona AT-HDCAT-8 1X8 HDMI Over CAT5 Splitter or Call 800-841-9238


Atlona AT-HDCAT-8 1X8 HDMI Over CAT5 Splitter
Recently Viewed Items