Atlona 4 by 4 HDMI Matrix Switcher w/coax audio outs




Atlona 4 by 4 HDMI Matrix Switcher w/coax audio outs

See the below Refurbished for only $900 w/3 year warranty

If new, 10 Year Warranty & Free U.S. Based Lifetime Tech Support
This
Atlona AT-H2H-44M 4 by 4 HDMI Matrix Switcher
has multiple controls options, HD resolutions, and the best audio. The Atlona 4 by 4 HDMI Switcher is built for your home and professional needs. With the ability to pass 1080p, 1920x1200, all Lossy and Lossless audio formats (including Dolby TrueHD and DTS-HD Master Audio), full 3D and ARC, the AT-H2H-44M provides a full range of features that ensures the highest quality experience whether you're watching a movie, giving a presentation, and more.
The S/PDIF port on each of the 4-outputs is used for two audio options, ARC or matrix source audio de-embedding. When using one, the other is disabled. By default the matrix comes with ARC turned off on all ports, this enables the S/PDIF to de-embed audio from the matrix source. To switch between ARC and matrix source audio, ARC must be turned on or off. Enable or disable ARC through RS-232.
Atlona Atlona AT-H2H-44M 4 by 4 HDMI Matrix Switcher 4 by 4 HDMI Matrix Switcher Features:
Send any source to multiple outputs: with the H2H matrix any combination of inputs and outputs can be used
EDID™ learning function with multiple EDID memories to ensure picture and sound.
Programmable I/O memories: save multiple routes for faster switching to the most commonly used configurations
Built in internal EDID mode provides 12 individual EDIDs to ensure compatibility
ARC (Audio Return Channel) pass through
Digital audio de-embedding allows audio to be sent to a distribution amplifier or audio receiver through the S/PDIF port
Up to Dolby TrueHD and DTS-HD Master Audio pass through on HDMI
Compatible with DVI/D (with DVI/D to HDMI adapter such as AT14040), allowing DVI/D video source signal to be passed to displays
Multiple control interfaces such as RS-232, IR, TCP/IP, and the front panel
Pass through support of all 3D formats.
HDCP Compliant
Full 3D, Dolby TrueHD, and DTS-HD Master Audio pass through
S/PDIF for audio loop out
Audio Return Channel (ARC) pass through
Dual purpose wall/rack mount ears included
4 programmable EDID memory presets to enable faster switching.
Supports pass through of all 3D formats
Built in S/PDIF loop out to send your audio to an AVR or amplifier.
Supports pass through of all 3D formats
Pass through support of all Lossy and Lossless audio (up to Dolby TrueHD or DTS-HD Master Audio)
The Atlona AT-H2H-44M 4 by 4 HDMI Matrix Switcher is built in EDID compatibility: The AT-H2H-44M ensures compatibility with displays and manages EDID communication between sources and displays. The AT-H2H-44M automatically provides a compatible EDID at start up, and features an EDID learning function that can be customized for any connected component.

Future ready: The AT-H2H-44M feature a field serviceable firmware port that allows for quick and easy upgrades. This unit also is equipped with an Ethernet port that, once enabled via upgrade, will allow for TCP/IP control. (coming soon)
Why not buy this Atlona AT-H2H-44M 4 by 4 HDMI Matrix Switcher today?
Atlona AT-H2H-44M 4 by 4 HDMI Matrix Switcher Specifications:
Bandwith: 6.75Gbps
Power Consumption: 20.6W
Video

Video: up to 1080p@60Hz
VESA: up to 1920x1200

Dimensions (H x W x D)

1.74 x 17.25 x 10 (inch)
44.2 x 438 x 254 (mm)

Audio: passes through up to Dolby TrueHD or DTS-HD Master Audio
Weight
Distance: 30ft:
Operating Temperature

32˚F to 104˚F
0˚C to 40˚C

Rack Size: 1U
Storage Temperature

-4˚F to 140˚F
-20˚C to 60˚C
Atlona Atlona AT-H2H-44M 4 by 4 HDMI Matrix Switcher 4 by 4 HDMI Matrix Switcher Contents:
1 x AT-H2H Matrix Switcher
1 x IR Extender
1 x IR Remote Control
1 x Pair of dual purpose wall/rack mounts
1 x 24V/2.7A DC adaptor
1 x User Manual
Why not buy this Atlona AT-H2H-44M 4 by 4 HDMI Matrix Switcher today?

HDTV Supply received back to our company today this AT-H2H-44M of which the buyer did not want and did not open the box. It is new and sold with a 3 year Atlona warranty, a 30 day No-Hassle return and Free U.S. Based Lifetime Tech support from us. You can buy the AT-H2H-44M for $900. It ships from California. It is sold First Come-First-Serve and it won't last long so call 800-841-9238 right now and place your order.
Why not buy this Atlona AT-H2H-44M 4 by 4 HDMI Matrix Switcher today?
HDTV Supply is a leader in supplying 3D equipment for this new, fast growing 3DTV market. Our test lab includes the latest equipment for designing, testing and supporting 3D video equipment. The chips sets we use support the below 3D formats and work with many of our HDMI 1.3 and HDMI 1.4 compliant devices. This device supports these 3D formats:
Side-by-Side 3D Format
Top-and-Bottom 3D Format
Blu-ray 3D Format
Frame packing
and more
For explanation pictures see
3D Formats
.
We not only test this device with lab equipment we also test many of our 3D devices with 3D products you are likely to use. The products used for the test are:
Sony PS3 with the 3D 3.41 firmware
Samsung model PN50C7000YF 3DTV
Samsung model BD-C6900 3D Blu-ray player FORCED to 1080p
Samsung model SSG-P2100T 3D glasses
DirecTV models HR21-100 and the HR24 high definition receiver.
It works with all HDMI devices including the new 3D units.
The 3D viewing results were awesome in our lab and did not have any picture or audio degradation. The normal and standard (2D) results equally exhibited a superb picture quality.
Q: Does the AT-H2H-44M Matrix support ARC (Audio Return Chanel)?
A:
Yes. ARC can be routed from the display to the Matrix switch, and then out to a local AVR via the SPDIF output. The display must support ARC. You can enable ARC through RS232 and the front panel. (Refer to page 13 and 18 of the user抯manual)
Q: Is the AT-H2H-44M compatible with DVI Displays?
A:
Yes, as long as you have updated to firmware version 1.0.18 and above.
Q: Why am I only able to output PCM audio and nothing higher?
A:
This was a known issue to units loaded with firmware version 1.0.09 and older. You can upload the most up to date firmware version to fix this issue.
Q: What is the difference between default, saved and internal EDID?
A:
The default EDID is the combined EDID of all the displays attached to the matrix. The saved EDID option will require that you do an EDID learn from your display. The internal EDID (int) is a new feature that will force a predefined EDID (see manual for current EDID listings) to be pushed to the source.
Q: How do I get DTS or Dolby Digital out of the SPDIF outputs of the matrix?
A:
In order to get DTS or Dolby Digital, you can use the following internal EDID抯:
EDID 3 if you only need 1080P
EDID 6 if you need 1080P 3D
EDID 8 if you need 720P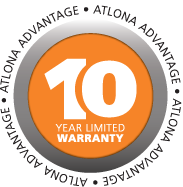 HDTV Supply and Atlona have teamed up and offers a 10 Year Warranty on all Atlona Electronic Products and a Lifetime Warranty on cable products when Atlona products are purchased from this HDTV Supply site.
HDTV Supply and Atlona have teamed up and warrants Atlona products will substantially perform to their published specifications and will be free from defects in materials and workmanship under normal use, conditions and service. Under its Limited Product Warranty, Atlona, at its sole discretion, will either (a) repair or facilitate the repair of defective products within a reasonable period of time, restore products to their proper operating condition and return defective products free of any charge for necessary parts, labor and shipping or (b) replace and return, free of charge, any defective products with direct replacement or with similar products deemed by Atlona to perform substantially the same function as the original products or (c) refund the pro-rated value based on the remaining term of the warranty period, not to exceed MSRP, in cases where products are beyond repair and/or no direct or substantially similar replacement products exist. Repair, replacement or refund of Atlona's products is the purchaser's exclusive remedy and Atlona's liability does not extend to any other damages, incidental, consequential or otherwise.
This Limited Product Warranty extends to the original end-user purchaser of Atlona's products and is non- transferable to any subsequent purchaser(s) or owner(s) of these products and the Limited Product Warranty Period begins on the date of purchase by the end-purchaser. The date contained on the end-purchaser 's sales or delivery receipt is the proof purchase date. For more info contact Atlona at 877-536-3976 or HDTV Supply at 800-841-9238.
Why not buy this Atlona AT-H2H-44M 4 by 4 HDMI Matrix Switcher today?
Questions & Answers

Ask a question about the Atlona 4 by 4 HDMI Matrix Switcher w/coax audio outs or Call 800-841-9238


Atlona 4 by 4 HDMI Matrix Switcher w/coax audio outs
Recently Viewed Items