This
1.5 Ft Atlona High Speed HDMI Cable with Ethernet
is unlike any cable you will find on the market. Supporting transfer rates beyond 10.2 Gbps at resolutions 4 times higher than standard 1080p (up to 4096 x 2160), this cable is designed to surpass all current standards of HDMI.
1.5 Ft Atlona High Speed HDMI Cable with Ethernet Features:
HDMI High Speed Cable with Ethernet
Atlona HDMI Cables are able to support extremely high resolutions much beyond standard 1080p or 1440p. Future proof for resolutions up to 4K or 4096x2160
Supports Video Bandwidth above latest HDMI Standards 387MHz (far beyond 10.2 Gbps)
Ethernet Data Channel allows devices to share a high speed network connection and internet connectivity without a separate Ethernet cable
Designed to support TV's with high refresh rates (up to 800MHz)
Due to high bandwidth video support, this cable is fully able to transfer 3D content. Experience true 3D movies from newer 3D enabled BluRay players
Audio Return Channel will allow the user to eliminate excess cables which are connecting the TV and audio receiver to single a HDMI cable
Supports all digital audio formats including Dolby TrueHD and DTS-HD Master Audio
Two meter cable jacket is surrounded with a nylon sleeve for cleaner exposed applications
Experience stunning colors, Dolby TrueHD & DTS-HD Master Audio and 100 Mb/sec Ethernet through our premium cables and you will understand just how much you have been missing. In the world of HD cables, no one can compete with Atlona quality. These cables have been certified for the latest HDMI specification, and cables above 15 feet are UL CL3 rated for in wall use and RoHS.
Why not buy this 1.5 Ft Atlona High Speed HDMI Cable with Ethernet today?
1.5 Ft Atlona High Speed HDMI Cable with Ethernet Specifications:
05M (1.5 ft.) round HDMI Cable construction
Dual-link bandwidth: 387 MHz (over 10.2 Gbps)
Separate Ethernet Data Channel which will allow high speed send/receive (up to 100 Mb/sec)
Audio Return Channel
Fully 3D compatible for future use
Supports 2K (2048x1556) and 4K (4096x2160) resolutions
24k Gold plated connectors ensures no signal loss
High-Purity Oxygen Free Copper conductors
High-Density triple shielding for maximum rejection of EMI and RFI
Ultra Flexible
RoHS Rated
HDCP Pass-through
UL CL3 certified - to be used for in-wall applications (for cables longer than 15 ft. only)
Black color
Warranty: Lifetime warranty
1.5 Ft Atlona High Speed HDMI Cable with Ethernet Applications:
Primarily used to connect BluRay & DVD players, HD satellite & cable boxes, LCDs, projectors, Plasma displays, HDTV's and much more. The New features of 3D and Ethernet enabled HDMI cables allows for information pass thru of optimized features of new BluRay players and LED/LCD HDTVs.

HDTV Supply received back to our company today this product of which the buyer did not want and did not open the box. It is new and sold with a 10 year Atlona warranty, a 30 day No-Hassle return and Free U.S. Based Lifetime Tech support from us. You can buy it for 15% off the List Price and includes free UPS insured ground shipping within the U.S. 50 states. It ships from California. It is sold First Come-First-Serve and it won't last long so call 800-841-9238 right now and place your order.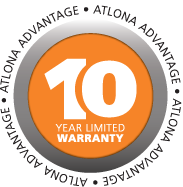 HDTV Supply and Atlona have teamed up and offers a 10 Year Warranty on all Atlona Electronic Products and a Lifetime Warranty on cable products when Atlona products are purchased from this HDTV Supply site.
HDTV Supply and Atlona have teamed up and warrants Atlona products will substantially perform to their published specifications and will be free from defects in materials and workmanship under normal use, conditions and service. Under its Limited Product Warranty, Atlona, at its sole discretion, will either (a) repair or facilitate the repair of defective products within a reasonable period of time, restore products to their proper operating condition and return defective products free of any charge for necessary parts, labor and shipping or (b) replace and return, free of charge, any defective products with direct replacement or with similar products deemed by Atlona to perform substantially the same function as the original products or (c) refund the pro-rated value based on the remaining term of the warranty period, not to exceed MSRP, in cases where products are beyond repair and/or no direct or substantially similar replacement products exist. Repair, replacement or refund of Atlona's products is the purchaser's exclusive remedy and Atlona's liability does not extend to any other damages, incidental, consequential or otherwise.
This Limited Product Warranty extends to the original end-user purchaser of Atlona's products and is non- transferable to any subsequent purchaser(s) or owner(s) of these products and the Limited Product Warranty Period begins on the date of purchase by the end-purchaser. The date contained on the end-purchaser 's sales or delivery receipt is the proof purchase date. For more info contact Atlona at 877-536-3976 or HDTV Supply at 800-841-9238.
Questions & Answers

Ask a question about the 1.5 Ft Atlona High Speed HDMI Cable w/Ethernet or Call 800-841-9238


1.5 Ft Atlona High Speed HDMI Cable w/Ethernet
Recently Viewed Items