Atlona AT-RGBF30R-IR VGA/Component Receiver Over Fiber




Atlona AT-RGBF30R-IR VGA/Component RS232 IR and Audio Receiver Module Over a Single Multi Mode Fiber

Discontinued but we have stock

10 Year Warranty & Free U.S. Based Lifetime Tech Support
Atlona AT-RGBF30R-IR VGA/Component RS232 IR and Audio Receiver Module Over a Single Multi Mode Fiber
The Atlona AT-RGBF30R-IR is a VGA or Component Video with RS232, IR and Audio receiver module with a single fiber optics input (multi-mode) and VGA/Component Video, RS232, IR and Audio female outputs. The AT-RGBF30R-IR is designed to work with AT-RGBF30S-IR transmitter module.
Atlona AT-RGBF30R-IR VGA/Component RS232 IR and Audio Receiver Module Over a Single Multi Mode Fiber Features:
Extra Long Distance Extension up to 1200ft @1080p or 1920x1200
VGA or Component Video Support. If component is used the VGA to Component Breakout Cable is required
DDC Support
High Resolution Video, Audio, DDC, RS232, IR and AUX Audio can be handled though a single fiber cable
RS232 Compatible
IR pass though from the receiver module to the transmitter module
UL Class A Certified, required by high class government and medical installations
Built in Equalizer, allows user to use modules in between switchers/splitters and other equipment of that sort
Perfect for Commercial, Government and medical Installations or for high-end residential.
Made in USA
Why not buy this Atlona AT-RGBF30R-IR VGA/Component RS232 IR and Audio Receiver Module Over a Single Multi Mode Fiber today?
Atlona AT-RGBF30R-IR VGA/Component RS232 IR and Audio Receiver Module Over a Single Multi Mode Fiber Specifications:
Resolution Support: up to 1080p or 1920x1200
DDC: Fully Supports
RGB Connector: HD15 (adaptable to Component Video)
RS232 Connector: harness style
AUX Audio connector: harness style
IR Connector: 3.5mm jack to be used with IR emitters up to 38kHz
Fiber Connector: Single Multi-Mode SC style
Power: 5V/1A
Weight (LB): 0.45
Warranty: 10 years parts and labor
Package Includes:

1 x AT-RGBF30R-IR
1 x Instructions Manual
Harness Style Adapter for RS232 and Audio
1 x 5V/1A Power Supply
Atlona AT-RGBF30S-IR VGA/Component Transmitter via Single Multi Mode Fiber - Limited Qty

Price: $1,369.99

Today's price:

$799.95

(You Save: 42%)

FIBER OPTIC CABLES



HDTV Supply received back to our company today this AT-RGBF30R-IR of which the buyer did not want and did not open the box. It is new and sold with a 10 year Atlona warranty, a 30 day No-Hassle return and Free U.S. Based Lifetime Tech support from us. You can buy it for 15% off the List Price and includes free UPS insured ground shipping within the U.S. 50 states. It ships from California. It is sold First Come-First-Serve and it won't last long so call 800-841-9238 right now and place your order.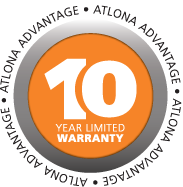 HDTV Supply and Atlona have teamed up and offers a 10 Year Warranty on all NEW Atlona Electronic Products and a Lifetime Warranty on cable products when Atlona products are purchased from this HDTV Supply site.
HDTV Supply and Atlona have teamed up and warrants Atlona products will substantially perform to their published specifications and will be free from defects in materials and workmanship under normal use, conditions and service. Under its Limited Product Warranty, Atlona, at its sole discretion, will either (a) repair or facilitate the repair of defective products within a reasonable period of time, restore products to their proper operating condition and return defective products free of any charge for necessary parts, labor and shipping or (b) replace and return, free of charge, any defective products with direct replacement or with similar products deemed by Atlona to perform substantially the same function as the original products or (c) refund the pro-rated value based on the remaining term of the warranty period, not to exceed MSRP, in cases where products are beyond repair and/or no direct or substantially similar replacement products exist. Repair, replacement or refund of Atlona's products is the purchaser's exclusive remedy and Atlona's liability does not extend to any other damages, incidental, consequential or otherwise.
This Limited Product Warranty extends to the original end-user purchaser of Atlona's products and is non- transferable to any subsequent purchaser(s) or owner(s) of these products and the Limited Product Warranty Period begins on the date of purchase by the end-purchaser. The date contained on the end-purchaser 's sales or delivery receipt is the proof purchase date. For more info contact Atlona at 877-536-3976 or HDTV Supply at 800-841-9238.
Questions & Answers

Ask a question about the Atlona AT-RGBF30R-IR VGA/Component Receiver Over Fiber or Call 800-841-9238


Atlona AT-RGBF30R-IR VGA/Component Receiver Over Fiber
Recently Viewed Items