Atlona HDMI Long Distance Wall Plate Extenders Over Cat5/6 (1080P up to 100ft)- Discontinued





Atlona HDMI Long Distance Wall Plate Extenders Over Cat5/6 (1080p up to 100ft)

2D and 3D compliant
This
Atlona HDMI Long Distance Wall Plate Extenders Over Cat5/6 (1080P up to 100ft)
allows you to transmit 1080p signals up to 80 feet over dual CAT5 cables & 100 feet if you can use CAT6.
Atlona HDMI Long Distance Wall Plate Extenders Over Cat5/6 (1080P up to 100ft) Key Features:
Extends the transmission range up to 130ft (40m) at full 1080p or 1920x1200 and 200ft (60M) at 1080i/720p
Supports all latest Audio formats such as Dolby True HD, DTS-master, etc
3D Compatible (all 7 formats), including the most popular e.g., Frame Packing, Side-by-Side, Top-to-Bottom, etc...
7 x Embedded EDID functions and Learning EDID function available. Learning function allows user to trick the source to think that it connected to the display rather than going through extenders. This advantage can fix a lot of EDID issues which may happened in a complicated installations with different components involved.
Supports Bi-Directional IR pass-through up to 60Khz, allows users not only send IR signals from remote location but also to remote location from a control system. Great for Control4 or RTI installers.
Supports VESA DDC and Hot-Plug Detect (HPD)
HDCP compatible
DVI 1.0 compliant, user will need to use DVI/HDMI adapter
Supports Deep Color
Allows cascading
Wall mounting housing design for easy and robust installation
Locking Power connector
The AT-HD-SR consists of sending and receiving units which are both PASSIVE. Most of the HDMI Extenders you will find do require power at least at one of the ends. The Atlona wall plates are based on a unique technology which allows full support of HDMI 1.3 specifications (Including high resolutions up to 1080p and HD Audio Formats).
Atlona HDMI Long Distance Wall Plate Extenders Over Cat5/6 (1080P up to 100ft) Installations:
Simply run 2 x CAT5 or CAT6 cables though the wall or use the existing wires. Attach the wall plates to a single gang wall boxes (one by the TV and another by the HDMI source). Connect HDMI cables to your equipment and you are all ready to go.
Why not buy this Atlona HDMI Long Distance Wall Plate Extenders Over Cat5/6 (1080P up to 100ft) today?
HDMI Long Distance Wall Plate Extenders Over Cat5/6 (1080P up to 100ft) Specs:
Transmitter Unit connections: HDMI input, 2 x Cat5/6 outputs
Receiving Unit connections: HDMI output, 2 x Cat5/6 inputs
HDMI Standard: HDMI 1.3b
Resolutions: Wall plates will support all resolutions up to 1080p
Distance: 100ft @ 1080p and 150ft @ 1080i (CAT6 cable is recommended)
Dimensions: fits single gang back box.
Color: White
Warranty:

3 years (parts and labor)
CAT6 Shielded Cable for HDMI Converters

$29.95

CAT6 Cable for HD Installs - CAT6 Made For HD

See Sale Price

CAT5E Shielded Cable for HDTV Installs - All Lengths

Price: $24.95

Today's price:

$19.95

(You Save: 20%)
This HDMI Long Distance Wall Plate Extenders Over Cat5/6 works with the following devices:
Any high definition Dish Network and DirecTV receiver with HDMI outputs
High definition TiVo's with HDMI outputs
Any high definition cable receiver with HDMI outputs
Canadian Rogers, Shaw, Bell ExpressVu and Star Choice receivers with HDMI out, or DVI out with a converter
Any "Over The Air" (OTA) high definition receiver with HDMI outputs
Sony PS3, HD DVD and Blu-ray DVD players
Any Xbox360 with HDMI outputs
Any upconverting DVD player with HDMI outputs
Any DVHS VCR with HDMI outputs
An APPLE TV with HDMI outputs
A VuDu with HDMI outputs
Many PC video cards with HDMI outputs
Any high definition camcorder with an optional type C to standard HDMI cable
Many A/V surround sound receivers with HDMI switching that include the proper chip set. Call your AV receiver supplier to discuss your application or us.
Any HDCP compliant HDTV, monitor and projector. If the source is HDCP compliant and your TV is not, you will not get a picture. Please check your TV manual or the manufacturers web site.
and other similar devices.

HDTV Supply received back to our company today this product of which the buyer did not want and did not open the box. It is new and sold with a 10 year Atlona warranty, a 30 day No-Hassle return and Free U.S. Based Lifetime Tech support from us. You can buy it for 15% off the List Price and includes free UPS insured ground shipping within the U.S. 50 states. It ships from California. It is sold First Come-First-Serve and it won't last long so call 800-841-9238 right now and place your order.

HDTV Supply has this in stock in our California warehouse so place your order at the above ADD TO CART button by 11AM PST and it can ship today or call us at 800-841-9238 to place your order.


HDTV Supply is a leader in supplying 3D equipment for this new, fast growing 3DTV market. Our test lab includes the latest equipment for designing, testing and supporting 3D video equipment. The chips sets we use support the below 3D formats and work with many of our HDMI 1.3 and HDMI 1.4 compliant devices. This device supports these 3D formats:
Side-by-Side 3D Format
Top-and-Bottom 3D Format
Blu-ray 3D Format
Frame packing
and more
For explanation pictures see
3D FORMATS
.
We not only test this device with lab equipment we also test many of our 3D devices with 3D products you are likely to use. The products used for the test are:
Sony PS3 with the 3D 3.41 firmware
Samsung model PN50C7000YF 3DTV
Samsung model BD-C6900 3D Blu-ray player FORCED to 1080p
Samsung model SSG-P2100T 3D glasses
DirecTV models HR21-100 and the HR24 high definition receiver.
It works with all HDMI devices including the new 3D units.
The 3D viewing results were awesome in our lab and did not have any picture or audio degradation. The normal and standard (2D) results equally exhibited a superb picture quality.
Q:
Why do your passive HDMI extenders not work at the specified distance as mentioned in your manuals and spec sheets?
A:
We constantly work with many manufacturers on a daily basis to design, recommend, and build solutions that work for everyday HDMI products. However, we do talk to customers who occasionally experience problems when using our passive HDMI extenders such as these or ones that have only one AC adapter, not 2. After doing extensive research and testing in our own lab, we have found that certain A/V receivers, Blu-ray, DVD, and HDMI Blu-Ray players that do not provide enough power (5V) through pin18 of HDMI and therefore causes loss of signal or poor picture quality. This is mainly due to a weak built-in HDMI booster and insufficient power supply.
We have found that these types of sources are limited on the output side and therefore may not work even with a HDMI cable over 10ft. Since our passive extenders rely completely off the power from the HDMI sources, please keep this in mind as equipment can differ due to varying power supplies and different manufacturing standards. For these type of scenarios we recommend either an
active powered extender
, or an in-line
HDSync
which correctly injects the proper 5V signal on the source side.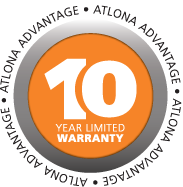 HDTV Supply and Atlona have teamed up and offers a 10 Year Warranty on all Atlona Electronic Products and a Lifetime Warranty on cable products when Atlona products are purchased from this HDTV Supply site.
HDTV Supply and Atlona have teamed up and warrants Atlona products will substantially perform to their published specifications and will be free from defects in materials and workmanship under normal use, conditions and service. Under its Limited Product Warranty, Atlona, at its sole discretion, will either (a) repair or facilitate the repair of defective products within a reasonable period of time, restore products to their proper operating condition and return defective products free of any charge for necessary parts, labor and shipping or (b) replace and return, free of charge, any defective products with direct replacement or with similar products deemed by Atlona to perform substantially the same function as the original products or (c) refund the pro-rated value based on the remaining term of the warranty period, not to exceed MSRP, in cases where products are beyond repair and/or no direct or substantially similar replacement products exist. Repair, replacement or refund of Atlona's products is the purchaser's exclusive remedy and Atlona's liability does not extend to any other damages, incidental, consequential or otherwise.
This Limited Product Warranty extends to the original end-user purchaser of Atlona's products and is non- transferable to any subsequent purchaser(s) or owner(s) of these products and the Limited Product Warranty Period begins on the date of purchase by the end-purchaser. The date contained on the end-purchaser 's sales or delivery receipt is the proof purchase date. For more info contact Atlona at 877-536-3976 or HDTV Supply at 800-841-9238.
Questions & Answers

Ask a question about the Atlona HDMI Long Distance Wall Plate Extenders Over Cat5/6 (1080P up to 100ft)- Discontinued or Call 800-841-9238


Atlona HDMI Long Distance Wall Plate Extenders Over Cat5/6 (1080P up to 100ft)- Discontinued
Recently Viewed Items