HD Monitor with HDMI VGA and Component Inputs







HD Monitor w/HDMI, VGA and Component Inputs

Supports Resolutions from 640 x 480 to 1920 x 1200 and 480p to 1080p
This
Atlona 7" PRO HD Monitor with HDMI VGA and Component Inputs (up to 1080p or 1920 x 1200)
is 7" testing monitor designed for those looking to test cabling and the installation of different components. This monitor is useful where displays are in a remote location or not yet present. This portable display will recognize any HDMI, DVI, VGA or Component Video source at resolutions up to 1080p or 1920 x 1200 (including a huge variety of other HDTV and Computer Resolutions), and allow integrators and installers to observe both audio and video signals in real time. The AT-DIS7-PROHD can be used to test 3D sources, even though it is not a 3D monitor; however when 3D signal will be sent to it, the monitor will display that it is receiving 3D content.
The AT-DIS7-PROHD is featured with tripod inputs on top and bottom of the unit and also the ability to be rack-mounted (size 4U). The Rack Ears could be purchased separately.
Atlona 7" PRO HD Monitor with HDMI VGA and Component Inputs (up to 1080p or 1920 x 1200) Features:
7" PRO HDMI, DVI, VGA and Component Testing Display
Supports Resolutions from 640 x 480 to 1920 x 1200 and 480p to 1080p
HDMI 1.3c input which is fully compatible with DVI and able to accept all VESA DVI Resolutions
HD15 input for testing VGA signals and component signals (VGA to Component Adapter is included)
HDCP Compliant and will display whether the content coming via HDMI/DVI is HDCP or not, perfect for troubleshooting.
Professional Quality Display, offers great brightness and contracts
Capable of 3D testing, when 3D content is being sent, the monitor will display a message "3D Content is being Received"
Built-in Speakers
Manual panel button control
Atlona 7" PRO HD Monitor with HDMI VGA and Component Inputs (up to 1080p or 1920 x 1200) Applications:
Residential or Commercial Installation. The AT-DIS7-PROHD is a very handy (must have) tool which helps to make sure that all cables, extenders, switchers, AV receivers are passing proper signal before the installation is finished. Most installations are done far before the displays arrive; Therefore DIS7-PROHD is a perfect tool to make sure everything works. The DIS7-PROHD is recommended to be used with AT-HD800 (HDMI Signal Generator) and it will allow installer to test every resolution, HDCP, EDID and even 3D.
Cable, Source Manufactures. Manufactures could be using DIS7-PROHD in their QC department to make sure certain frequencies and resolutions are working.
Monitoring. The AT-DIS7-PROHD is a perfect addition to any rack unit, allows user monitor all signals which are going out and troubleshoot without walking around the building to look at the display which could be 100's of ft away. User can purchase a set of rack mounting ears: AT-RK-DIS7PRO. Total size would be 4U
Broadcast. The AT-DIS7-PROHD is a perfect tool for any camera man or video operator who wants to quickly see what is being recorded or view some footage. The DIS7-PROHD has a tripod connection on top and bottom.
Why not buy this Atlona 7" PRO HD Monitor with HDMI VGA and Component Inputs (up to 1080p or 1920 x 1200) today?
Atlona 7" PRO HD Monitor with HDMI VGA and Component Inputs (up to 1080p or 1920 x 1200) Specifications:
Screen size: 7" diagonal
Max Input Resolution: 1080p or 1920 x 1200
Native Resolutions: due to this monitor being such a small size, it will downscale all incoming resolutions to 800x600; however will accept anything from VGA~WUXGA and 480i~1080p
Inputs: HDMI (DVI Compatible) and HD15 (VGA or Component Compatible)
Resolutions support: 480i/p, 576i/p, 720p 24/50/60, 1080i 50/60, 1080p 24/50/60, VGA~WUXGA - 640 x 480 ~1920 x 1200 (includes all VESA Resolutions)
Refresh Rate: 50/60 Hz
Latency: 13 ms
Display Brightness: 400 nits
Display Contrast: 500 nits
Color Space: RGB and YPrPb
Deep Color Support: 8, 10 and 12bit - per color (x3)
Display Viewing Area: 7-inch (6.2W x 4.5H)
Embedded Speakers: 2W
Tripod input holes: 2 x 1/4"
Power Requirements: 5V/1.9A (User can purchase an optional battery)
Dimensions (WxHxD): 7.7 x 7.1 x 1
Weight (unit only): 2.5 LB
Warranty: 3 years parts & labor
Power Supply: 5V/2.6A DC (Universal)
Power Consumption: 9.6W
Package contents:

AT-DIS7-PROHD main unit
Operating Instructions
Power Supply (5VDC 2.6A) - battery is optional
5ft VGA to Component Cable

HDTV Supply received back to our company today this product of which the buyer did not want and did not open the box. It is new and sold with a 10 year Atlona warranty, a 30 day No-Hassle return and Free U.S. Based Lifetime Tech support from us. You can buy it for 15% off the List Price and includes free UPS insured ground shipping within the U.S. 50 states. It ships from California. It is sold First Come-First-Serve and it won't last long so call 800-841-9238 right now and place your order.

HDTV Supply has this in stock in our California warehouse so place your order at the above ADD TO CART button by 11AM PST and it can ship today or call us at 800-841-9238 to place your order.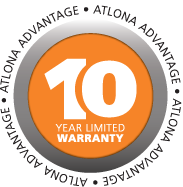 HDTV Supply and Atlona have teamed up and offers a 10 Year Warranty on all NEW Atlona Electronic Products and a Lifetime Warranty on cable products when Atlona products are purchased from this HDTV Supply site.
HDTV Supply and Atlona have teamed up and warrants Atlona products will substantially perform to their published specifications and will be free from defects in materials and workmanship under normal use, conditions and service. Under its Limited Product Warranty, Atlona, at its sole discretion, will either (a) repair or facilitate the repair of defective products within a reasonable period of time, restore products to their proper operating condition and return defective products free of any charge for necessary parts, labor and shipping or (b) replace and return, free of charge, any defective products with direct replacement or with similar products deemed by Atlona to perform substantially the same function as the original products or (c) refund the pro-rated value based on the remaining term of the warranty period, not to exceed MSRP, in cases where products are beyond repair and/or no direct or substantially similar replacement products exist. Repair, replacement or refund of Atlona's products is the purchaser's exclusive remedy and Atlona's liability does not extend to any other damages, incidental, consequential or otherwise.
This Limited Product Warranty extends to the original end-user purchaser of Atlona's products and is non- transferable to any subsequent purchaser(s) or owner(s) of these products and the Limited Product Warranty Period begins on the date of purchase by the end-purchaser. The date contained on the end-purchaser 's sales or delivery receipt is the proof purchase date. For more info contact Atlona at 877-536-3976 or HDTV Supply at 800-841-9238.
Questions & Answers

Ask a question about the HD Monitor with HDMI VGA and Component Inputs or Call 800-841-9238


HD Monitor with HDMI VGA and Component Inputs
Recently Viewed Items