Component Video w/Audio to CAT5 Receiver to 1,000 Feet





Atlona Component Video w/Audio to CAT5 Receiver to 1,000 Feet

Receiver Unit Only, Must Be User With a Transmitter


This
Atlona Component video with analog/digital audio cat5 Receiver with component loop-out (Receive unit only)
is designed for Component Video + Stereo Audio, Digital Audio signal over cost effective CAT5 cable instead of a long Component Video and Audio cable.
This
AT-COMP300RL (Receive unit) MUST be used with the the AT-COMP300SL (receiver unit) which needs to be purchased separately (see Above TAB).
Component Video w/Audio to CAT5 Sender to 1,000 Feet Features:
Extends Component Video and analog/digital audio over one UTP CAT5 cable.
Supports analog stereo audio and digital audio.
Digital transmission on analog stereo audio for eliminating sound distortion. (Dolby Digital,AC3, DTS passed through)
Supports hi resolution up to 1080p.
Long range transmission up to 1000ft ( 300m )
Dual output: 1 Component Video loop output for local, plus 1 x CAT5 RJ45 output for the remote side.
Built in equalization, gain adjustment, chainable CAT5 output at remote unit.
Receiver unit can be daisy chained to another AT-COMP300RL receiver to extend working range over 300 meters.
Application for airports, train & bus stations, window display, trades shows and an exhibitions.
This AV Extender is smart, fast and cost-effective, eliminating costly and bulky Component Video and Audio cable and is the most efficient way to move multimedia content from player to display.
Why not buy this Component Video w/Audio to CAT5 Extender to 1,000 Feet today?
Technical Specifications:
-Resolution: Up to 1080p
-Video Bandwidth: 150Mhz-3dB
-Video Output: Y/Pb/Pr RCA x 1 (Y 1V p-p 75Ω - Pb 0.7V p-p 75Ω - Pr 0.7V p-p 75Ω)
-Audio Output: Analog audio output: L-R stereo audio RCA x 1( 3Vp-p Max.10KΩ)
Digital Audio output: Optical x1, coax. digital SPDF x 1
-Link Connector: 1 x RJ45
-Loop output Connector: 1 x RJ45
-Max Distance: Up to 300M (1000 feet)
-Power Supply: 5V DC 2000mA Regulated (External)
-Power Consumption: 600mA (Max)
-Dimensions (mm): 125 x 95 x 30
-Weight (g): 280

Package Contents:
AT-COMP300RL (receiver unit only) x 1
5VDC Power Supply Adaptor (110-240v) x 1
Operation Manual x 1
Skew immunized adapter x 2
Component Video w/Audio to CAT5 Sender to 1,000 Feet- Discontinued

$179.99

Atlona 1X10 Component Video w/All Audio Distribution Amplifier over Cat5- Discontinued

Price: $599.99

Today's price:

$324.95

(You Save: 46%)

Component Video & Audio Extender is used in shopping malls, public address systems, airports, train & bus station, boardrooms, trade shows and computer based training application.

HDTV Supply received back to our company today this product of which the buyer did not want and did not open the box. It is new and sold with a 10 year Atlona warranty, a 30 day No-Hassle return and Free U.S. Based Lifetime Tech support from us. You can buy it for 15% off the List Price and includes free UPS insured ground shipping within the U.S. 50 states. It ships from California. It is sold First Come-First-Serve and it won't last long so call 800-841-9238 right now and place your order.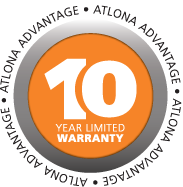 HDTV Supply and Atlona have teamed up and offers a 10 Year Warranty on all Atlona Electronic Products and a Lifetime Warranty on cable products when Atlona products are purchased from this HDTV Supply site.
HDTV Supply and Atlona have teamed up and warrants Atlona products will substantially perform to their published specifications and will be free from defects in materials and workmanship under normal use, conditions and service. Under its Limited Product Warranty, Atlona, at its sole discretion, will either (a) repair or facilitate the repair of defective products within a reasonable period of time, restore products to their proper operating condition and return defective products free of any charge for necessary parts, labor and shipping or (b) replace and return, free of charge, any defective products with direct replacement or with similar products deemed by Atlona to perform substantially the same function as the original products or (c) refund the pro-rated value based on the remaining term of the warranty period, not to exceed MSRP, in cases where products are beyond repair and/or no direct or substantially similar replacement products exist. Repair, replacement or refund of Atlona's products is the purchaser's exclusive remedy and Atlona's liability does not extend to any other damages, incidental, consequential or otherwise.
This Limited Product Warranty extends to the original end-user purchaser of Atlona's products and is non- transferable to any subsequent purchaser(s) or owner(s) of these products and the Limited Product Warranty Period begins on the date of purchase by the end-purchaser. The date contained on the end-purchaser 's sales or delivery receipt is the proof purchase date. For more info contact Atlona at 877-536-3976 or HDTV Supply at 800-841-9238.
Questions & Answers

Ask a question about the Component Video w/Audio to CAT5 Receiver to 1,000 Feet or Call 800-841-9238


Component Video w/Audio to CAT5 Receiver to 1,000 Feet
Recently Viewed Items