WolfPack AHD to HDMI Adapter - 5 Year Warranty





WolfPack AHD to HDMI Adapter

On-Screen Display to set either 720p or 1080p

Includes an AHD Loopout to 1,500 feet

Built-in 720p and 1080p Up-scaler

5 Year Warranty and Lifetime U.S. Telephone Tech Support

Part # HDTVPETAHAS

Usually ships in 5-7 business days

Today's Price: $99.95
Features
HDTV Supplys WolfPack
AHD to HDMI Adapter
converts an Analog High Definition AHD signal to an HDMI signal along with an AHD loop out. Our AHD to HDMI Adapter comes with a upscaler that will allow you to adjust the output HDMI signal to either a 720p or 1080p resolution that is compatible with all HDMI enabled displays. AHD is an analog high definition closed-circuit television video surveillance standard that uses coax cable to transmit HD video from security cameras to DVRs. AHD supports 720p and 1080p HD video resolutions.
To ensure you maintain perfect an high-definition video quality the AHD to HDMI Adapter supports resolutions up to 1080p allowing you to convert an AHD signal to HDMI without sacrificing video quality For hassle-free installation, the AHD to HDMI Adapter offers a plug-and-play solution and requires no software or driver installation.
AHD to HDMI Adapter Features:
Input: 1 - AHD via a BNC connector
Output 1: 1 - AHD via a BNC connector
Output 2: 1 - Female HDMI connector
AHD supported input resolutions:

720p @ 25/30Hz
720p @ 50/60Hz
1080p @ 25/30Hz

Built-in scaler allowing users to adjust the output signal to 720p@60Hz or 1080p@60Hz
Support an OSD (On-Screen Display) for input and output resolutions
No need to install drivers, portable, flexible as it is plug and play
Coaxial cable impedance: 75Ω
Supports an AHD loop out
The two Outputs could be displayed simultaneously
Supports AHD signal transmission distance up to 1,500 foot range
Supports a wide voltage for power adapter: 5V~12V
The AHD loop output of the AHD to HDMI Adapter acts as a AHD video splitter and allowing one camera to be used with an HDMI monitor and another device that accepts an AHD video input via BNC / coax cable such as a DVR. The HDMI out can be connected directly to an HDMI monitor / TV using an HDMI cable.
NOTE:
Coax cable distances measured using
Belden 1694A Cables
.
Why not buy this AHD to HDMI Adapter today?
Specs
AHD to HDMI Adapter Features:
Input Signal: AHD Signal (BNC)
Output Signal: 1 - HDMI™ signal and 1 - AHD signal (BNC)
AHD Input Resolution: 720p@25Hz/30Hz,720p@50Hz/60Hz,1080p@25Hz/30Hz
HDMI™ Output Resolution: 720p@60Hz/1080p@60Hz
Limited Warranty: 5 Year Parts and Labor
Operating Temperature: -40℃ to +120℃
Operating Humidity: 10% to 85 % RH (no condensation)
Storage Temperature: -30℃ to +50℃
Storage Humidity: 5% to 90 % RH (no condensation)
Power Supply: 5V~12V DC
Power Consumption (Max): 5W
Converter Unit Cert.: FCC,CE, RoHS
User Manual: English Version
Why not buy this AHD to HDMI Adapter today?
Warranty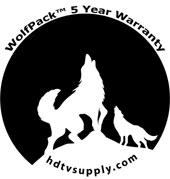 HDTV Supply
includes a 5 Year U.S. Limited Warranty on this AHD to HDMI Adapter. There are two bundled parts to this 5 year warranty. The 5 year warranty is only for the main device you purchased and does not include any product options or additional products you purchased at the same time.
FIRST YEAR:
The first year is direct with with HDTV Supply at 800-841-9238. The warranty states that the AHD to HDMI Adapter will perform substantially in accordance with the supplied written materials and Product information located on this Product web site page for a period of 1 year from the date of shipment of the Product and that the Product will be free from defects in materials & workmanship under normal use & service for a period of 1 year from date of shipment.
In order to get a warranty replacement for a defective item within the first year call HDTV Supplys Tech Support Team with your order number at 800-841-9238 and they will verify the AHD to HDMI Adapter is eligible for a warranty repair. An RMA number will then be issued via email. Shipped replacements will be in like new condition, tested and all components included. Please read
HDTV Supplys Warranty Terms and Conditions
for more.
2ND THROUGH 5TH YEAR:
The 2nd through 5th year are direct with
Consumer Priority Extended Warranty Service (CPS)
as they are HDTV Supplys extended warranty provider. They are a large 3rd party repair company with facilities throughout the U.S. and offer our U.S. customers unparalleled product coverage and repairs. If after calling HDTV Supply, at 800-841-9238, we find we can't fix the issue over the phone, and you need a repair, you will henceforth deal directly with CPS for the repairs via their toll free phone number (800) 905-0443 Option 3 during the 2nd through 5th year.
You can also
email CPS
and
email HDTV Supply
and of course call us a 800-841-9238 if you have any questions with this 5 year bundled warranty.
Why not buy this AHD to HDMI Adapter today?
Ask a Question
Questions & Answers

Ask a question about the WolfPack AHD to HDMI Adapter - 5 Year Warranty or Call 833-WOLFPACK (833-965-3722)


WolfPack AHD to HDMI Adapter - 5 Year Warranty
Scroll Left & Right To See 20 Of Your Recently Viewed Items Below