Shinybow SB-5685LCM 8x5 HDMI Matrix Switch






8x5 HDMI Matrix Routing Switcher w/ Full EDID Management/Learning

3 Year Warranty & Free Lifetime Tech Support
Features
This
8x5 HDMI Matrix Routing Switcher SB-5685-LCM
is a 8 input and 5 output matrix switch. This switcher has a capability to transfer data at speeds up to 6.75 Gbps, empowering 1080p HDMI format and Uxga/wuxga/dvi resolution to all High Definition quality display screen. HD signals could be chosen and disseminated to any 5 outputs at the same time. The Switcher is guaranteed as being completely HDMI and HDCP compatible, with ROHS, CE, FCC accreditation. It may work smoothly with high resolution HDMI sources routed to HDMI monitors, screens, and projector or sound receivers. The matrix provides automatic discovery of the monitors EDID.
NOTE:
This product has been discontinued. See the above SIMILAR Tab for equivalent products or, if not there, call us at
833-WOLFPACK (833-965-3722)
right now to discuss your needs.
Shinybow SB-5685LCM 8x5 HDMI Matrix Switch Features:
It is CEC/HDCP 2.0 compliant, supports DVI format and provides HDMI video w/embedded audio.
8x HDMI computerized source units matrix routed to a 5x HDMI displays.
Seven capacity key control and worldwide eight EDID modes for HDTV resolutions.
Data transfer rates of upto 6.75 Gbps (with 340mb Hzlink clock rate), Fully compatible with High Definition Multimedia Interface (1.4 a) 3D formats.
Computerized Video TMDS arranges Resolution upto 1080pixel-60 with Deep shade 36-touch.
Computerized Audio Support : Dolby Digital, DolbyTrueHD, Dolby DigitalPlug/ex,DTS, DTS-EX, DTS-HD, PCM, DTS-HD Master, Pcm2, Lpcm2
Window based GUI control by means of RS-232 port
Infra Red remote control for wireless handling
Unbiased gathering RS-232 controller (through straightforward ASCII)
Supports Worldwide control capacities: Off/enter/all/recall/memory/edid/lock
Installed EDID modes: Fss/h24-3d/h24-3d-M/h36-3d/h36-3d-M/dvi-D 1280x1024-60hz/ DVI-D 1920x1200-60hz/auto
External modes: Learning mode.
Supports Infra-Red Remote and Infra-Red Extender with range upto 1000 feet (approx 300m) Maximum.
EDID setup by means of Internal modes.
The EDID can be chosen between eight (8) distinctive modes. It is controlled from the Front board push button, IR remote, RS-232 or Tcp/ip (not a web-browser). A RS-232 / TCP-IP Windows Graphical User Interface is auto build for matrix routing. It comes with a three year warranty service warranty.
why not buy this Shinybow SB-5685LCM 8x5 HDMI Matrix Switch today?
Specs
Shinybow SB-5685LCM 8x5 HDMI Matrix Switch Specs:
Type of HDMI Switcher: 8x HDMI inputs To 5x HDMI Outputs Matrix Switcher
HDMI Support: HD 1080p-@60Hz, H36-bit Deep color, 3D (1.4a) formats.
HDCP/CEC Support: HDCP 2.0 Compliant, CEC Compliant.
Video Bandwidth: Double Data Rates:340Mhz, Total 6.75Gbps bandwidth
Digital Video Support: Full HD resolution : 480i / 480p / 720p / 1080i / 1080p
Digital Audio Support:Multi Audio Formats 5.1 / 7.1, MAT(MLP) Dolby Digital, Dolby TrueHD, Dolby Digital Plus, DTS, DTS-ES 6.1, DTS-HD, DTS-HD-HRA, DTS-HD Master,(PCM-2CH)
Controls: IR Remote Controller, IR External port x 1 (OD 3.5mm Ear phone Jack), Select & Function buttons on front panel, RS-232 series interface
Source Status: Automatically Scan Sources Inputs via LED
Function Control Key: ALL / OFF / RECALL / ENTER / MEMORY / LOCK / EDID
Infrared Frequency: 38KHz
IR External Distance: ~1000 feet / 300 meters maximum.
HDMI I/O Connector: HDMI Type A - SMD 19pin Female Type
Temperature: 32˚F-100˚F Operation (0˚C-38˚C)
Power Supply:DC12V / 5A, Universal world wide Type 50/60Hz, 100~230 VAC
Approvals: CE, FCC,Erp, WEEE, REACH.
Dimensions (WxDxH): 19* x 9.85 x 1.75 in (482x250x44 mm) *with rack mount bracket
Weight: 2.40 Kgs / 4.0 lb
Chassis Material: Metal
Color: Black
Power Consumption: 3500 mA Maximum
Rack Mount: Rack Mount 1RU High 19in Rack Mount (with rack mount)
Refurbished
HDTV Supply has a few
Factory Refurbished WolfPack 8x8 Matrix HDMI Switchers
in stock that can be controlled with its WEB GUI, LAN & RS232 control. These are a first generation non-4K 2016 models that do not support IR and don't come with a remote control or HDMI to CATx extenders. They support up to 1080p and do not support 4K signals.
These three are sold with a one year warranty for a very low price of $700 plus shipping, First Come-First Serve, so place your order today as they won't last long. Call Catrina at 800-841-9238 right now to get one of these 8x8 Matrix HDMI Switchers.
Similar
8x8 HDMI Matrix Switch w/iPad & Android App

$1,550.00

Shinybow SB-5688Kp 8x8 HDMI Matrix Routing Switch

Price: $3,174.00

Today's price:

$1,772.16

(You Save: 44%)
3D
HDTV Supply is a leader in supplying 3D equipment for this new, fast growing 3DTV market. Our test lab includes the latest equipment for designing, testing and supporting 3D video equipment. The chips sets we use support the below 3D formats and work with many of our HDMI 1.3 and HDMI 1.4 compliant devices. This device supports these 3D formats:
Side-by-Side 3D Format
Top-and-Bottom 3D Format
Blu-ray 3D Format
Frame packing
and more
We not only test this device with lab equipment we also test many of our 3D devices with 3D products you are likely to use. The products used for the test are:
Sony PS3 with the 3D 3.41 firmware
Samsung model PN50C7000YF 3DTV
Samsung model BD-C6900 3D Blu-ray player FORCED to 1080p
Samsung model SSG-P2100T 3D glasses
DirecTV models HR21-100 and the HR24 high definition receiver.
It works with all HDMI devices including the new 3D units.
The 3D viewing results were awesome in our lab and did not have any picture or audio degradation. The normal and standard (2D) results equally exhibited a superb picture quality.
Q/A
Q: You have a great selection of 8x8 HDMI Matrix Switchers, do you have a comparison of them?
A:
Yes, see our
UNDER $2,000 8X8 HDMI MATRIX COMPARISON
to help you make a decision.
Q: Can I use unpowered HDMI over CAT5/6 extenders with this matrix?
A:
We don't recommend them with our matrices, or anyone else's, due to them consuming power from the matrix and the matrices are not designed to power many external devices.
Consider the example of 9 - HDMI balun transmitters that need 0.5a amp each to power it times 9 or 4.5 amps the matrix would have to supply. The power supply of this matrix is rated at 12v at 5 amp so in that example the matrix would probably break down and your warranty may be voided. See the companion powered HDMI extenders in the above OPTIONS that have 2-AC adapters.
HDMI cables with built-in boosters also consume power and we don't recommend more than 2, if at all. You must use our low power ones, also.
Q: I've made EDID changes but don't see an affect.
A:
When you make changes to the EDID, you need to either power cycle the display or change the inputs. This forces the display to relock onto the source.
Q: Would I be able to used an HDMI connection for audio only going to my audio receiver. This way I could get True HD Audio. Will this output work how I am describing?
A:
Yes, provided you do not turn On a display device that might be connected to the Output of your audio receiver. Some older displays do not have the ability to decode anything other than 2 channel stereo and when connected to a receiver via HDMI.
Q: I have a PC with HDMI out, how do I set it up?
A:
When your computer boots up, it looks for an EDID (extended display identification data) from the display to tell it what monitor is connected and what resolution to output. During boot up of the computer you should have ONLY one output selected to one input at a time so that the computer gets the EDID of the display that is selected. If you have multiple outputs selected to one computer, the computer will read the EDID of the last output selected to it. If all your displays are the same, or all displays are capable of running at the same resolution then this step does not matter.
Q: The front panel power light comes on but there is no LED numbers in the display, what do I do?
A:
For tech support always call 800-841-9238.
Warranty
HDTV Supply
includes a 3 Year Limited Warranty on all Shinybow products. The warranty states that (a) its products (the Product) will perform substantially in accordance with the accompanying written materials for a period of 3 years from the date of receipt and (bs) that the Product will be free from defects in materials & workmanship under normal use & service for a period of 3 years.
In order to get a warranty replacement for a defective item, HDTV Supplys and Shinybows Support Team will verify the product is eligible for warranty. An RMA number will then be issued. Shipped replacements will be in like new conditions, tested and all components included.
HDTV Supply
also sells a 5 Year warranty for all Shinybow products. Please go to
5 Year Extended Warranty
or see the above Options to purchase it.
Ask a Question
Questions & Answers

Ask a question about the Shinybow SB-5685LCM 8x5 HDMI Matrix Switch or Call 800-841-9238


FAQ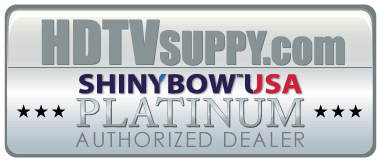 HDTVSupply.com & Shinybow have had a CEO-to-CEO relationship since 2002. We are a Platinum Authorized Reseller Dealer & have a signed contract with Shinybow to sell and support their complete product line. Our partnership started when HDTV Supply went looking for a company that could supply unique products, provide flawless support and had fair pricing. Shinybow was the first company that met out strict demands and they were the first we developed a relationship with.
Reasons To Buy This Shinybow Product From HDTVSupply.com:
Our partnership with Shinybow gives you a 3-year Shinybow warranty when you buy from us
Our partnership with Shinybow gives you FREE HDTV Supply U.S. based Live Telephone Lifetime Tech support
HDTV Supply has a dedicated TEXT support line at 805-409-0208 to support you
HDTV Supply has a dedicated Product Manager for Shinybow products to assist with any special needs
We sell extra remote controls for all Shinbow products
All Shinybow remote controls are full size
Many times we will list lower cost Closeout Shinybow products at our site
All Shinybow products are in stock and ship the same week day if the order comes in by 12PM PST
You can buy Shinybow products from us with most any credit card, your Amazon account and PayPal
HDTV Supply has many videos to show the features of Shinybow products
You will find all Shinybow User Manuals and other manuals at our site
From time-to-time HDTV Supply runs Factory Authorized sales on Shinybow products
If there is an Shinybow firmware update for your product you will find it at our site
Many times we will list lower cost Refurbished Shinybow products at our site
The below may be available on many Shinybow products, just email, TEXT or call us to find out:

RS232 Docs
GUI software
iRule support with LCM products
Roomie support with LCM devices
Ethernet TCPIP Docs
.pdf IR codes
HEX IR codes
Control4 serial drivers
Control4 IR drivers
Control4 TCPIP drivers

All Shinybow products bought from HDTV Supply are brand new and in unopened boxes.
All Shinybow products bought from HDTV Supply are shipped in double carton boxing.
All Shinybow products bought from HDTV Supply have full value shipping insurance
All Shinybow products bought from HDTV Supply have a 30-day No-Hassle returns
All Shinybow products bought from HDTV Supply can be shipped blind to your customer
We have shipped >5,000 Shinybow products throughout the world
HDTV Supply is located in CA and Shinybow is located in Texas, makes for longer phone support hours
Shinybow stocks extra accessories in case you misplace your remote, we can get you a new one
HDTV Supply & Shinybow pride ourselves on confidentiality, any personal information that you may share with us is kept absolutely private.
HDTVSupply.com is one of the oldest and most trusted Shinybow resellers as we support all of their products with telephone and email ordering and tech support.
Why not buy this Shinybow product from HDTV Supply today?
Shinybow SB-5685LCM 8x5 HDMI Matrix Switch
Recently Viewed Items