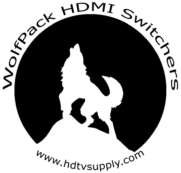 HDTV Supplys WolfPackGrey™ 4K 7x10 HDMI Matrix Over LAN is a simple to install preconfigured HDMI matrix switch over IP. This HDMI video matrix over IP allows for the distribution and switching of high definition 4K video & audio signals using off-the-shelf Gigabit IGMP switches. The 7x10 HDMI video matrix uses advanced technology supporting a video resolution up to 4Kx2K@30Hz Ultra HD. You can control the WolfPackGrey™ 7x10 HDMI Matrix Over LAN with a PC, remote IR & with its Android app. Configure any-size HDMI matrix switch using HDMI over IP with only the number of ports available on the Ethernet LAN switch (above) limiting the ins & outs of your design. Multiple receivers can simultaneously connect to many transmitters to form a virtual matrix of multiple HDMI inputs with up to 65,000 HDMI receivers (TVs).
This HDMI Over Network Send & Receive Adapter taps into the benefits of Ethernet standards to overcome the inherent limitations of TMDS. The HDMI Over Network Adapter allows reliable cable runs up to 120m with easy splitting and distribution of HDMI audio and video signals with perfect signal integrity. The Ethernet switch must have an IGMP function and we use the TP-LINK TL-SL3428. Other switches also may be used if they conform to a IGMP function
This HDMI Over Network Adapter is compliant with HDCP 1.4 specifications, supports copy protection with 128-bit AES encryption and overcomes traditional key verification limitations enabling very large system sizes while maintaining full HDCP compliance. And unlike first-generation Megabit implementations of IP technology, this HDMI Over Network Adapter means picture quality that is virtually indistinguishable from the source & suitable for the most discerning viewer.
4K 7x10 HDMI Matrix Over LAN is pre-configured with:
7 - 4K HDMI to LAN Transmitters
10 - 4K LAN to HDMI Receivers
1 - Companion 24 port Ethernet switch
1 - Android Wireless controller
What sets this 7x10 HDMI Matrix Over LAN apart from others:
Can send and receive HDMI audio and video up to 300 feet
Android App Control
PC controlled via the Ethernet switch
4K/30 UHD Compliancy
HDMI Over Network Transmitter & Receiver Features:
Plug and play.
Apply advanced over IP technology.
Transmission distance is up to 120 meters or 400 feet via CAT6.
Resolution supported is up to 4K@30Hz ultra HD.
Supports scalable and flexible input and output matrix configurations allowing 100 inputs to an infinite output.
Supports select and switch source device input from the receiver via remote control and hard button
Android APP control: User can scan, preview, build up their configuration by using a phone easily.
Supports IR pass back function to control the source device from the receiver location.
Supports computer control software to select and switch source device input.
HDMI signal extension up to 100 meters.
Supports PCM 2.1, 5.1 and 7.1 Ch Audio.
Supports one-to-one, one-to-many and many to many connections via managed switch.
Supports up to theoretically 65,000 receivers.
IR pass-through.
Compliant with HDMI 1.4 and HDCP 2.2 standards.
Audio and video are transmitted digitally over an 100 Ohm CAT6 cable for lower signal loss.
TV will show display source channel, which is easier for end user to control.
Why not buy this 7x10 HDMI Matrix Over LAN today?
HDMI Video Matrix over IP Specification (Per TX or RX):
HDMI signal: HDMI1.4 and HDCP compliant
Network bandwidth: 28Mbps
HDMI input resolution supported: 480i@60Hz, 480p@60Hz, 576i@50Hz, 576p@50Hz, 720p@50/60Hz, 1080i@50/60Hz, 1080p@50/60Hz, 4Kx2K @24/25/30Hz
Audio format supported: L/R stereo audio
TMDS signal: 0.7~1.2Vp-p
DDC signal: 5Vp-p
Includes an IR Remote control
IR passback: Supports 20~60KHz IR devices
APP control: Support APP control, user can scan, preview, build up their configuration by using a phone/tablet easily, OS system supports Android
Matrix configuration: Up to 100 source signals can be connected and switched to infinite outputs
Voltage/Current: 5V/2A
Power consumption: TX鈮6W锛汻X鈮5W
Weight: TX: 320g锛汻X: 310g
Dimensions(LxWxH): 164x107.6x23.6mm
Working temperature: 0~60藲C
Storage temperature: -20锝70藲C
Humidity: 0锝95%(no condensation)
Color: Black
Why not buy this 4K 7x10 HDMI Matrix Over Wireless LAN today?
HDbitT
stands for High-Definition Digital bit Transmission Technology. It is a new standard protocol of digital connective, specialized in professional Audio/Video over IP delivery and transmission. enables high-definition Audio/Video up to 4Kx2K@60Hz transmit via network cables, optic fiber, power line cable, wireless and even more transmission mediums. It provides more stable performance, better image clarity, further transmission distance and other significant advantages, easily to facilitate the requirement of HD signals long-distance transmission without any converter.
is a technology to provide all-in-one connectivity, delivering a feature set unmatched by any other technology in the industry. technology provides the most advanced, cost effective, easy to use, all-in-one solution for whole home converged distribution of 4K Ultra HD Video, Audio, Ethernet, POE, various controls (RS232, IR) and other digital signals over various of transmission medium.
The main benefits of include:
Longer distance than ever: Depends on the transmit medium, supports at least 100m/328ft digital signals transmission at almost zero latency.
Unified standard: All products are fully compatible with HDMI, and it supports all key features of HDMI, including 1080P/4K@60Hz, CEC, EDID, and HDCP.
Simply integrate: By providing an unprecedented and unique solution, easily to meet the need of end-to-end Pro-A/V signals conversion, transmission and display.
Multi-interfaces supports: Ideal for high throughput video with multi-interface including UTP/STP category cable, Coaxial, Fiber Optic, Wireless, Powerline Cable, and even more.
Advanced Encryption Standard: Using realtime AES encryption algorithm, to keep your digital signal safe.
Pass-through over switch: Supports to be distributed by LAN router or switch, to realized HD AV signals unlimited extend and split.
Occupy less bandwidth: Unique technology to occupy less bandwidth without any Internet affected.
Play and play Intelligent and automatic adjustment, kit paired instantly without configuration, easy-to-use ready for plug and play.
Cost-effective: Compatible with existing network system, delivered by multiple medium, aims to be the best alternative to digital connection.
Flexible connection: By delivered full HD audio/video to exist network, supports both point-to-point and multipoint-to-multipoint transmission, flexible for cascade connection and daisy chain connection.
With a new vision experience up to 4K Ultra HD (3840 x 2160@60Hz 4:2:0) with HDMI 2.0 and HDCP 2.2 compatible, will offer a broad array of new features to enhance the user experience.
Connect it, get it, benefit from it: With HDbitT, manage your digital signals as a professional just in several simple steps. Once you know it, it benefits for your life, Focus on projects and leave the technical to HDbitT. It is simple and significant.
Lead the trends: is a revolutionary and up-to-date connection technology that dramatically redefines the idea of transmission. It helps to Improve the user experience meanwhile expand your market with its future-proof features. Stick with to lead the Pro-AV trends.
More reliable: It have been proved for reliability and functionality. The new collaboration of facilitates rapid deployment of high-performance, high-definition, high-robustness signal delivery for OEM and system integrator.
All-in-one and one-stop: For the first time, one solution for network cable, wireless, fiber optic, coaxial and more connections, easily to facilitate the project requirement of various pro-AV signals with long-distance transmission.
No project is too complex: With the complete range of AV over IP product lines, offers an all-in-one solution for whole industrial converged installation, anything you need of transmission, distribution and conversion, does it all.
Savings: Supports existing cabling system, leverages LAN and low-cost IP transmission, lower capital expenditure with highly cost effective. Build flexible, easy-to-maintain AV deliver networks almost anywhere without digging cable trenches.
The Ethernet switch must have an IGMP function and we use the TP-LINK TL-SL3428. Other switches also may be used if they conform to a IGMP function
Why not buy this 4K 7x10 HDMI Matrix Over Wireless LAN today?