4K 4x1 Switch with 4K@60Hz and Audio Return Channel (ARC)




4K 4x1 Switch with 4K@60Hz

Supports TVs with Audio Return Channel (ARC)

HDMI audio extracted to Toslink or Coaxial Outputs

5 Year Warranty & Free Lifetime U.S. Telephone Tech Support
HDTV Supply′s WolfPack™ The 4 port HDMI 4K switch lets you share a display with four HDMI-enabled A/V devices. The switch features four independent inputs that each support 4K resolution and 7.1 surround sound audio. You will be amazed at how this video switch maintains Ultra HD picture quality. 4K is supported by the latest A/V devices and delivers four times the resolution of 1080p. Plus, because the switch is backward compatible with high-definition 1080p, you can assure any video source will look great in your digital signage application.
Also, the audio embedded in HDMI can be extracted via a Toslink or Coaxial connector and the switch can return the audio to AV receivers with the audio return channel (ARC) function.
4K 4x1 Switch with 4K@60Hz and Audio Return Channel (ARC) Fesatures:
Supports manual control and remote control
Enables the most recently activated video source to be displayed automatically
Supports digital audio output simultaneously: Stereo, Toslink and Coaxial
Supports resolution up to 4K@60Hz
Supports 600MHz/6Gbps per channel (18Gbps all channels) bandwidth
Supports 12bit per channel (36bit all channels) deep color
Supports HDCP2.2
Supports uncompressed audio such as LPCM 7.1
Supports compressed audio such as DTS, Dolby Digital(including DTS-HD Master Audio and Dolby TrueHD)
The 4X1 HDMI switcher with audio switches the incoming HDMI signal into the standard HDMI audio / video signal as well as converts its associated stereo and Optical audio to outputs. You then can route this digital audio to your surround sound receiver and the stereo to older amps or headphones. This 4X1 HDMI Switcher with audio supports a maximum bandwidth of 18-Gbps and provide a sharp and highly defined video in multiple resolutions up to 4K. It completely eliminates the need to constantly move around video input and output cables.
Why not buy this 4K at 60 Hz 4x1 Switch with ARC today?
WolfPack 4K 4x1 Switch with 4K@60Hz Specs:
Input Video Signal: 0.5-1.0volts/p-p
Output Video: HDMI Signal
Output Audio: S/PDIF Signal & Toslink and Coaxial
Vertical Frequency Range: 50/60Hz
Video Amplifier Bandwidth: Max up to 6Gbps/600MHz
Interlaced (50&60Hz): 480i, 576i and 1080i
Progressive(50&60Hz): 480p, 576p, 720p, 1080p and and 4K@60Hz
Operating Temperature: 0℃ to +50℃
Operating Humidity: 10% to 85 % RH (no condensation)
Storage Temperature: -10℃ to +80℃
Storage Humidity: 5% to 90 % RH (no condensation)
Power Supply: 5V DC @Sender and 5V DC @Receiver
Power Consumption (Max): 5W
Extender Unit Cert.: FCC, CE, RoHS
Power Supply Cert.: CE, FCC, RoHS
AC Power Adapter: US, UK, EU, AUS Standard etc.
4K 4x1 Switch with 4K@60Hz with ARC Contents:
Main Unit
5V DC Power Supply
User Manual
Remote Control
Why not buy this 4K 4x1 Switch with 4K@60Hz with ARC today?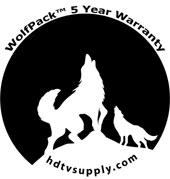 HDTV Supply
includes a 5 Year U.S. Limited Extended Warranty on this product. There are two bundled parts to this 5 year warranty. The 5 year warranty is only for the main device you purchased and does not include any product options or additional products you purchased at the same time.
FIRST YEAR:
The first year is direct with with HDTV Supply at 800-841-9238. The warranty states that the Product will perform substantially in accordance with the supplied written materials and Product information located on this Product web site page for a period of 1 year from the date of shipment of the Product and that the Product will be free from defects in materials & workmanship under normal use & service for a period of 1 year from date of shipment.
In order to get a warranty replacement for a defective item within the first year call HDTV Supplys Tech Support Team with your order number at 800-841-9238 and they will verify the product is eligible for a warranty repair. An RMA number will then be issued via email. Shipped replacements will be in like new condition, tested and all components included. Please read
HDTV Supplys Warranty Terms and Conditions
for more.
2ND THROUGH 5TH YEAR:
The 2nd through 5th year are direct with
Consumer Priority Extended Warranty Service (CPS)
as they are HDTV Supplys extended warranty provider. They are a large 3rd party repair company with facilities throughout the U.S. and offer our U.S. customers unparalleled product coverage and repairs. If after calling HDTV Supply, at 800-841-9238, we find we can't fix the issue over the phone, and you need a repair, you will henceforth deal directly with CPS for the repairs via their toll free phone number (800) 905-0443 Option 3 during the 2nd through 5th year.
You can also
email CPS
and
email HDTV Supply
as well as call us a 800-841-9238 if you have any questions with this 5 year bundled warranty.
Questions & Answers

Ask a question about the 4K 4x1 Switch with 4K@60Hz and Audio Return Channel (ARC) or Call 800-841-9238


4K 4x1 Switch with 4K@60Hz and Audio Return Channel (ARC)
Recently Viewed Items