Features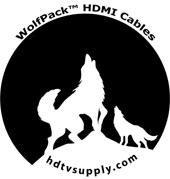 HDTV Supplys High Speed 24 gauge
4 foot HDMI cable
with HDMI 2.0b and HDCP 2.2 compliancy connects 4K Ultra HD source devices to 4K UHD displays and projectors. The CL2 rated WolfPack 4 Foot HDMI Cable jacket is designed to meet the requirements for in-wall installations. The Ethernet capabilities of the cable allow a user to connect multiple Ethernet enabled HDMI devices through a single Ethernet connection.
NOTE:
All HDMI cables are not made the same and the smaller the diameter (or gauge) of the 19-internal wires an HDMI cable has the more resistance, in ohms, that cable has that can impact the picture quality, especially a 4K signal. HDTV Supply manufactures this WolfPack 4 Foot HDMI Cable using large 24 gauge (AWG) wires assuring you better video and audio vs smaller diameter 26, 28 and 30 gauge HDMI cables. Always buy a 24 AWG (gauge) HDMI cable if you want the best picture now and in the future.
The WolfPack 4 foot HDMI 2.0b cable supports 4K @ 50/60 Hz which is 4 times the clarity of 1080p/60 video resolutions and up to 32 audio channels for a surround sound audio as well as simultaneous delivery of dual video streams to multiple users on the same screen, if your devices support it. If your existing cable is not high speed, though, you will need this cable as it supports up to 4Kx2K resolutions up to a stunning 60 Hz and above frame rate.
WolfPack 4 Foot HDMI Cable Features:
HUGE 24 gauge (AWG) internal wires
HDMI 2.0b and HDCP 2.2 Compliant
In-wall, CL2-rated jacket
High Speed HDMI Cable
Supports up to a 4K at 60 Hz and above video resolutions
Backwards compatible with HDMI version 2.0, 1.4 & 1.3
Gold plated connectors
ARC compliant
4K @ 50/60 Hz, (2160p), which is 4 times the clarity of a 1080p/60 video resolution
3D video, Deep Color and x.v. Color
Dolby True HD, Dolby Atmos, DTS-HD Master Audio and up to 32 audio channels for a multi-dimensional immersive audio experience
Up to 1536kHz audio sample frequency for the highest audio fidelity
Simultaneous delivery of dual video streams to multiple users on the same screen
Simultaneous delivery of multi-stream audio to multiple users (up to 4)
Support for the wide angle theatrical 21:9 video aspect ratio
Dynamic synchronization of video and audio streams
CEC extensions for control of consumer electronics devices through a single control point
HDMI transmission is very complex and while there may be little advantage to better cables at short lengths, the need for better cable construction goes up exponentially as length of run, signal bandwidth requirements, and number I/Os goes up. This 4 foot 24 gauge high bandwidth cable is tested to perform at industry standards and is backed by a lifetime warranty.
Why not buy this WolfPack 4 Foot HDMI 2.0b Cable today?
Compatibility
HDTV Supplys 24 gauge HDMI cables supports Dolby Atmos which is a new audio format for creating and playing back multi channel movie soundtracks. It was developed to give movie sound a more three-dimensional effect. Traditional 5.1 and 7.1 channel surround setups deliver captivating sound using speakers placed all around your room and only our HDMI cable supports it.
Warranty

HDTV Supplys
HDMI 2.0 Cable is designed and built to the higher standards for your home theater or business use. To demonstrate that HDTV Supply products offers world-class quality HDTV Supply offers the original purchaser a full lifetime hardware warranty on this HDTV Supply product. This means that as long as a customer owns this product and can show original proof of purchase, HDTV Supply, or its supplier, will replace it if it malfunctions. A 30-day RETURN also comes with this warranty as well as Free Lifetime Tech Support.
In order to get a warranty replacement for a defective item, HDTV Supplys Support Team will verify the product is eligible for warranty. An RMA number will then be issued. Shipped replacements will be in like new conditions, tested and all components included.
Why not buy this WolfPack™ 4 Foot HDMI Cable today?
Government
This product may be eligible to be purchased through the United States Governments SEWP program, similar to their GSA program.
The NASA SEWP (Solutions for Enterprise-Wide Procurement) provides the latest in Information and Communications Technology (ICT) and Audio-Visual (AV) products and services for all Federal Agencies and their approved contractors.
If you are a government agency and want to see whether HDTV Supply has this product in the SEWP database go to our
our SEWP Contract Holder RedHawk IT Solutions, LLC
to allow you to maybe order this product from the United States Governments SEWP program. It is very easy to place your order, go to the link above and enter HDTV Supply and there you will see a list of part numbers of what we currently have. If you do not see it than give us a call at 833-WOLFPACK (833-965-3722) and we may be able to enter it.
Our SEWP Contract Holder RedHawk IT Solutions partner has the following credentials:
DUNS: 801957023
TIN: 260452583
CAGE: 4TBM6
Their SEWP Federal Contracts are:
SEWP Contract Number: NNG15SD38B
Group: Group B_SDVOSB
NAICS: 541519
and
SEWP Contract Number: NNG15SD88B
Group: Group C
NAICS: 541519
The SEWP Program Office manages a suite of government-wide IT products and services contracts that enable NASA and all Federal Agencies to achieve their missions and strategic initiatives by providing streamlined access to critical technologies and solutions. The Program provides best value for the Federal Government and American taxpayer through innovative procurement processes, premier customer service and outreach, acquisition insight, and partnership with Government entities and Industry.
For a complete listing of HDTV Supply products from us, or our other vendors, call 833-WOLFPACK (833-965-3722).