1x23 Network HDMI Splitter with Remote IR




1x23 Network HDMI Splitter over CAT5

Extends HDMI Signals 300'

Grow with more Receivers

Remote IR from TVs

Includes 24-port Ethernet switch

Part # 1x23SXEX22

Usually ships the same business day

Today's Price: $2,600.00
Features
HDTV Supplys Wolfpack
1x23 Network HDMI Matrix Splitter
is an easy to use HDMI video switching and distribution system that allows the design of multi-source to multi-video display systems using standard Ethernet cables. HDTV Supplys Wolfpack HDMI over IP products, like this one, lets you create 1080p HDMI splitter systems using the supplied dedicated Gigabit network and CAT-5e/6 cabling. Many combinations of HDMI outputs is possible that can be easily expanded for additional HDMI sources and HDMI TVs and projectors given ports are available on the supplied 24-port Gigabit Ethernet switch.
Our Wolfpack 1x23 Network HDMI Splitter is a preconfigured matrix switch using 1 - Transmitter and 23 - Receivers and our 24 - port Ethernet Switch. It uses CAT-5e/6 cables and a Gigabit Ethernet LAN switch with MJPEG techniques and an industry standard IP protocol to deliver 1080p video from sources that are 300 feet away from the Ethernet switch and another 300 feet away to the TVs. It also allows the system to grow in the field as its design allows you the flexibility of adding more video sources or more displays to the system based upon the number of unused Ethernet ports available.
1x23 Network HDMI Splitter Configuration:
1 - Transmitter with AC adapter
23 - Receivers with their AC adapters
1 - 24-port Gigabit Ethernet switch with AC adapter
1x23 Network HDMI Splitter Features:
Supports 720p and 1080p HDMI video plus 2-channel audio
Plug-and-play operation - no programming or setup required
Extends 1080p HDMI signals up to ~300 feet over a single Cat5e/6 cable
Traffic can be unicast, multicast or broadcast for different applications
Allows Wideband IR remote control of sources devices
Compliant with HDCP 1.2
Uses our Gigabit IP switches for extension and distribution
Flexible and scalable 1080p HDMI broadcasting via an included Gigabit Ethernet switch (LAN)
Multicasting and broadcasting architecture, adding more displays without adding LAN bandwidth loading .
Supports Point-to-Point, Point-to-Many and Many-to-Many network configurations.
Why not buy this 1x23 Network HDMI Splitter today?
Specs
1x23 Network HDMI Splitter Specs:
Supports default configuration which can be restored to overwrite the current configuration with the reset button of the switch.
Full-duplex flow control (IEEE802.3x) and half-duplex backpressure.
Supports Unknown Unicast / Broadcast / Multicast Storm Control.
Input Video Signal: 0.5-1.0 Volts P-P
Input DDC Signal: 5 volts p-p (TTL)
Support Video Format DTV/HDTV: 480i/576i/480p/576p/720p/1080i/1080p
Video: HDMI
Transmission Distance: 1080p 8-bit 120m (Maximum) via Single CAT5e/6 24AWG/Solid
Power Consumption: TX: 3watts; RX: 3 watts (Maximum)
IR Wavelength: 940nm
Operating Temperature Range: -5degree +35degreeC (+23 to 95degree F)
Operating Humidity Range: 5 to 90% RH (No Condensation)
Dimension (LxWxH): 103.5*93.5*24.6mm
Net Weight: Receiver: 220g Transmitter: 220g
The base model of this 1x23 Network HDMI Matrix Switch is at
WolfPack Network HDMI Matrix Switchers
.
Why not buy this 1x23 Network HDMI Splitter today?
Compatibility
CAUTION: This Network HDMI Splitter Over a LAN system requires a dedicated HDMI video system using the supplied Ethernet switch and not attached to any existing LAN system due to the unknown bandwidth impact on the HDMI video from that network. A single, dedicated, LAN must be used to keep it from interfering with the rest of an existing LAN or vice versa. With all devices in a single LAN, switching sources involves modifying the IP of the Receiver rather than actively manipulating the LAN configuration of the managed switch. The design needs to meet these specs:
One Dedicated LAN
No other network appliances in the LAN
Unique subnet
No other network appliances in the subnet
Why not buy this 1x23 Network HDMI Splitter today?
Videos
HDTV Supply has this HDMI Network splitter in stock in our California warehouse so place your order at the above ADD TO CART button by 11AM PST and it can ship today or call us at 833-WOLFPACK (833-965-3722) to place your order.

See the below videos on how to setup your smart network matrix as well as controlling the various inputs being sent to various outputs. It also includes how to rename the inputs to what your devices are.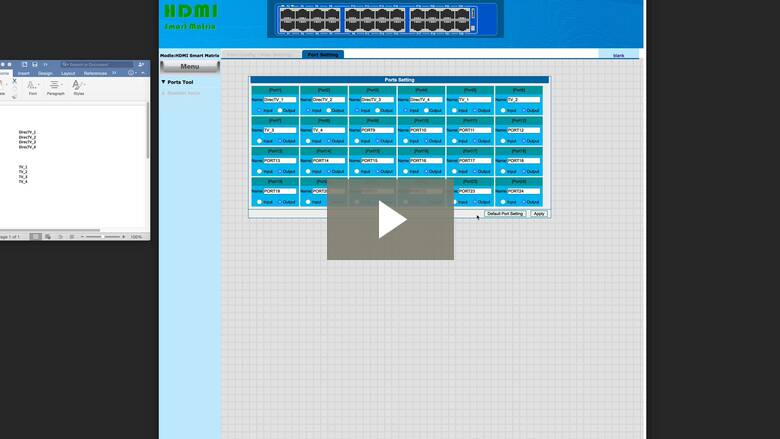 Why not buy this 1x23 Network HDMI Splitter today?
Q/A
Q: I don't see a picture, what do I do?
A:
Did you change the MAC addresses of the transmitters and receivers? Also in the switch do you have the ports setup to inputs and outputs?
Q: Does a HDMI Over IP Network Matrix come with a remote control or front panel switches?
A:
No, it is controlled by a PC or a MAC only via its LAN port or optionally wirelessly via the above Wireless WEB GUI Control option.
Q: How do I wire it?
A:
Here are the steps:
Connect the HDMI signal source (Such as DVD, STB etc) to the HDMI Transmitter
Connect CAT5e or 6 cables to both the Ethernet of the transmitter and Ethernet port of the Receiver. (The cables must follow the standard of EIA-TIA 568B).
Connect the HDMI output (Such as HD-LCD, HD-DLP) into the Receiver
Plug in all the power supplies
Connect the IR TX receiving cables into IR TX port on the back panel and affix the emitter onto the source IR windows.
Connect IR-RX cable into IR-RX port on the receiver and affix the IR receiver in direct line of site with the handheld remote control. It is recommended to affix the receiver on the display frame /bezel or the display stand
Why not buy this 1x23 Network HDMI Splitter today?
Warranty

Click Here for Product Warranty
Why not buy this 1x23 Network HDMI Splitter today?
Ask a Question
Questions & Answers

Ask a question about the 1x23 Network HDMI Splitter with Remote IR or Call 833-WOLFPACK (833-965-3722)


FAQ

Reasons To Buy an HDTV Supply WolfPack Product
Why not buy this 1x23 Network HDMI Splitter today?
OEM
HDTV Supply's OEM Program
Why not buy this 1x23 Network HDMI Splitter today?
Government
This product may be eligible to be purchased through the United States Governments SEWP program, similar to their GSA program.
The NASA SEWP (Solutions for Enterprise-Wide Procurement) provides the latest in Information and Communications Technology (ICT) and Audio-Visual (AV) products and services for all Federal Agencies and their approved contractors.
If you are a government agency and want to see whether HDTV Supply has this product in the SEWP database go to our
our SEWP Contract Holder RedHawk IT Solutions, LLC
to allow you to maybe order this product from the United States Governments SEWP program. It is very easy to place your order, go to the link above and enter HDTV Supply and there you will see a list of part numbers of what we currently have. If you do not see it than give us a call at 833-WOLFPACK (833-965-3722) and we may be able to enter it.
Our SEWP Contract Holder RedHawk IT Solutions partner has the following credentials:
DUNS: 801957023
TIN: 260452583
CAGE: 4TBM6
Their SEWP Federal Contracts are:
SEWP Contract Number: NNG15SD38B
Group: Group B_SDVOSB
NAICS: 541519
and
SEWP Contract Number: NNG15SD88B
Group: Group C
NAICS: 541519
The SEWP Program Office manages a suite of government-wide IT products and services contracts that enable NASA and all Federal Agencies to achieve their missions and strategic initiatives by providing streamlined access to critical technologies and solutions. The Program provides best value for the Federal Government and American taxpayer through innovative procurement processes, premier customer service and outreach, acquisition insight, and partnership with Government entities and Industry.
For a complete listing of HDTV Supply products from us, or our other vendors, call 833-WOLFPACK (833-965-3722).
Catalog
HDTV Supply WolfPack Product Catalog (2020)
1x23 Network HDMI Splitter with Remote IR
Scroll Left & Right To See 20 Of Your Recently Viewed Items Below